Hello! Welcome to my sales page!
I ship from Florida in America, overseas buyers are welcome! All my clothing comes from a smoke environment. I do have a kitten but she s not allowed in my bedroom which is where I store all my clothing. Priority goes to the first buyer who leaves their paypal address. Paypal only please! Shipping is not included in the prices. If for some reason your item is damaged please let me know, I will pay for the item to be shipped back and refund you upon it's retrieval.
I have feedback here
community.livejournal.com/eglfeedback/480705.html
FEEL FREE TO MAKE OFFERS!




Rococo Soul Bonnet IN BLACK- $50 OBO

This adorable bonnet is brand new! I am only selling it because it does not suit me, there are no flaws at all. It comes with a red flower corsage.
Stock Picture:
Proof Picture: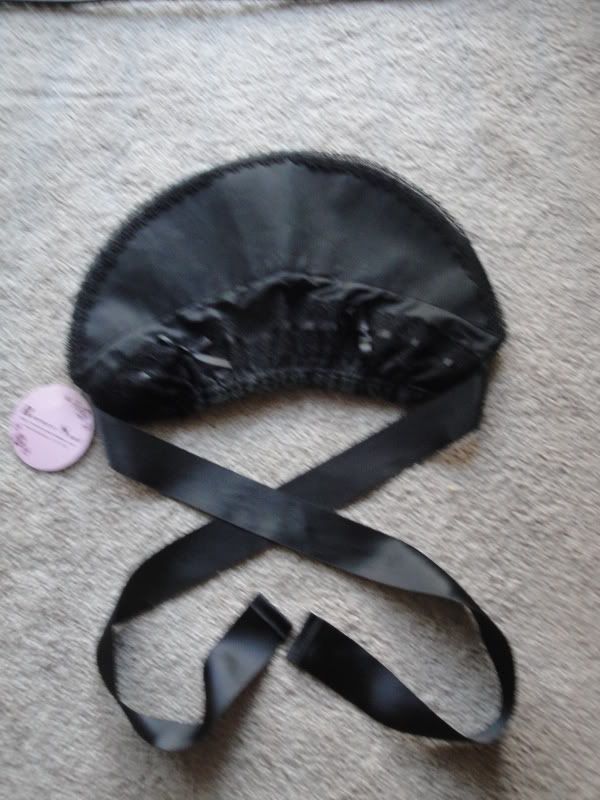 Infanta Spring Sugar Susan Mint Jumperskirt- $100 OBO

This gorgeous jumperskirt is made of a sturdy, light green material. It is accented with hunter green ribbon and has a corsetted back, allowing for extra wiggle room in the measurements. It has been well taken care of and it a perfect addition to any classic wardrobe.
Measurements: Bust 34", Waist 30". Can go a few inches smaller due to corsetting.
Stock Picture:
Proof (my camera washes out the colour, it is really the same as the stock picture):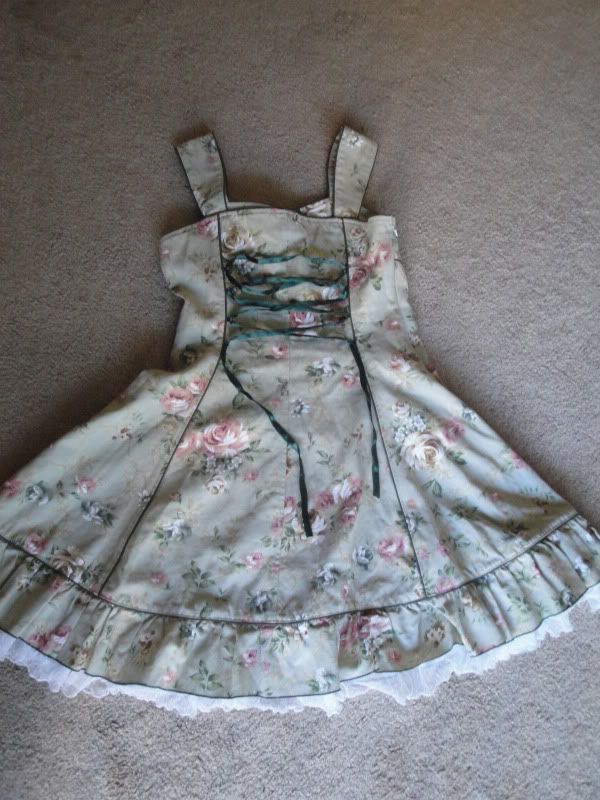 Baby the Stars Shine Bright Pink Jumperskirt- $100 OBO

This darling pink jumperskirt is a simple but sugary example of Babys finest. It has been in storage so is wrinkled, but nothing a good iron can't take care of. It has practical pockets, accentuated by crocheted lace. The back has no shirring, nor any waist ties so there is not much room to stretch the measurments. This jumperskirt has a scalloped bottom and detachable lace at the top.
Measurements: 30-30" bust, 28-30" waist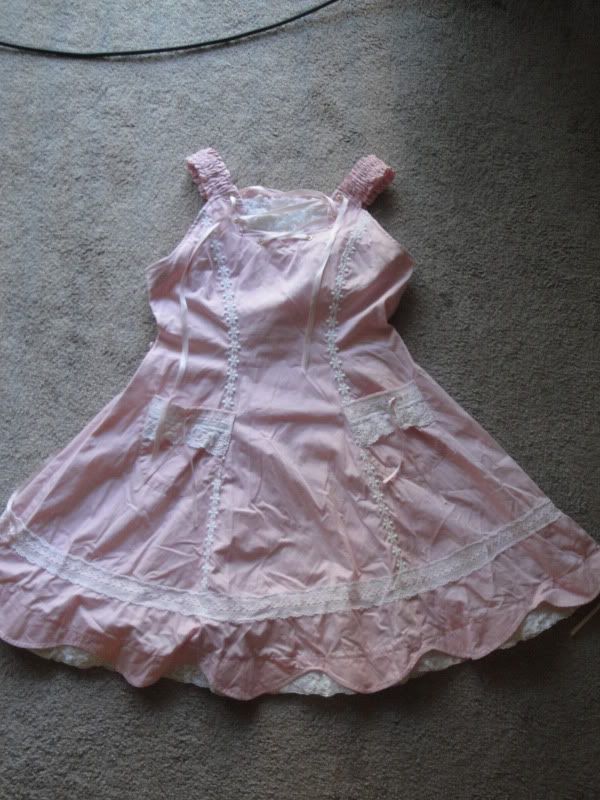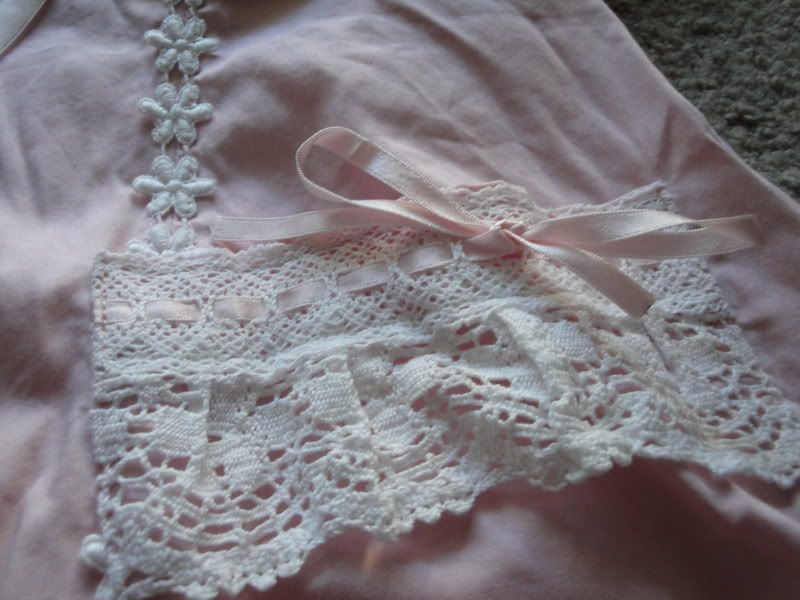 Metamorphose Replica Bag- $25 OBO

This cute replica of a popular Metamorphose bag is priced to reflect wear and tear! It has light damage, such as a slight scuffing on the back, but is good, usable condition. The swans, ribbon and crown are embroidered into the bag.




Bodyline Shoes, size 25- $15 OBO

These Bodyline shoes have been worn frequently. They have heavy scuffing and some dents on the front, and slight scuffing on the sides. On the right shoe there is some buckle damage, instead of popping the buckles in you have to manually fasten them, however it is still wearable. The cheap price reflects the damage.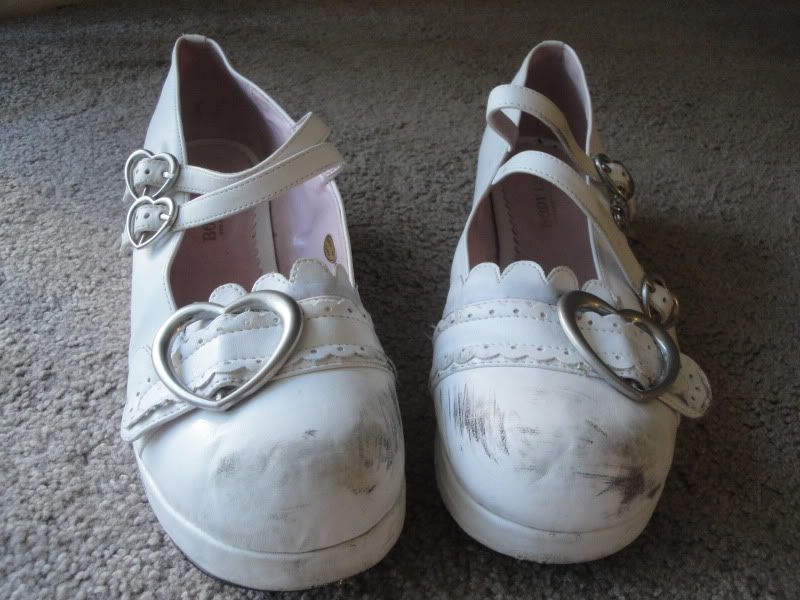 Will trade/partial trade for the following items:
Bodyline Teddy OP in Black only please
Bodlyine Pink Caroseul JSK in pink only



Thank you, if you have any questions please let me know!