Hi there!
I am currently in the process of moving home and need to sell a few things in order to raise some funds quickly!

~ I am located in London, UK (but will be moving to Birmingham next week). So depending on how quickly things sell, items will be sent from either London or Birmingham. I am willing to ship overseas.
~ Shipping is not included unless otherwise stated.
~ I can only accept paypal payments (no paypal echecks though please).
~ I live in a smoke and pet-free household.
~ The item will go to whoever is able to pay first as I really do need things to sell asap!
~ I will try to describe items as accurately as possible, however please also refer to hello lace for more accurate measurements. Please let me know if you require more information about an individual item.
~ I will send items with via recorded delivery (which allows you to track that the item has been sent and received) , however full tracking (ems) does tend to be too expensive so i'd prefer not to use this shipping method if possible (i always end up losing out when sending the item).
~ I am open to offers :)

here is my feedback, i also have good feedback on ebay and the bjd forum den of angels! http://eglfeedback.livejournal.com/1129753.html

My Sparkler My Little Pony will be my proof for these pics :)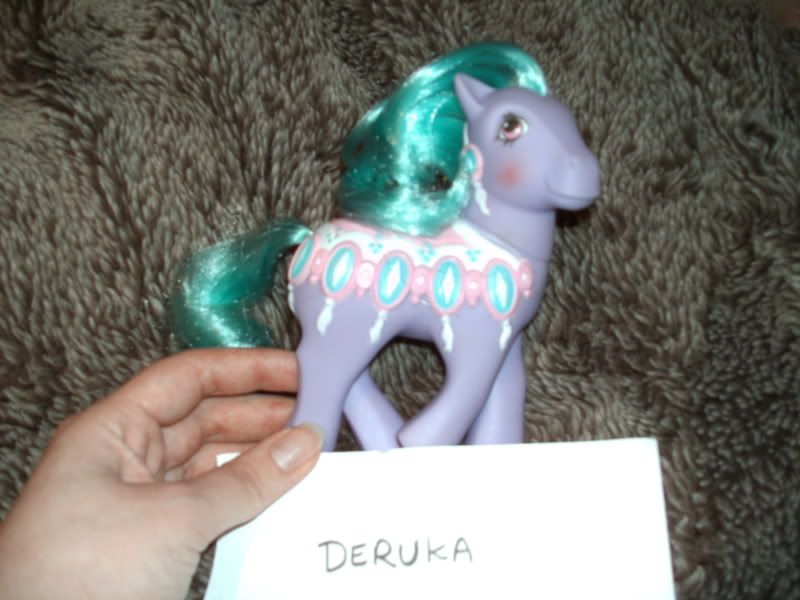 On to the sales~!
Innocent World Violin Skirt - £100 UK postage included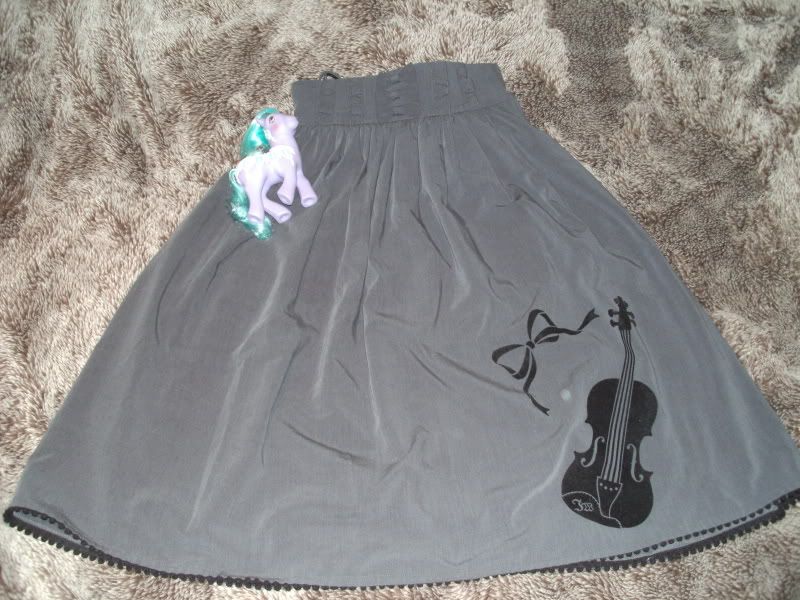 back view: http://img.photobucket.com/albums/v105/Narya/PICT0665.jpg
detail: http://img.photobucket.com/albums/v105/Narya/PICT0664.jpg

I bought this beautiful grey skirt directly from IW earlier in the year and have worn it twice since. In excellent condition, very stretchy shirring and long in length - ideal for taller lolitas :)

Metamorphose Twinkle Journey JSK in navy - SOLD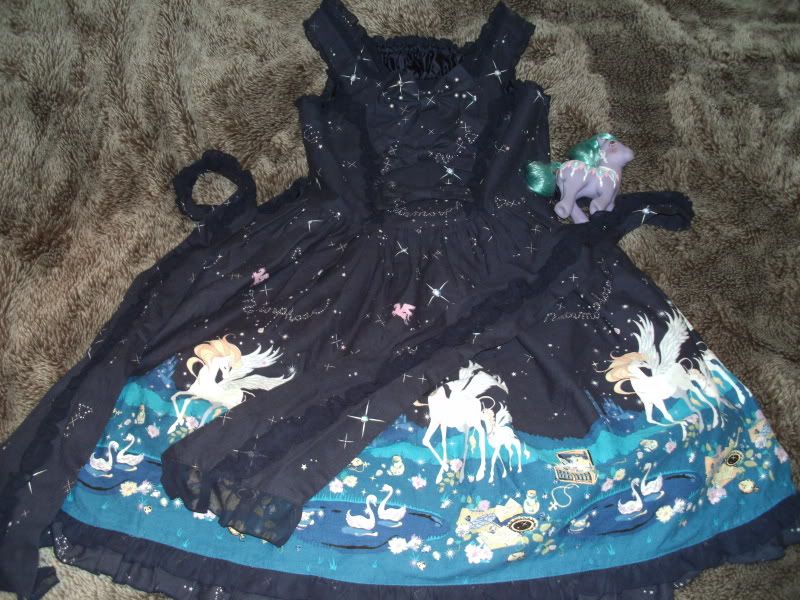 detail: http://img.photobucket.com/albums/v105/Narya/PICT0659.jpg

Bought from another lolita here on egl comm, I have worn it only once. Needs a quick wash, but i have been too afraid of ruining the print to do so xD *fail* but otherwise in perfect condition. Nice stretchy shirring in the back, very comfy even for larger busts, and long in length.

Alice and the Pirates Frill Shoes in white - £85 UK postage included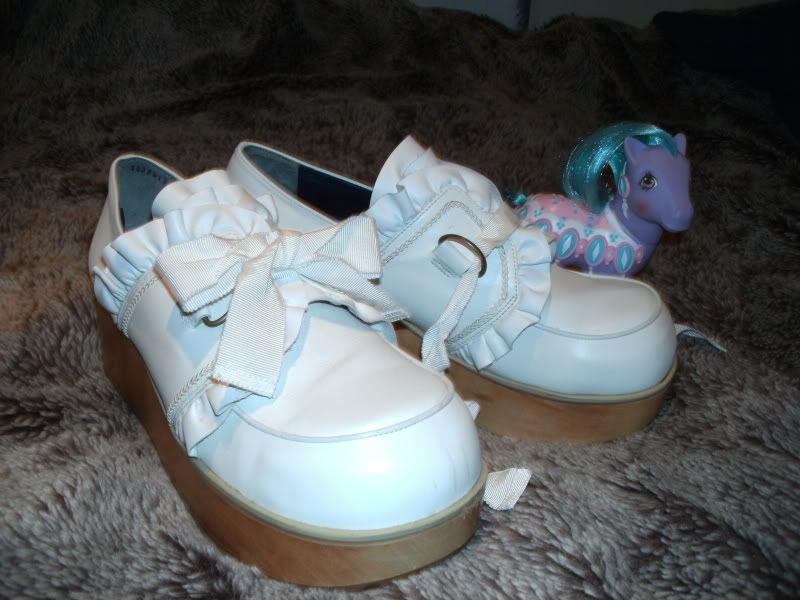 detail: http://img.photobucket.com/albums/v105/Narya/PICT0329-1.jpg

Bought from another lolita here on egl comm, I have not worn these at all! They do however have a few scuffs to the toes and some slight damage to the inside which is how they arrived to me, however this does not detract from the beauty and wearability of these shoes. They fit UK size 8 (EU 41 approx), so must be the largest size that Aatp do.

Vivienne Westwood Melissa wing rocking horse shoes in grey - SOLD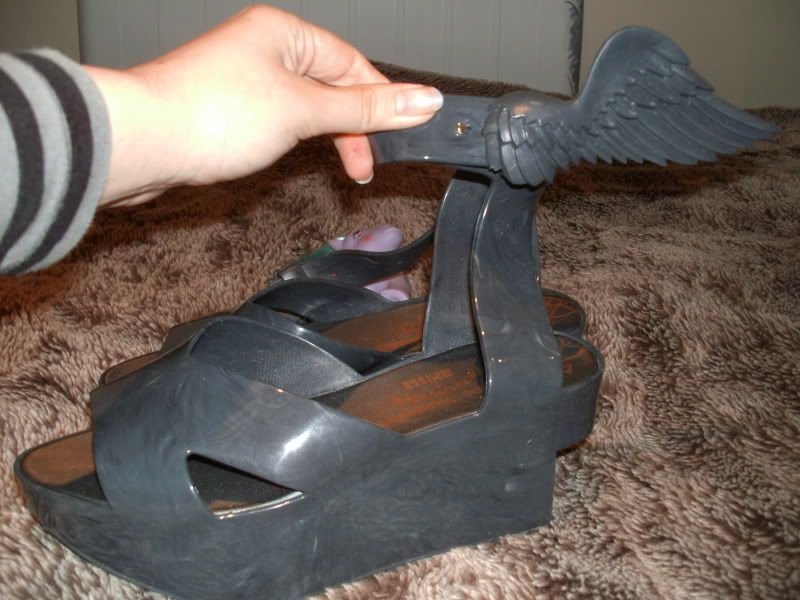 side view: http://img.photobucket.com/albums/v105/Narya/PICT0660.jpg
detail: http://img.photobucket.com/albums/v105/Narya/PICT0662.jpg

Bought these on ebay earlier in the year, I have worn them twice. Very fun shoes to walk in! xD A bit of wear to the soles, which is to be expected since these are made entirely of rubber! as with the above shoes, they are EU size 41/ UK womens size 8.

thanks for looking :)