★ Prices do not include shipping
★ Will combine shipping
★ Payment only accepted via Paypal
★ No trades
★ Prices negotiable! Feel free to make an offer!

Feedback Link: Here


TOPS

A1. Putumayo Alice Top


Design is a light blue color. It is a little "cracked" in the mushroom and the logo.
Size: 17" Flat, 22" Long
Price: $45

A2. MAC Barbie Top


Metallic Pink Logo. Is "cracked" all over, but it still looks nice and shiny.
Size: (L) 19" Flat, 24" Long
Price: $15 SOLD

A3. Doe Barbie Top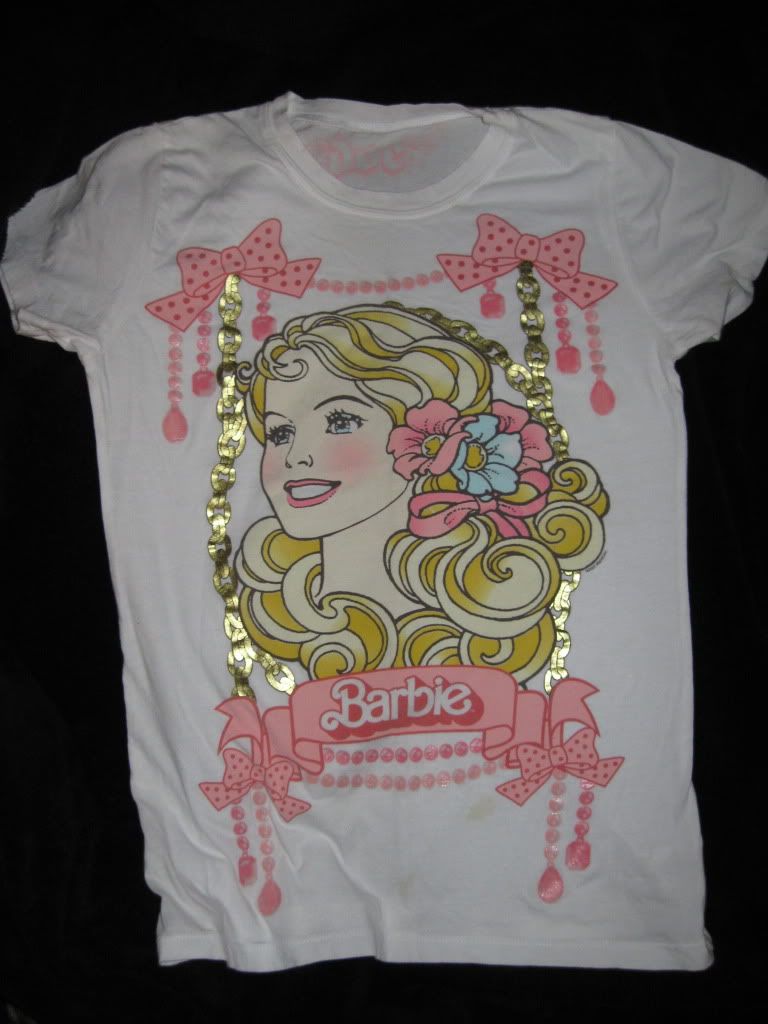 Never worn, only tried on once.
Size: (M) 17" Flat, 23" Long
Price: $25

A4. Disney Cuties Marie Top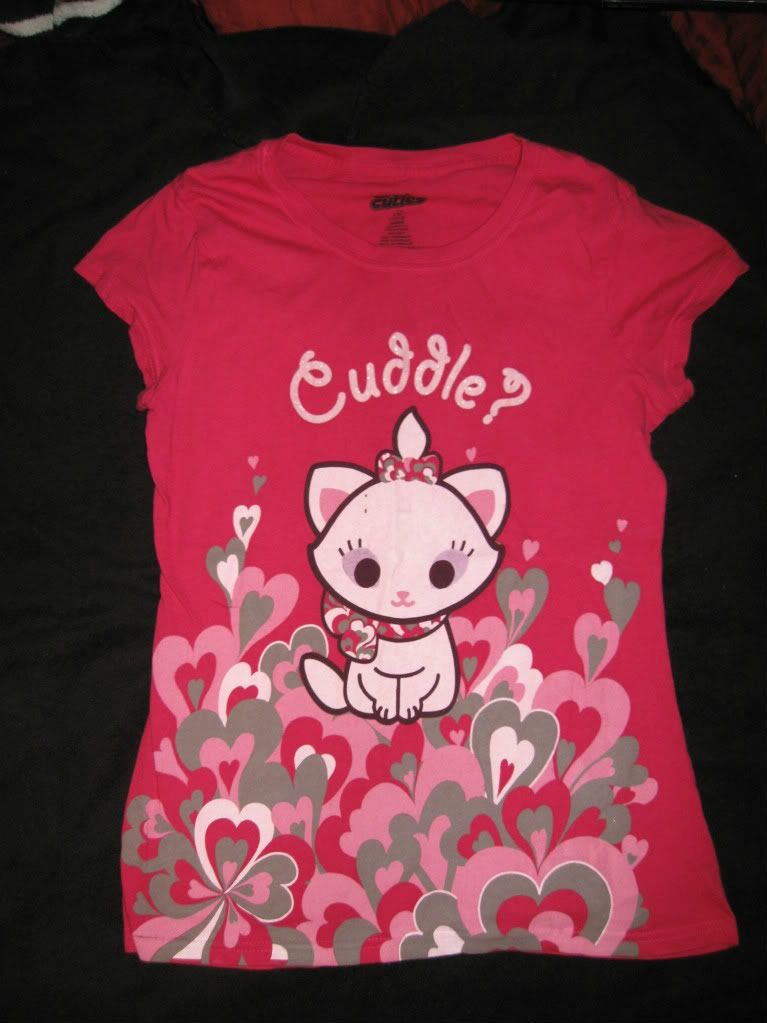 Size: (L) 17" Flat, 25" Long
Price: $8 SOLD

A5. Puff Sleeve Top


Size: (M) 18" Flat, 24" Long
Price: $5

A9. Fur Sleeved Top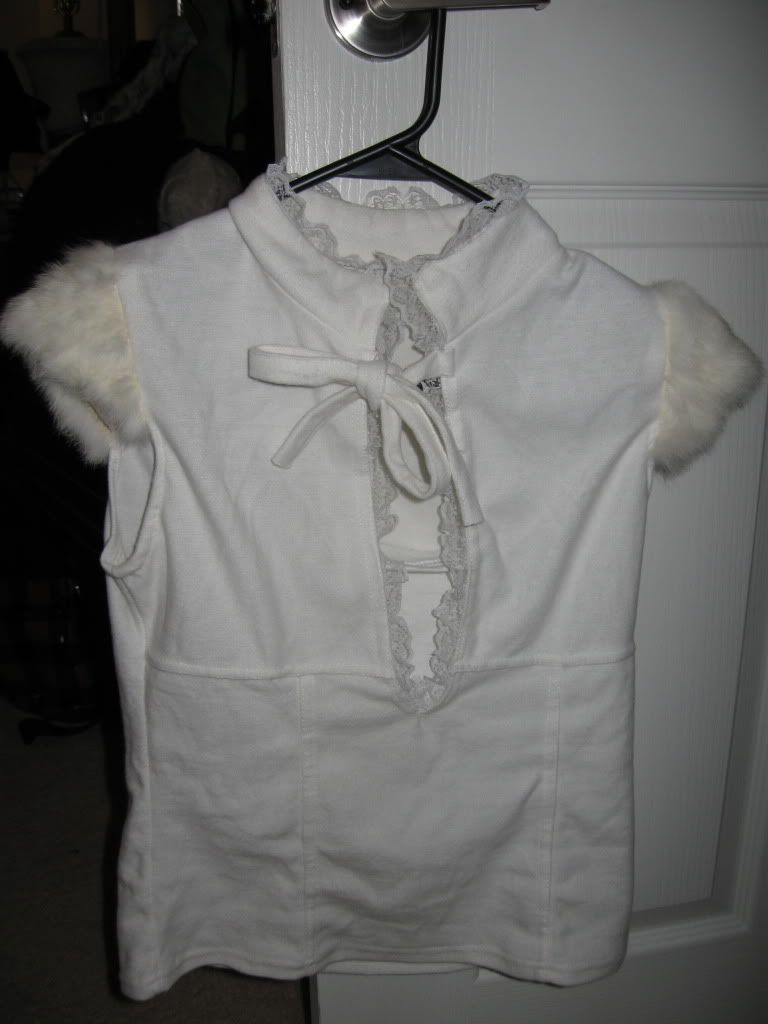 Lace around the collar, with bow tie. White fur cap sleeves. Not sure if fur is real.
Size: 16" Flat, 21.5" Long
Price: $5

A10. Blue Top with Plaid Yoke


Size: (L) 18" Flat, 25" Long
Price: $5

A11. Lolita Girl Shirt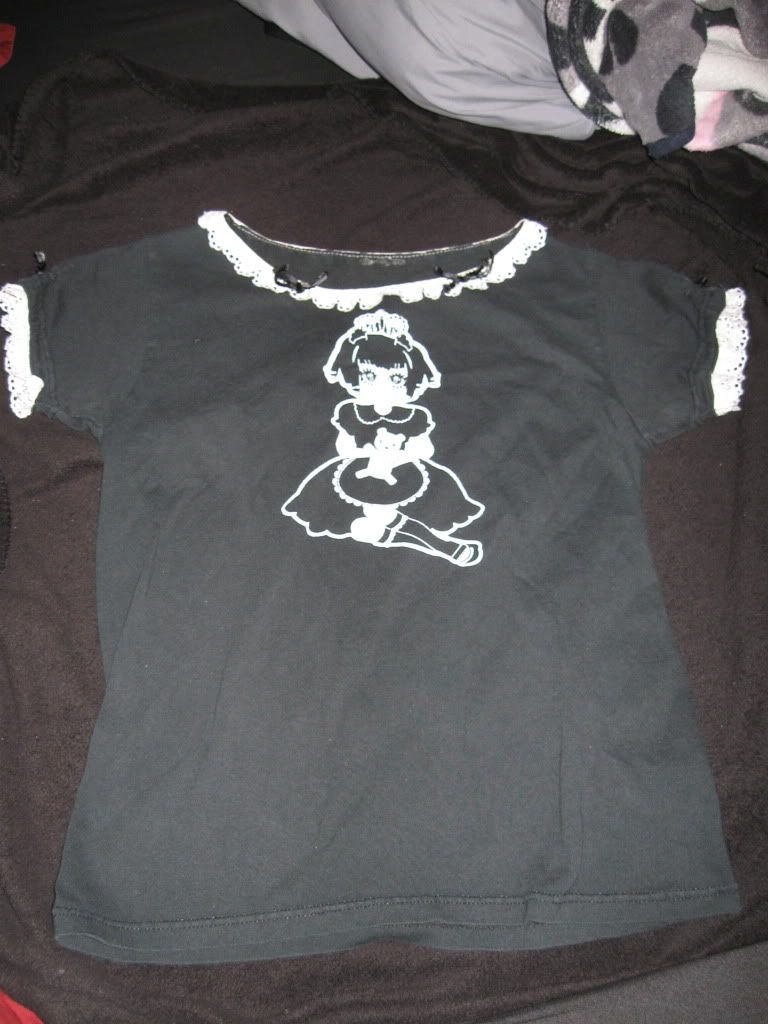 Detail
Old school Lolita. Has two bows on the collar and one bow on each sleeve.
Size: 17" Flat, 22" Long
Price: $5 SOLD

A12. "Satan" Shirt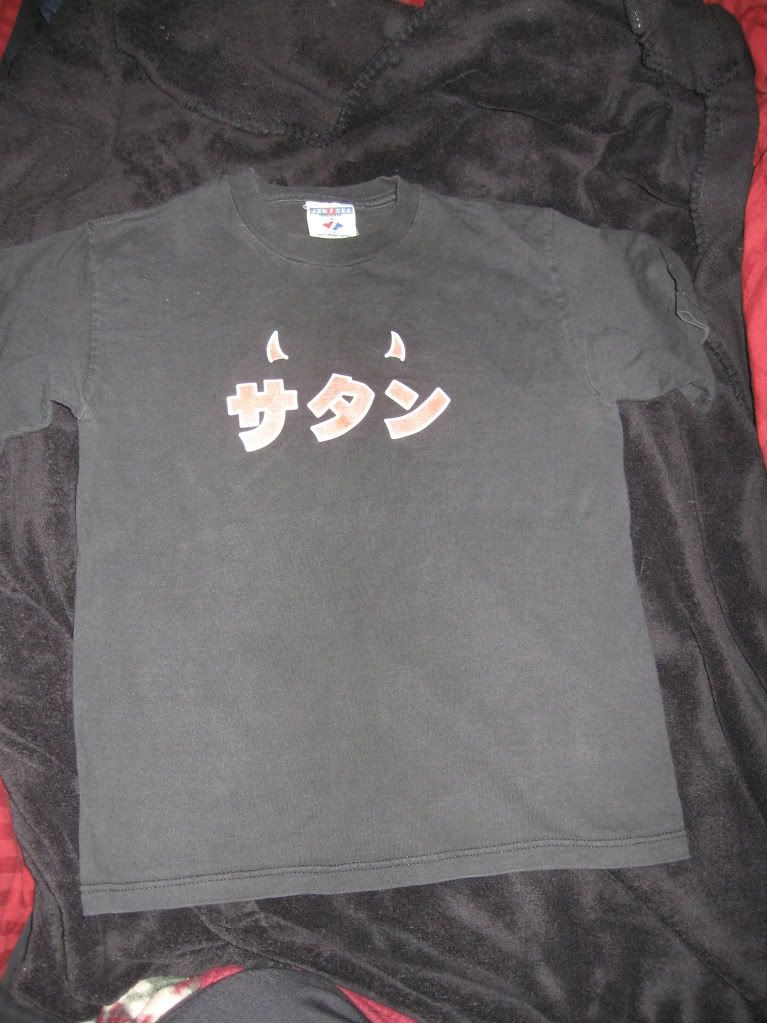 I love this shirt. It's hilarious and kind of dark. Says "Satan" in katakana. The characters are a bright red, I don't know why

it got so washed out in the picture.
Size: (M) 16.5" Flat, 21" Long
Price: $5 SOLD


Bottoms

B1. Bodyline Sweets Skirt


Only tried on, still has tags!
Size: 24"-36" Waist, 21" Long
Price: $45

B2. Scalloped Plaid Skirt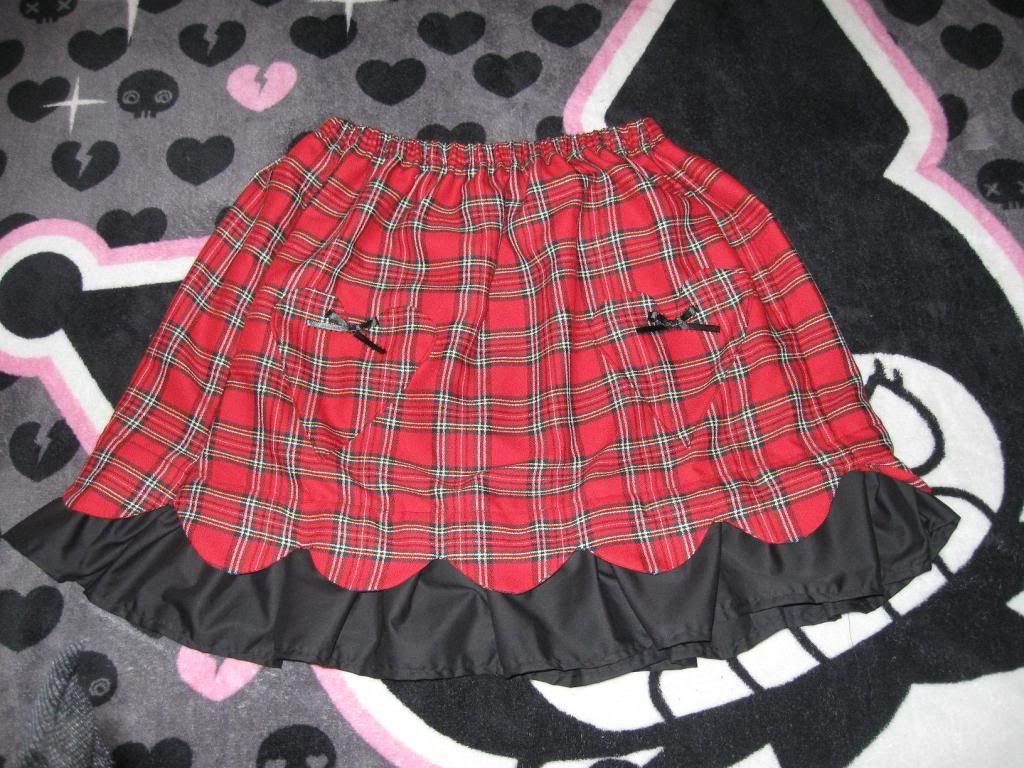 I recommend this skirt for a more petite/short person because otherwise it might not give you a nice bell shape. It is very cute and has heart shaped pockets with bows on them.
Size: 24"-35" Waist, 18" Long
Price: $20

B3. Morbid Threads Brocade Skirt



Back
Would be perfect for aristocrat. Very beautiful heavy fabric. Zippers up at the back.
Size: (L) 31" Waist, 38" Long
Price: $15

B4. Made With Love By Hannah Bukarest Skirt


I love this skirt, it is so very cute. Zippers up on the side. Official Website
Size: (M) 29" Waist, 20" Long
Price: $20

B5. Black Circle Skirt


Has a triangle-shaped area in the back where it was altered to be larger. Has a few rows of lace and ribbon along the

bottom.
Size: 32"-40" Waist, 22" Long
Price: $5 SOLD

B6. Long Creme Skirt


Double layered, with the top layer being more of a soft chiffon and the bottom layer a more starchy kind of fabric. The tag says

100% Polyester.
Size: (M) 27"-38" Waist, 31" Long
Price: $8

B7. Putumayo Replica Skirt


Homemade. One of my first sewing attempts. Frayed seams and somewhat poor construction (that makes it more punk though, imo).

What you see is what you get. The flash washed out the color a bit, the bottom half is a nice bright purple. I will try to take a

more color-realistic photo upon request.
Size: 28"-36" Waist, 17" Long
Price: $5 SOLD


Underwear

C1. Metamorphose Bloomers in Mocha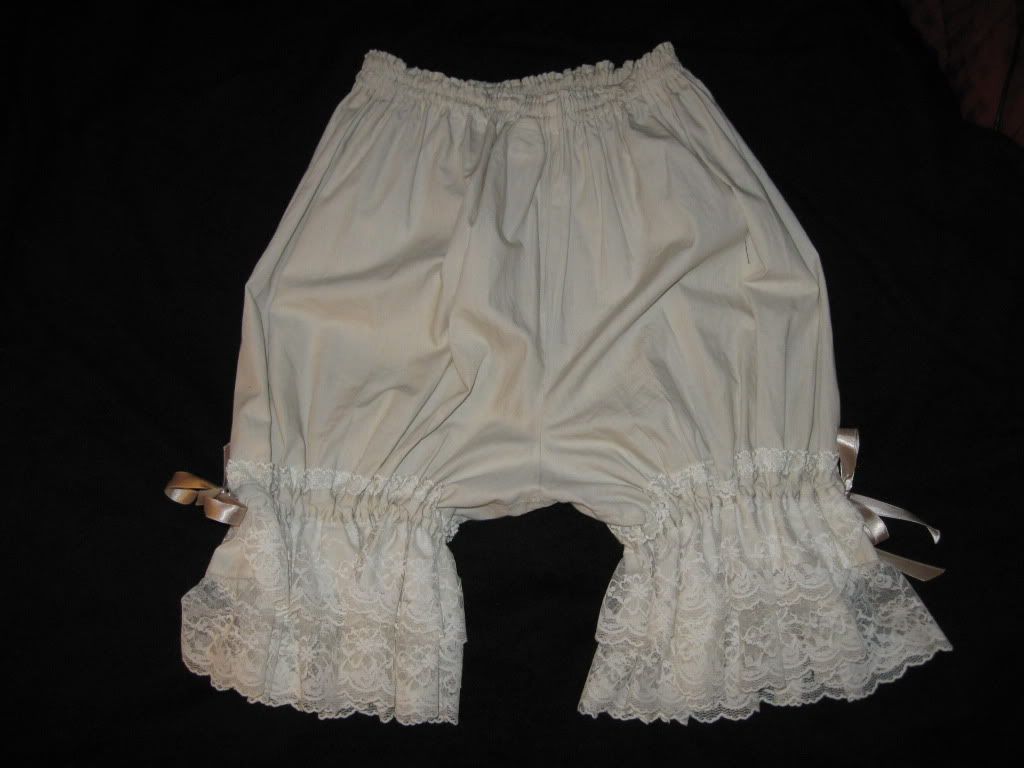 Size: 20"-40" Waist, 20" Long
Price: $30

C2. Black Petticoat


Provides tons of poof! Never worn.
Size: 24"-37" Waist, 15" Long
Price: $15 SOLD

C3. Long Petticoat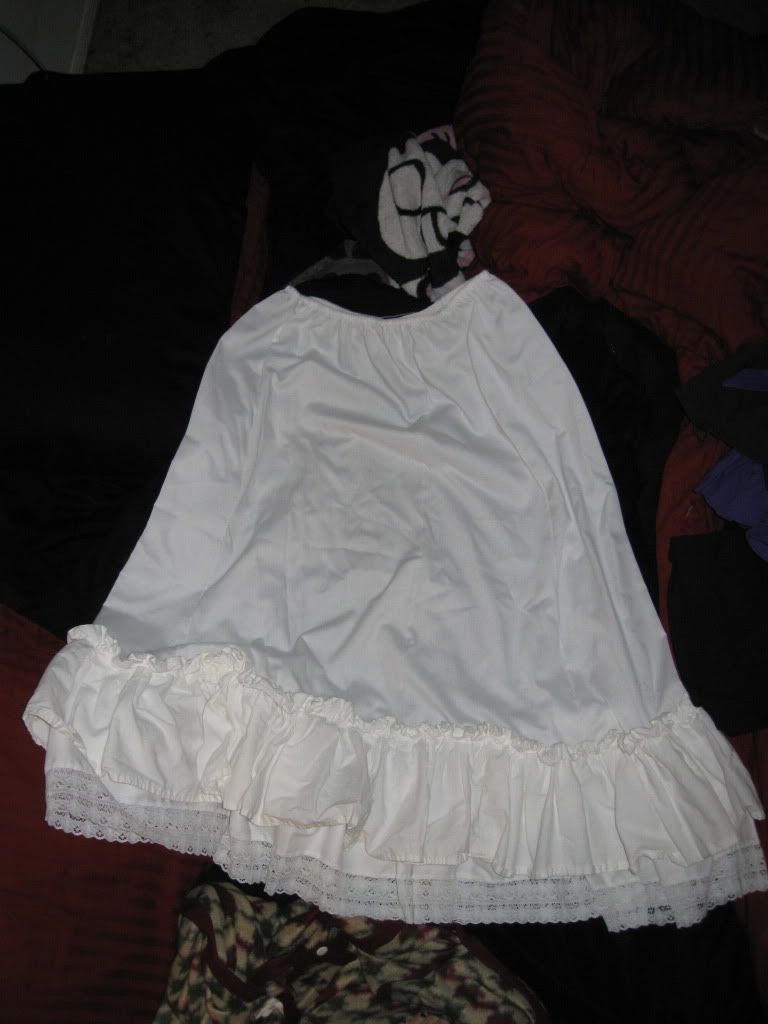 Detail
Not so much poof, but will help flare out longer skirts.
Size: 24"-40" Waist, 29" Long
Price: $8

C4. Pastel Corset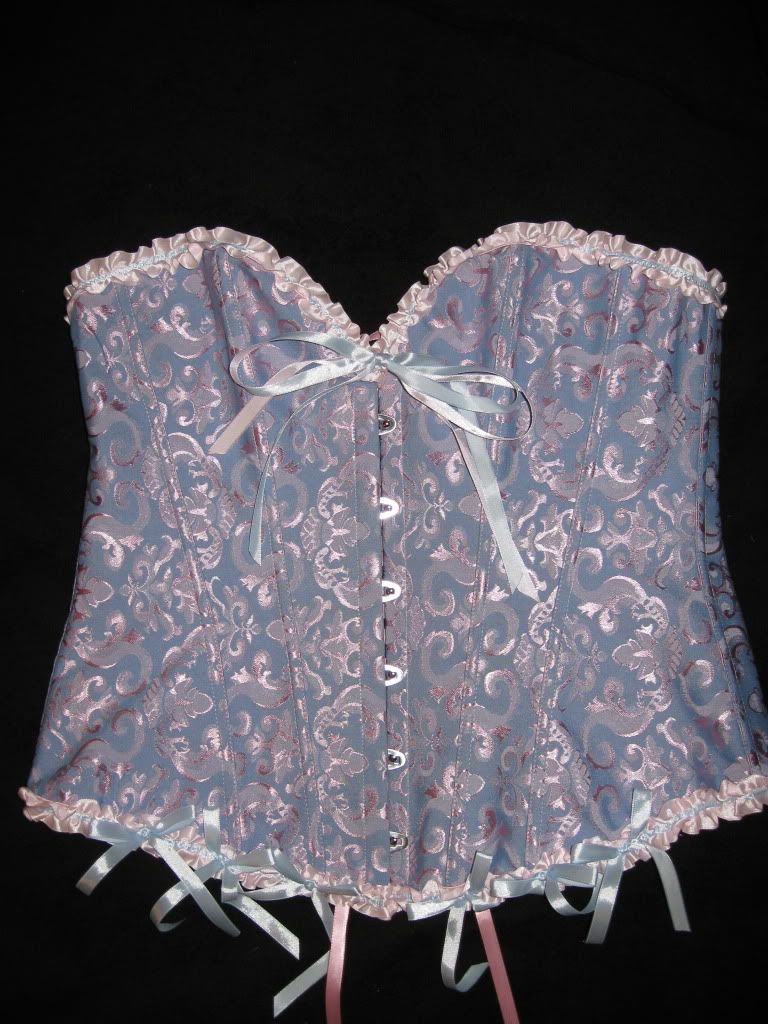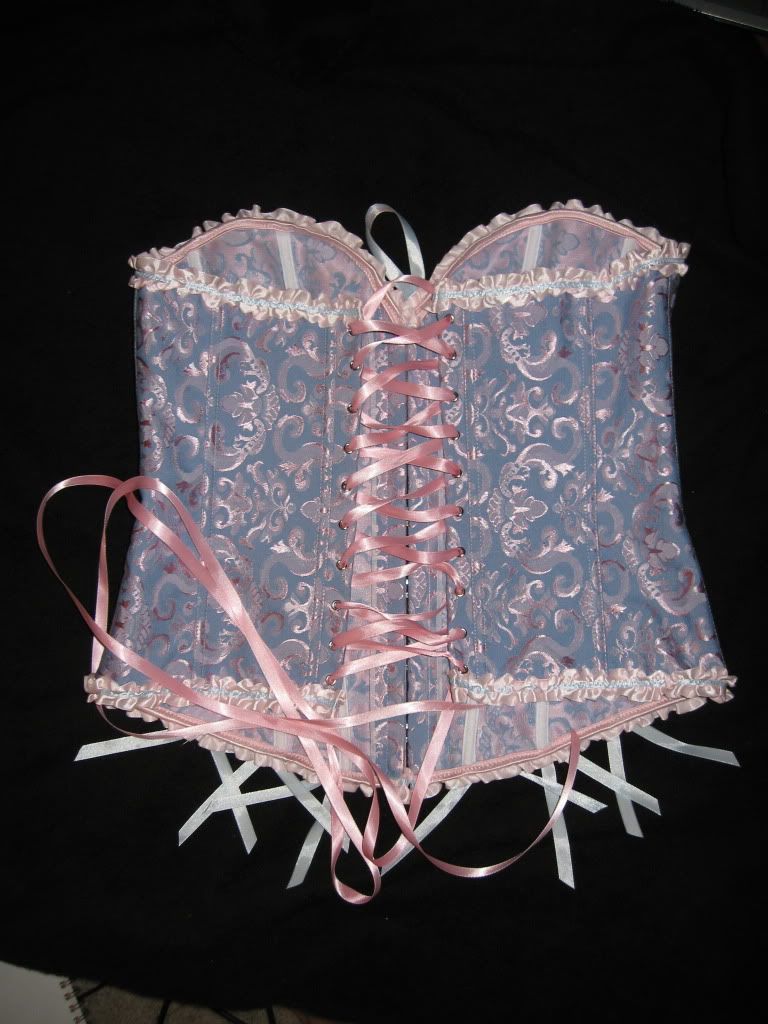 Detail
So gorgeous. Reminds me of Marie Antoinette. The back lace is slightly darker pink than the pink on the corset itself. Never

worn, just tried on.
Size: (L) Laced as I have it: 34" Bust, 30" Waist, 15" Long
Price: $20


Shoes

D1. Teal Bow Shoes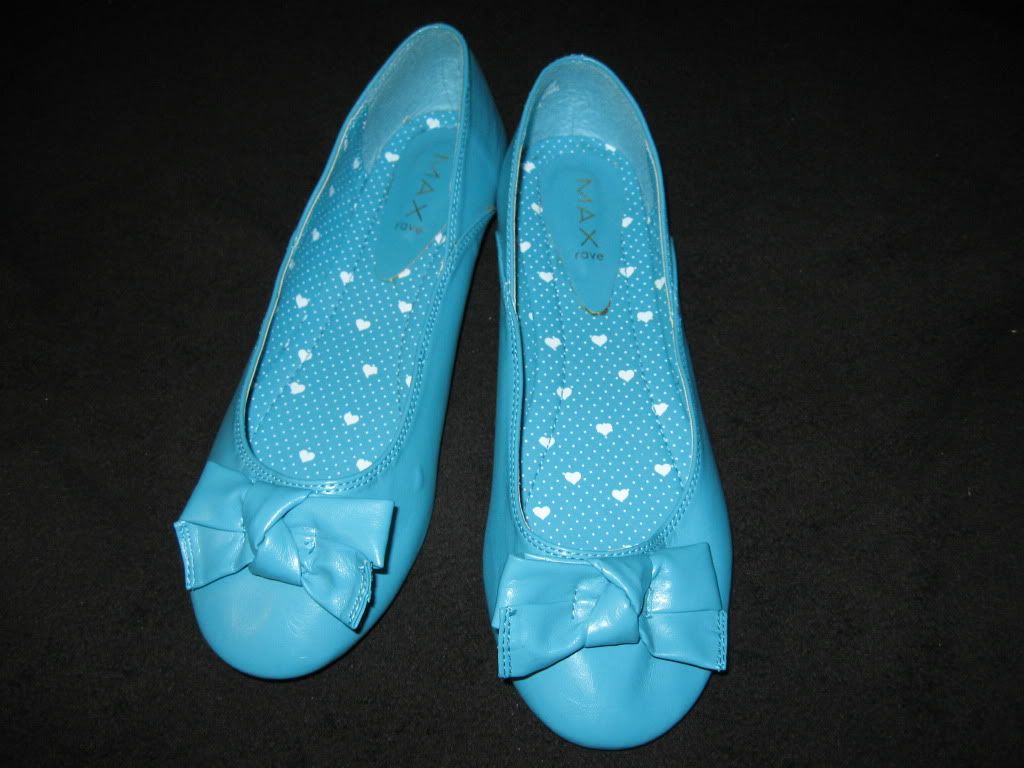 Never worn.
Size: 10
Price: $10

D2. Blue with Black Roses Shoes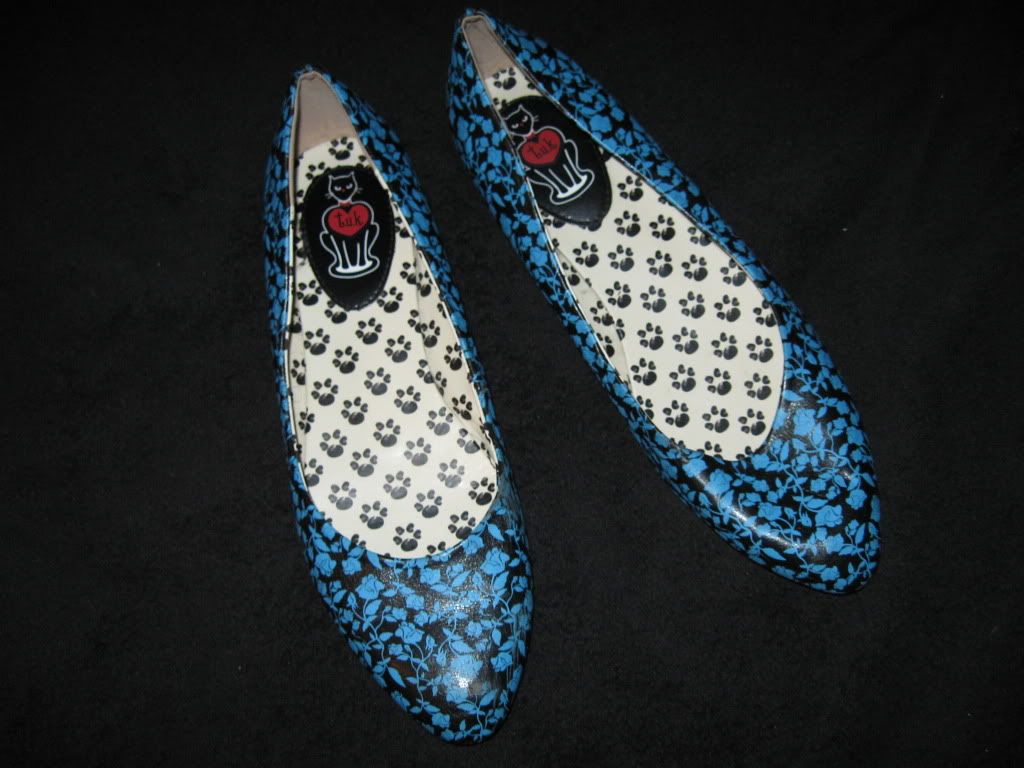 Detail
Size: 10 (Feels more like a 9, though)
Price: $10

D3. Polkadot Maryjanes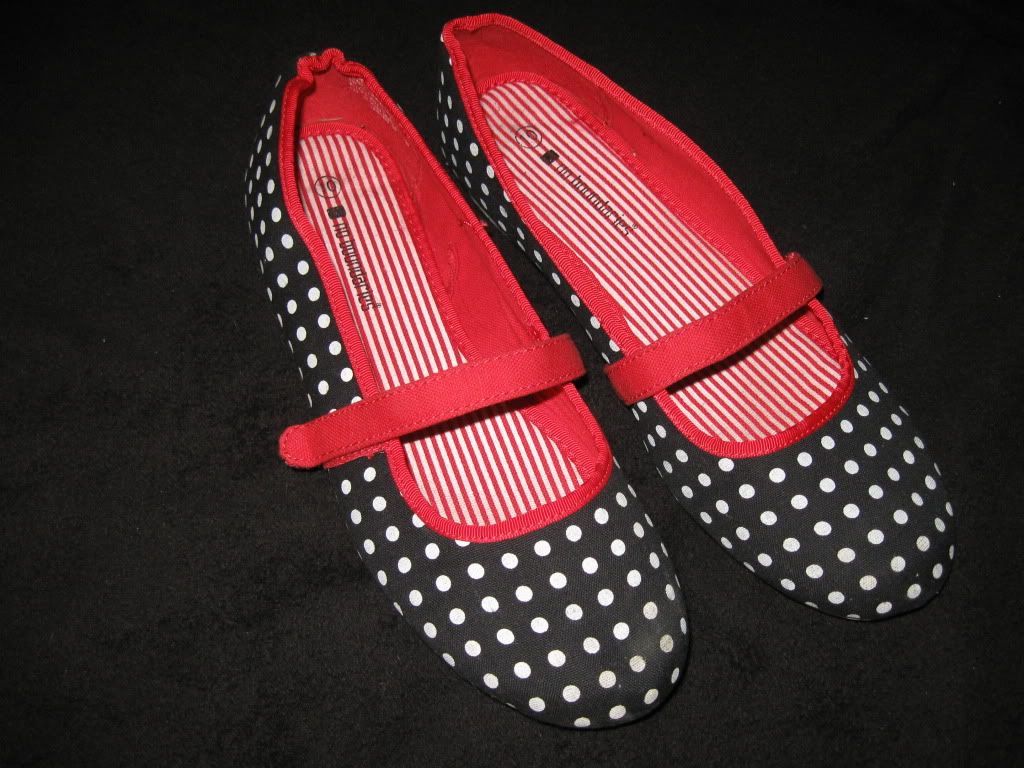 Size: 10
Price: $10

D4. Lolita-Lola Rocking Horse Shoes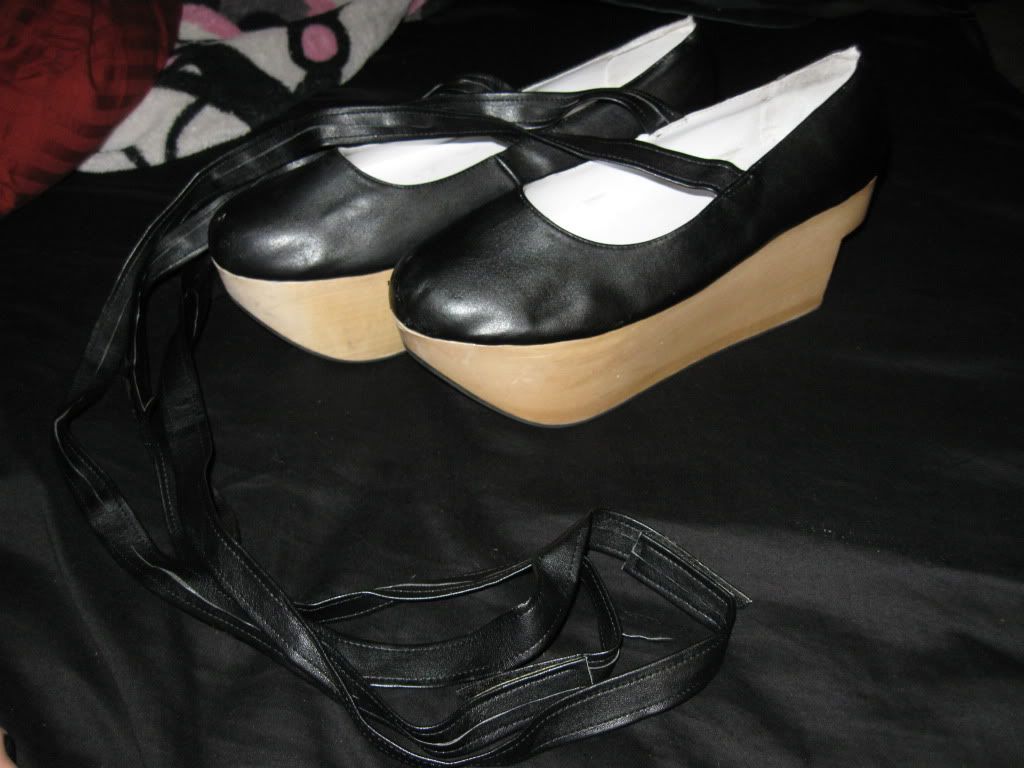 Detail 1
Detail 2
Detail 3
Detail 4
Some scuffs on the toes and on the back.
Size: 10/42
Price: $40 SOLD

D5. White Knee High Boots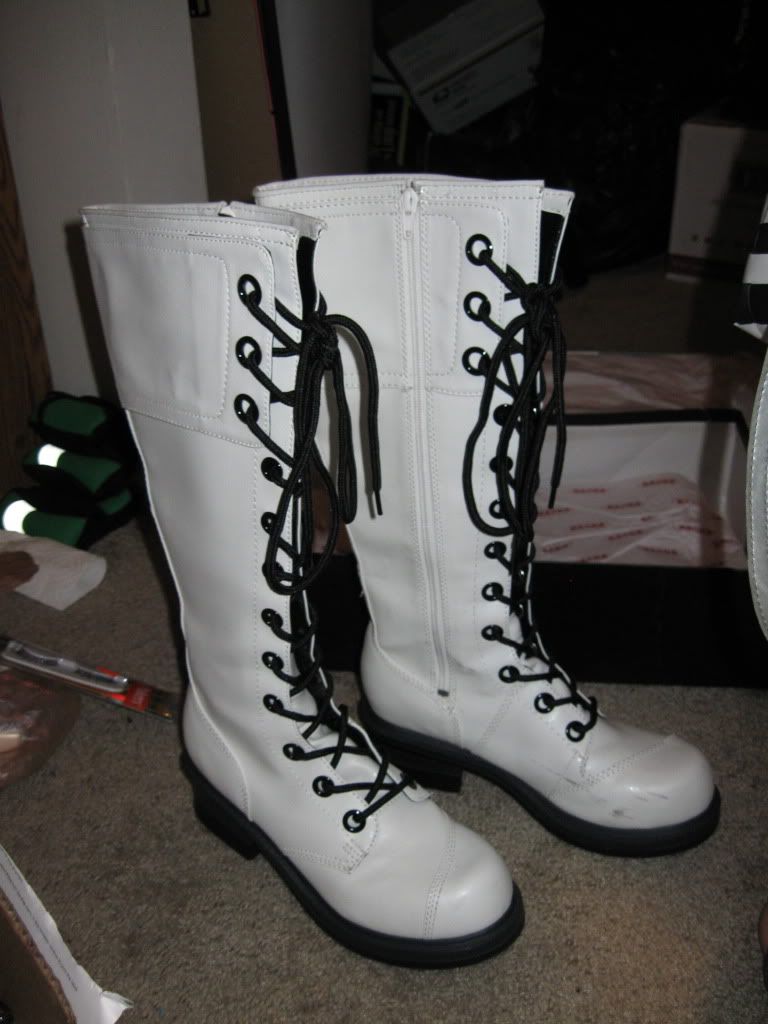 Very awesome, they just don't go with anything I wear! They are a little scuffed up on the inside toe area.
Detail 1
Detail 2
Size: 10
Price: $60


Socks

E1. Jolly Roger Leggings



Detail
I freaking love these so much, but they are so tiny I don't think it is even possible for them to fit me. So here they are!

Never worn!
Size: 22"-32" Waist, 35" Long
Price: $15



Most worn once or twice. The lace topped ones have some wear on the heel.
E2. Lace Topped Black and White Striped Socks $2
E3. Black and White Checkered Socks $2 SOLD
E4. Black and Red Checkered Socks $2 SOLD
E5. Black and Purple Checkered Socks $2 SOLD
E6. Blue and Black Zebra Socks with Glitter $2
E7. Grey Socks with Skull/Dragon/Ornate Design $2


Accessories

F1. Long Black Scarf with Crowns


Size: 78" Long
Price: $8

F2. Pink Knit Bear Scarf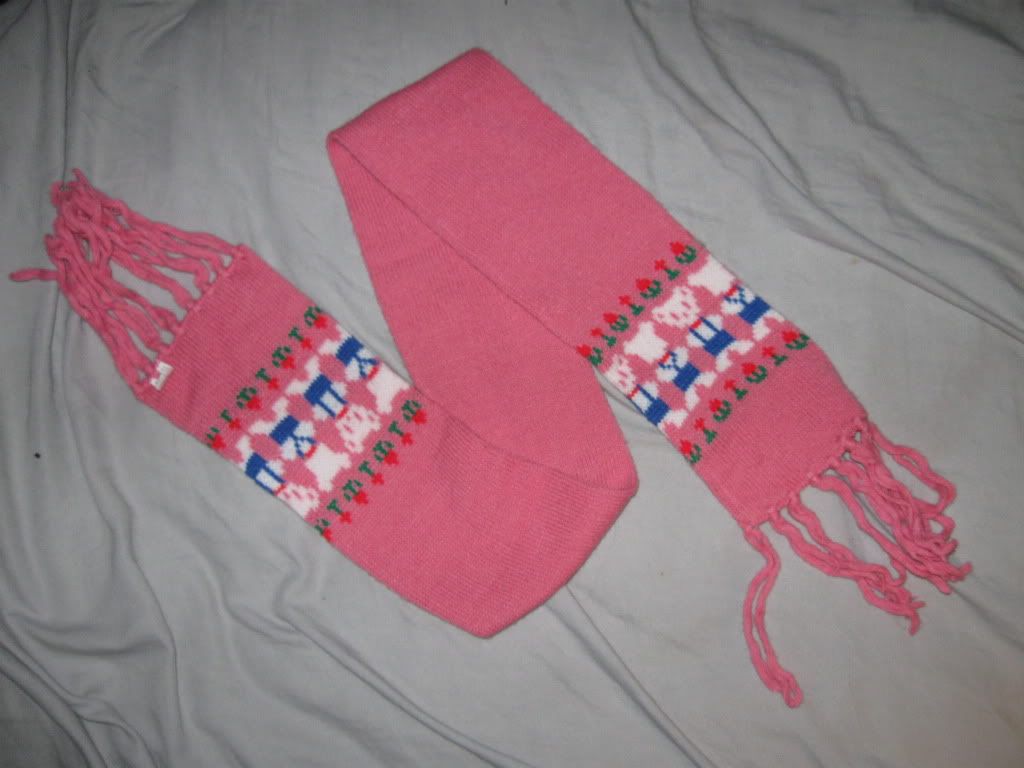 Detail
Size: 50" Long
Price: $8 SOLD

F3. Pink Heart Shaped Sunglasses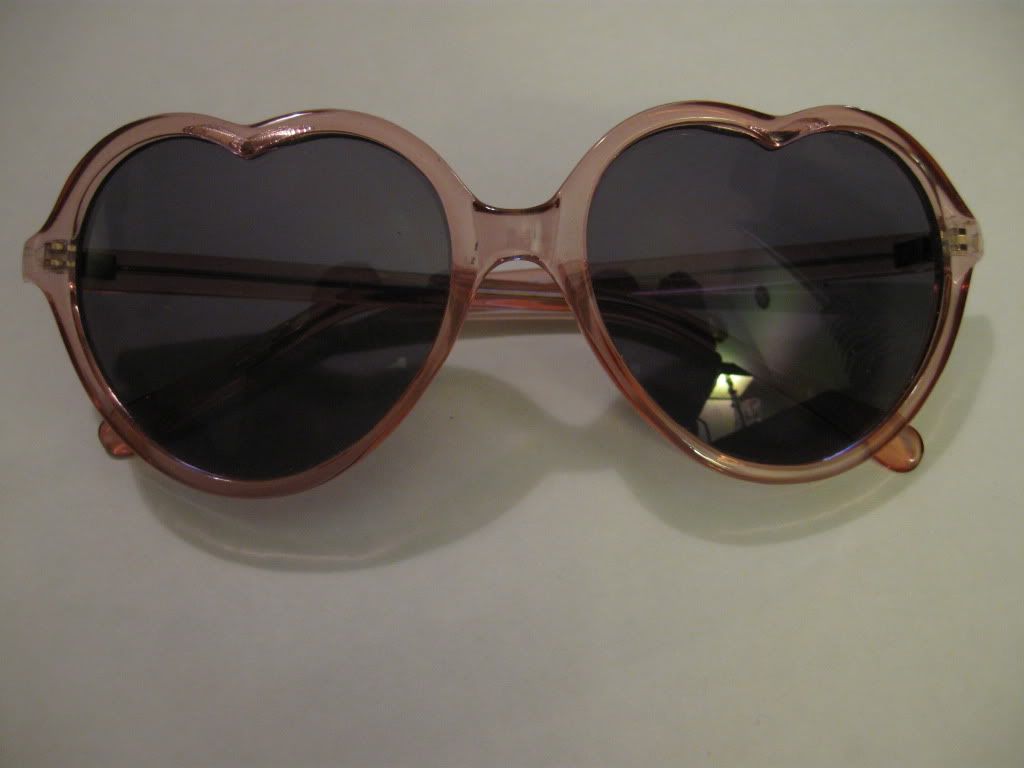 Price: $8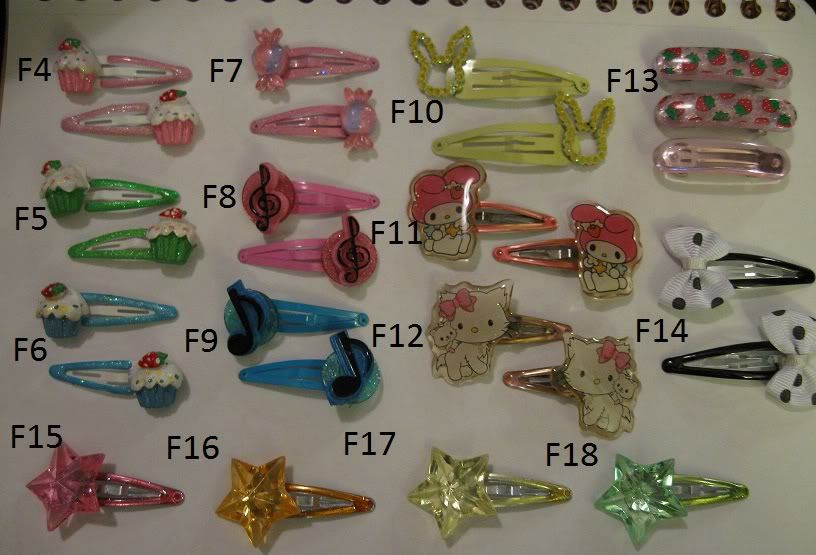 F4. Pink Cupcake Barrettes $0.50 SOLD
F5. Green Cupcake Barrettes $0.50
F6. Blue Cupcake Barrettes $0.50 SOLD
F7. Pink Candy Barrettes $0.50 SOLD
F8. Pink Treble Clef Barrettes $0.50
F9. Blue Music Note Barrettes $0.50
F10. Yellow Bunny Barrettes $1.00
F11. My Melody Barrettes $4.00
F12. Charmmy Kitty Barrettes $4.00
F13. Strawberry Barrettes & Pink Barrette $1.00
F14. White Polka Dot Bow Barrettes $1.00 SOLD
F15. Pink Star Barrette $1.00 SOLD
F16. Orange Star Barrette $1.00
F17. Yellow Star Barrette $1.00
F18. Green Star Barrette $1.00 SOLD



F19. Pink Bow Hairband Set $2.00
F20. Holographic Barrettes $0.50
F21. Pink Bow Barrettes $1.00 SOLD
F22. Mint Bow Barrettes $1.00 SOLD
F23. White Bow Barrettes $1.00 SOLD
F24. Purple Bow Barrettes $1.00 SOLD




F25. Pink Rose Earrings + Pink Studs $4.00 Detail
F26. Red Rose Earrings + Red Pearl Studs $4.00Detail
F27. Black and White Rose Earring Set $3.00 SOLD
F28. Pearl Earring Set $3.00 SOLD
F29. Pink Bow Earring Set $4.00
F30. White Bow Earring Set $4.00
F31. Large Black Rose Earrings $1.00
F32. Strawberry Earrings $1.00
F33. Heart and Flower Earring Set $0.50 Detail
F34. White Filigree Earrings $3.00 Detail




F35. Pink Heart Necklace $3.00
F36. Gingerbread House Necklace $4.00 Detail PENDING
F37. Macaron Necklace $4.00 Detail
F38. Cake Ring $5.00 Detail
F39. Cupcake Ring $5.00 Detail
F40. Lace Choker $1.00 SOLD

F41. Swimmer iPod Nano Case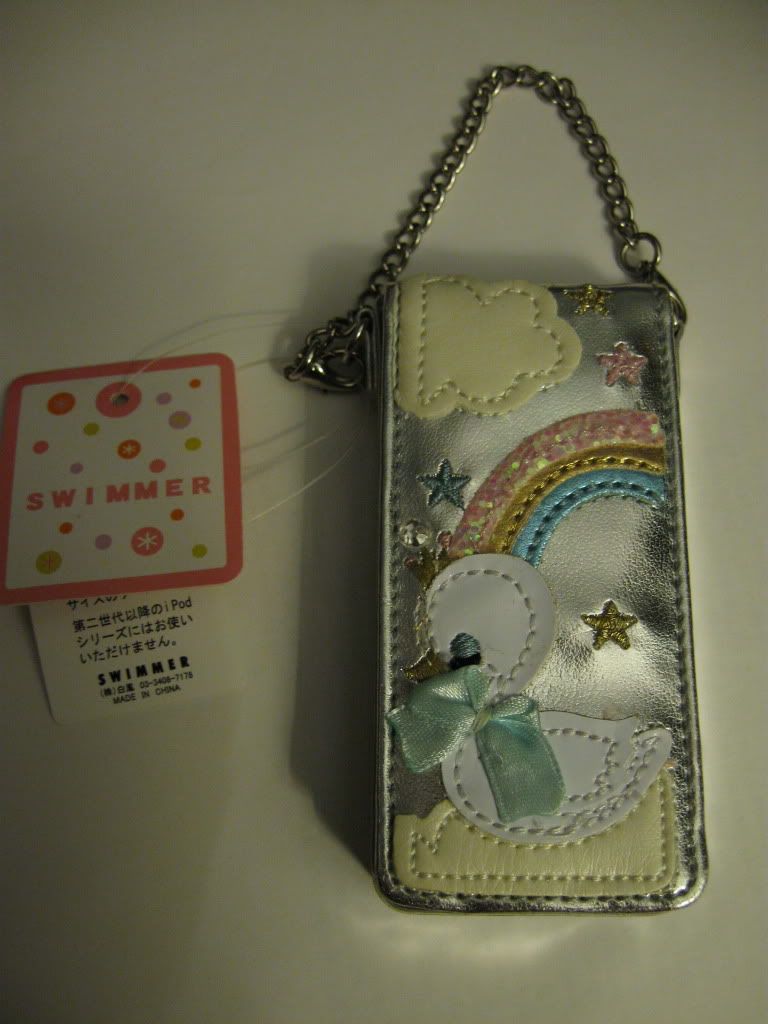 Detail 1
Detail 2
Price:$40

F42. Swimmer Watch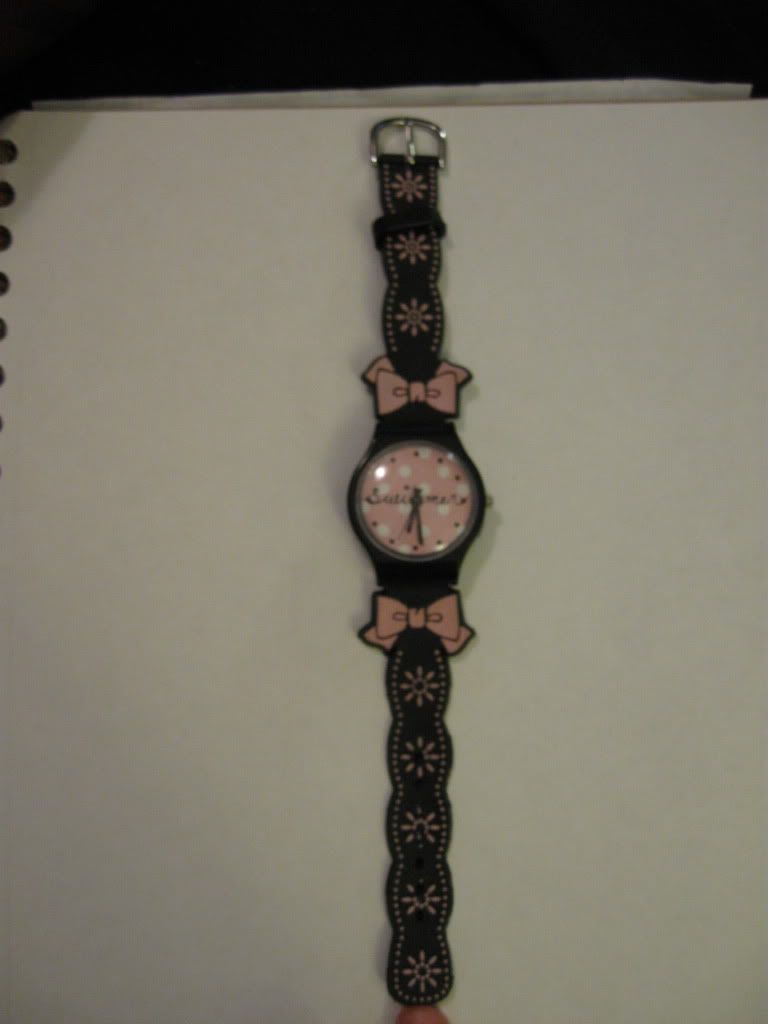 Detail
Cute! However, the battery is dead.
Price:$25

F43. Black Rose Headband


Price:$3 SOLD

F44. Rose Headband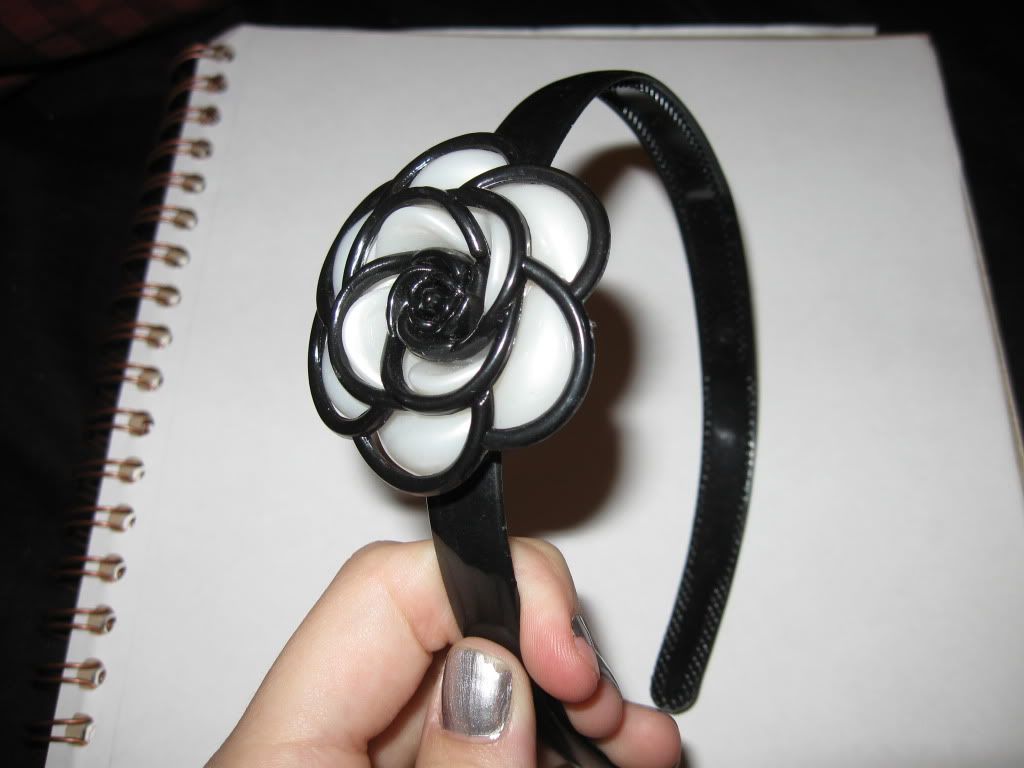 Price:$3 SOLD

F45. Forever 21 Lace Bow Headband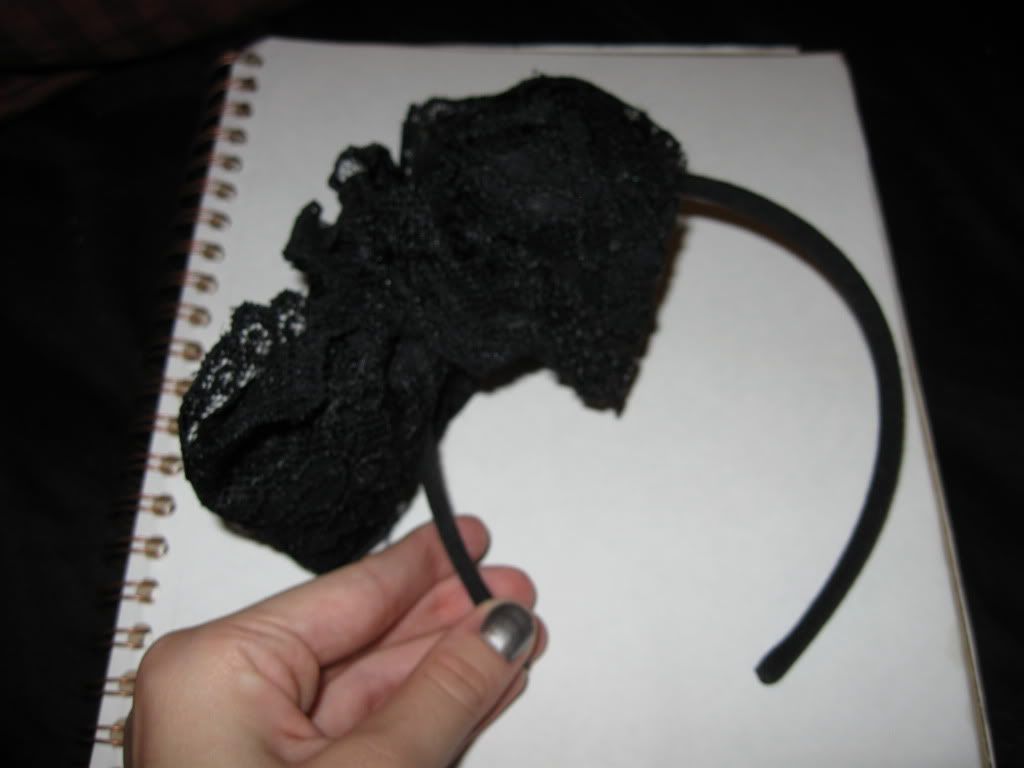 Detail
Price:$5

F46. Bloody Medical Eye Mask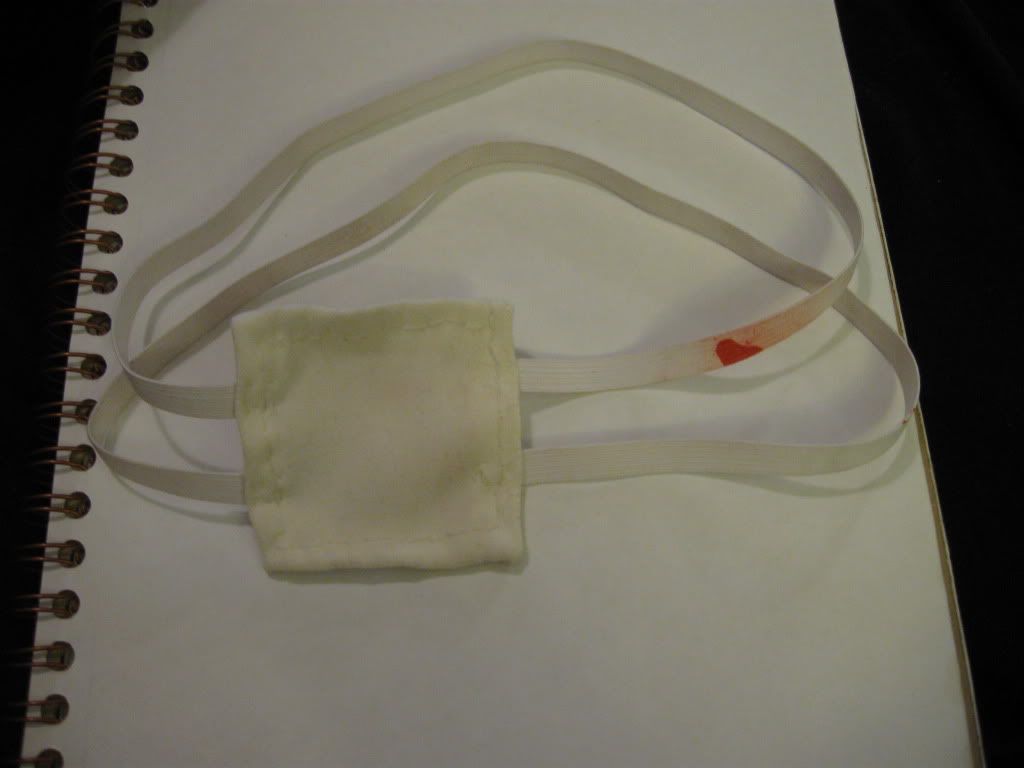 Used for a few photo-shoots. Has a little bit of blood on one of the straps.
Price: $3

F47. Black Headdress


Price: $3 SOLD

F48. Alice in Wonderland Purse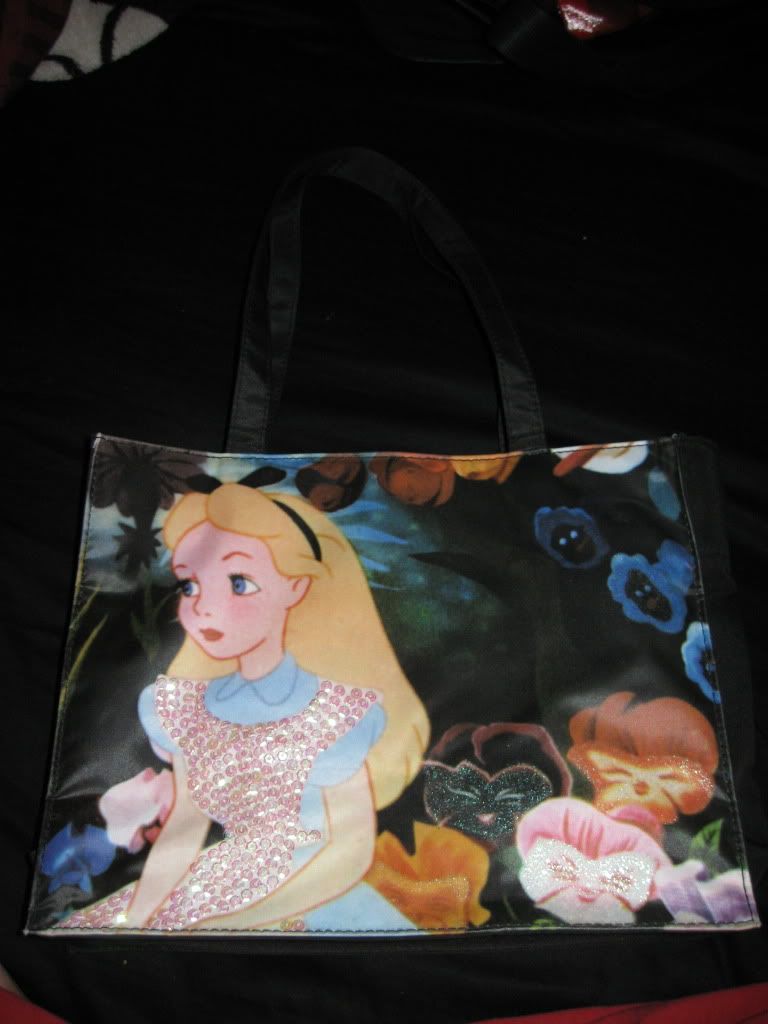 Never used. Alice's dress has sequins on it and the flowers have glitter on them.
Price: $15

F49. Alice and Hatter Necklace


Price: $8

F50. Blue Gingham Headdress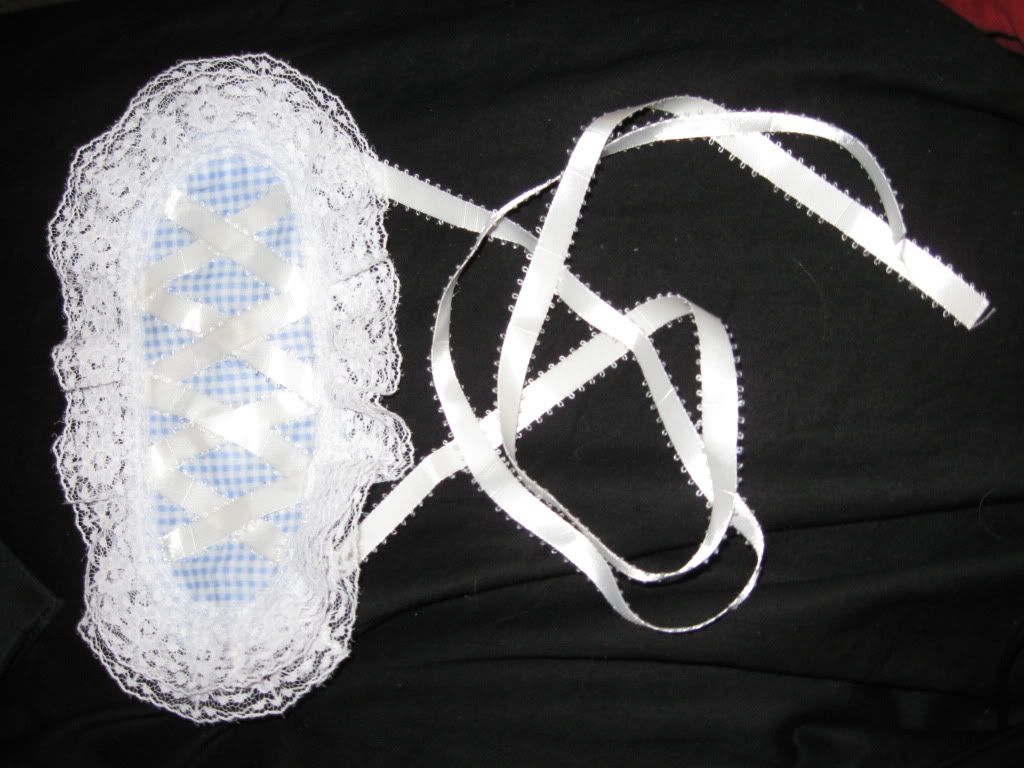 Price: $1

F51. Pink Zebra Alice Bow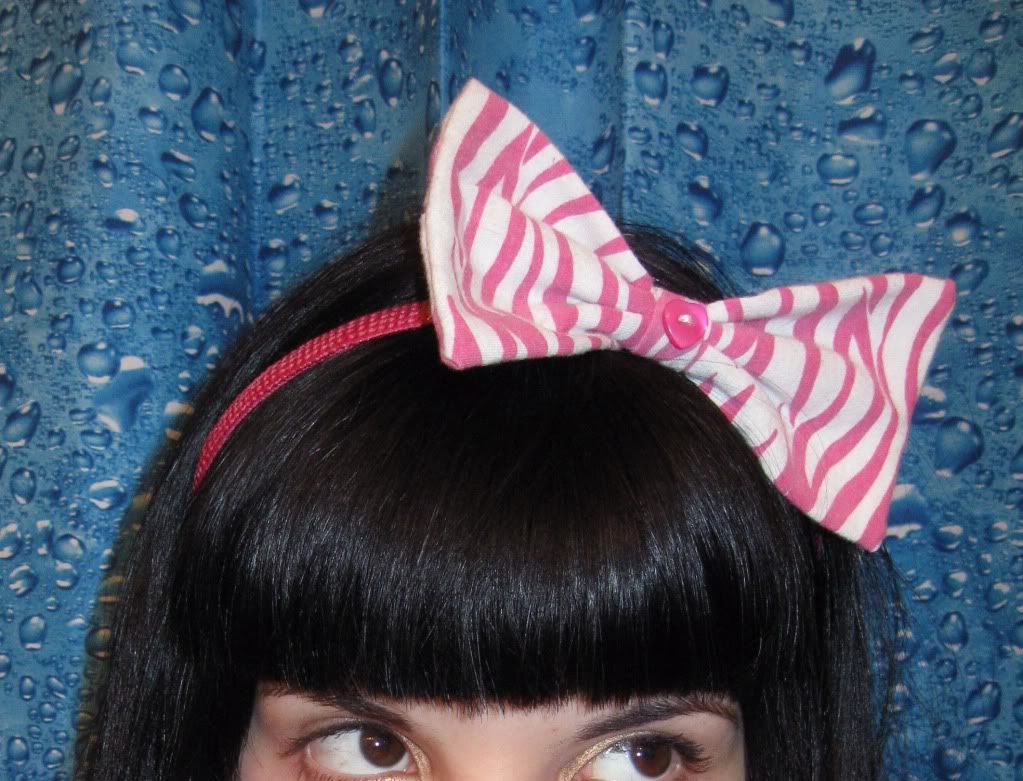 Price: $5

F52. Blue-Purple-Pink Plaid Alice Bow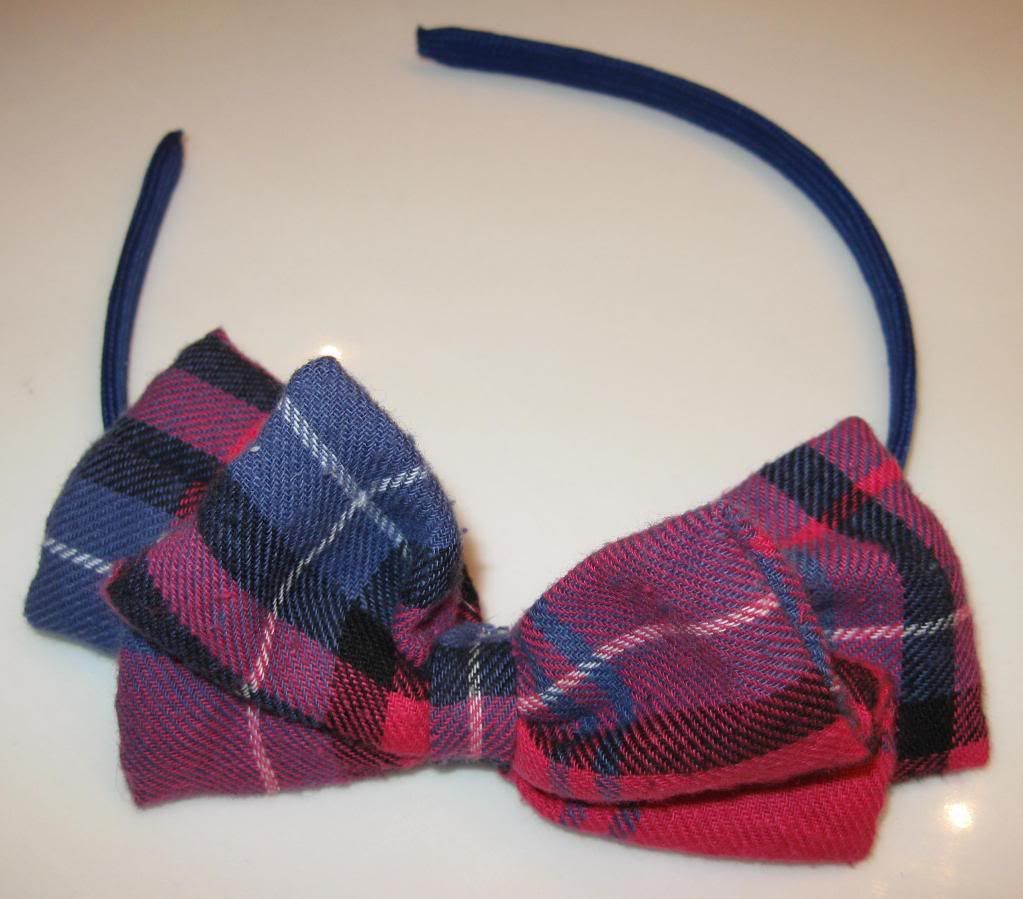 Price: $10

F53. Black Knit Alice Bow


Price: $15


Outerwear

G1. Furry Jacket with Bear Ears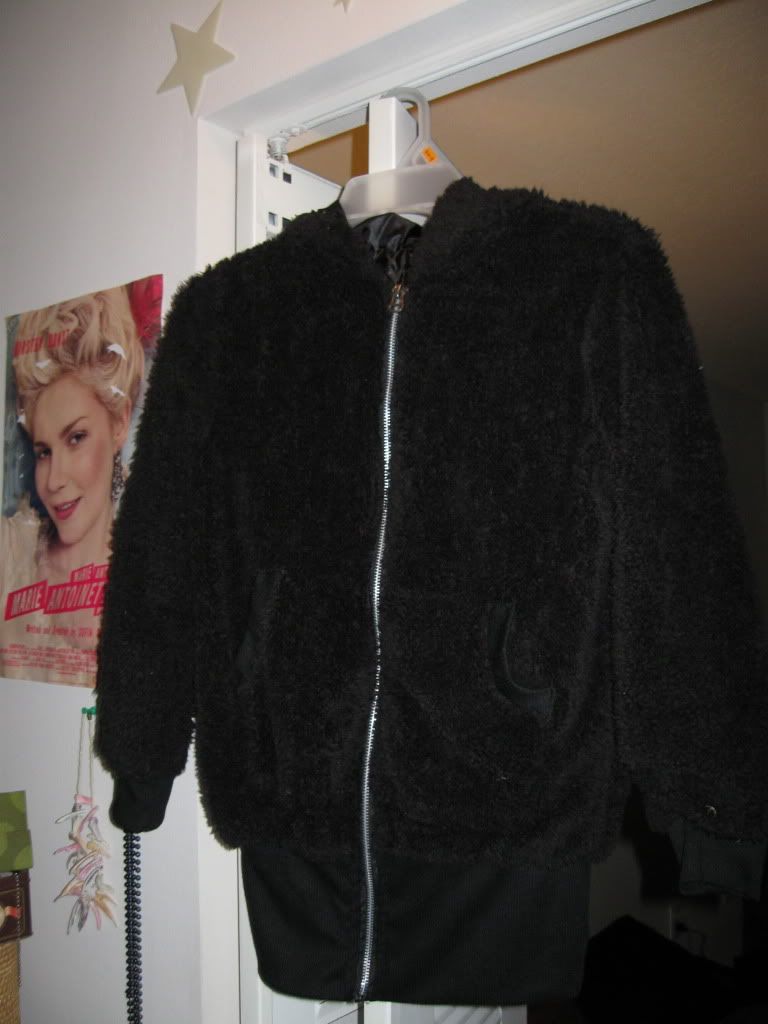 Detail
Hood
Size: 19" Flat, 25" Long. Sleeves are 22" long from the shoulder.
Price: $15 SOLD

G2. Little Black Ridding Hood


Size: (L)
Price: $20

G3. dELiAs Damask Cardigan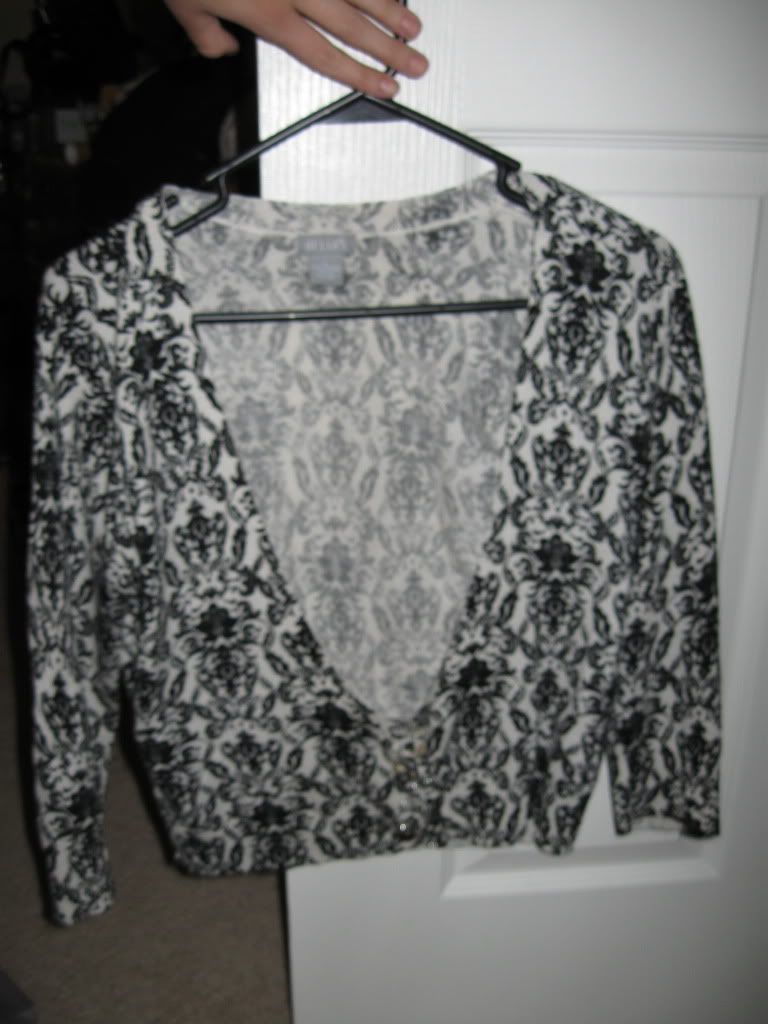 Detail
Size: (L)
Price: $15

G4. Polka Dot Apron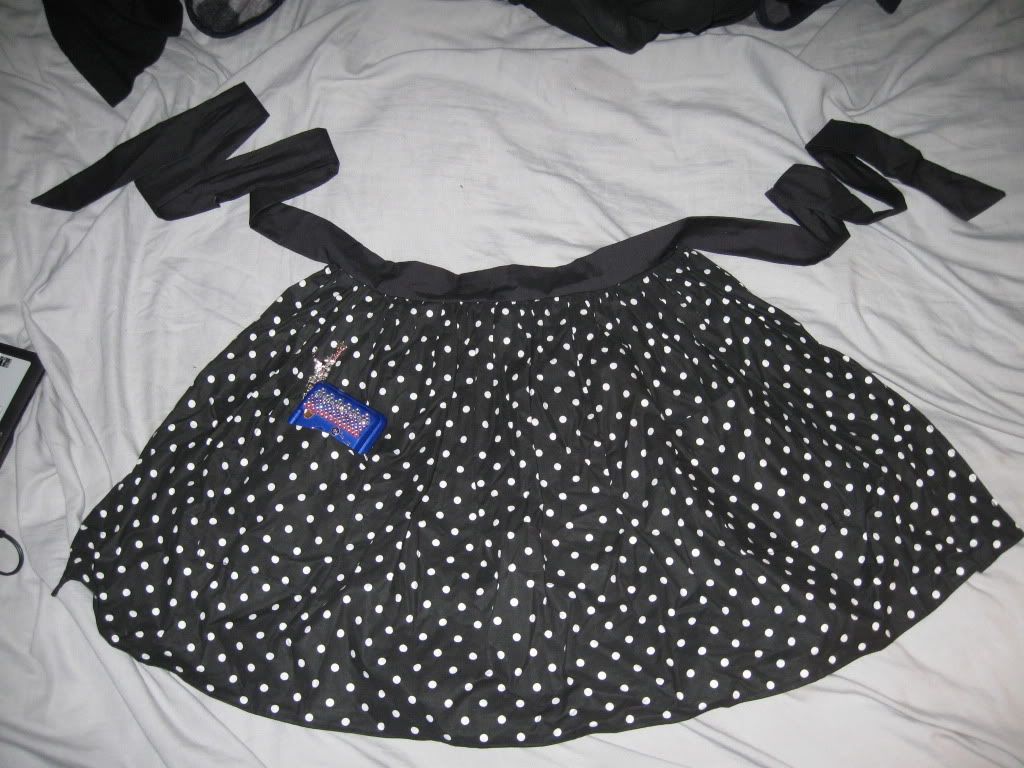 Two pockets
Price:$5 SOLD

G5. White Apron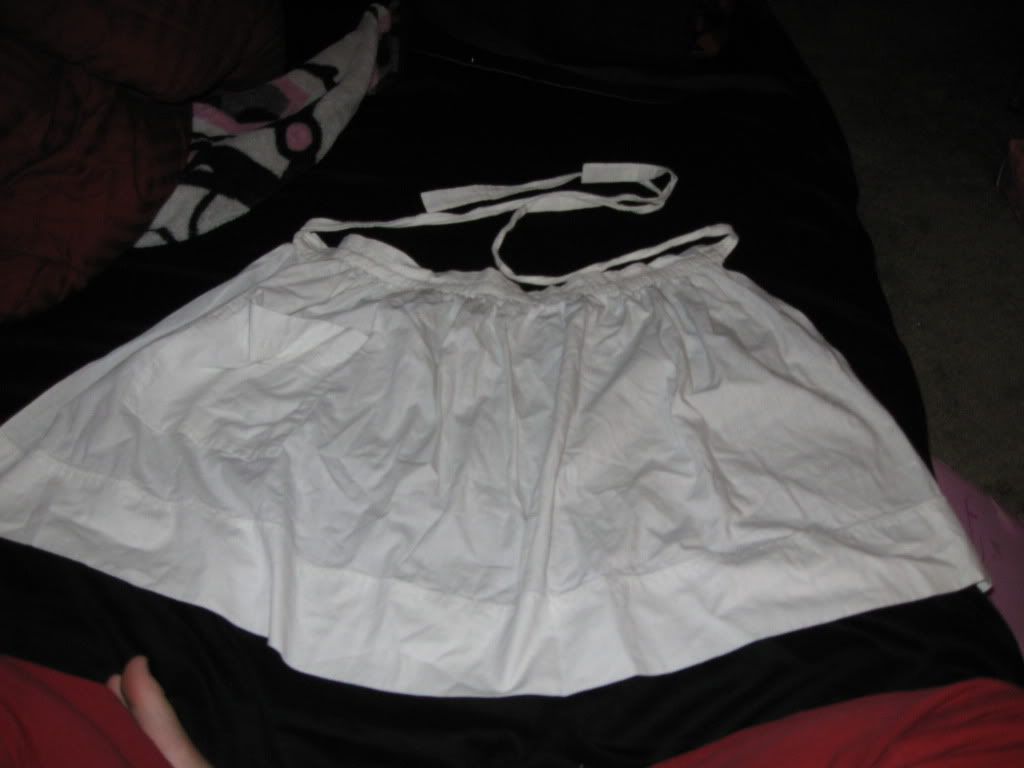 One pocket
Price: $5 SOLD




Extra
H1. Cosplay/Lolita Dress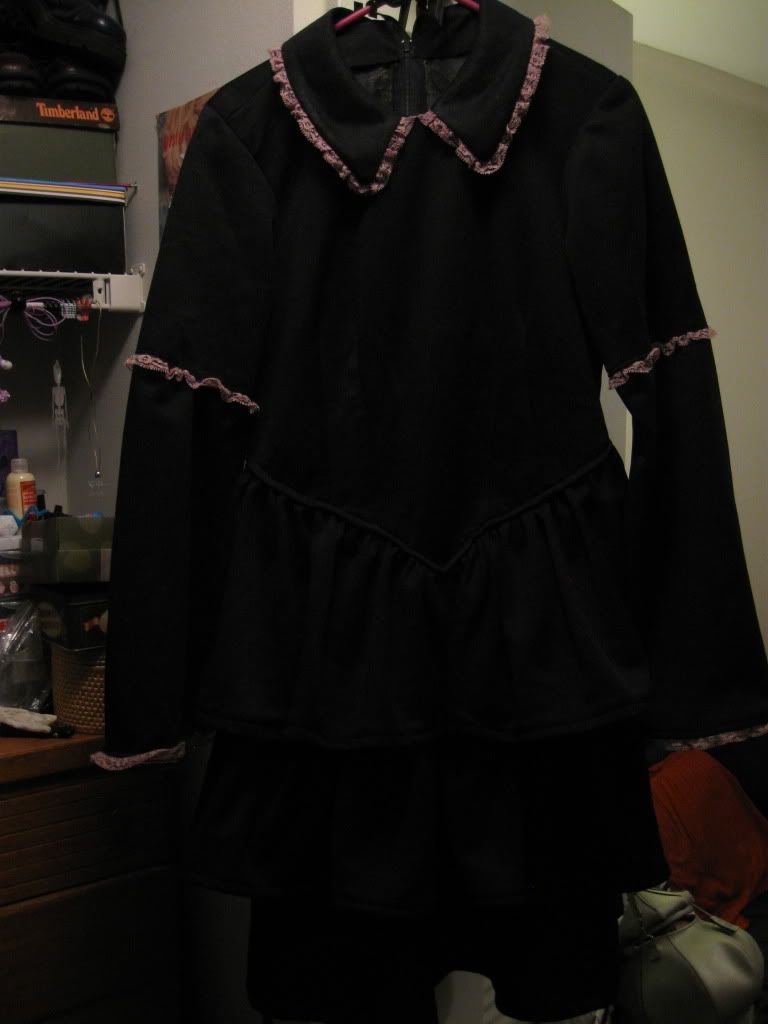 With Flash
FREE! JUST PAY SHIPPING!!
We might be able to arrange for a pick up if you live in the Orlando area. I just want it gone!



I also have some cute hair accessories, jewelry, and clothing listed on eBay if you are interested!
My eBay Shop



Thanks for looking!