~ Feedback: http://community.livejournal.com/eglfeedback/1051770.html
~I've done 4 trades so far, all international, with 100% feedback
~ I will ship the same day or the next day the post office is open
~ I ship from Kanazawa, Japan
~ Trade: I will only trade if you have at least 5 positive feedback -OR- If you'd like to trade but have no feedback yet, I will agree to "purchase" your dress for the exact same price as you "purchase" my dress via paypal.
~ I will provide proof of shipment and expect the same

Up for trade:
Innocent World Crown Ribbon (?) JSK
Color: Dusty Rose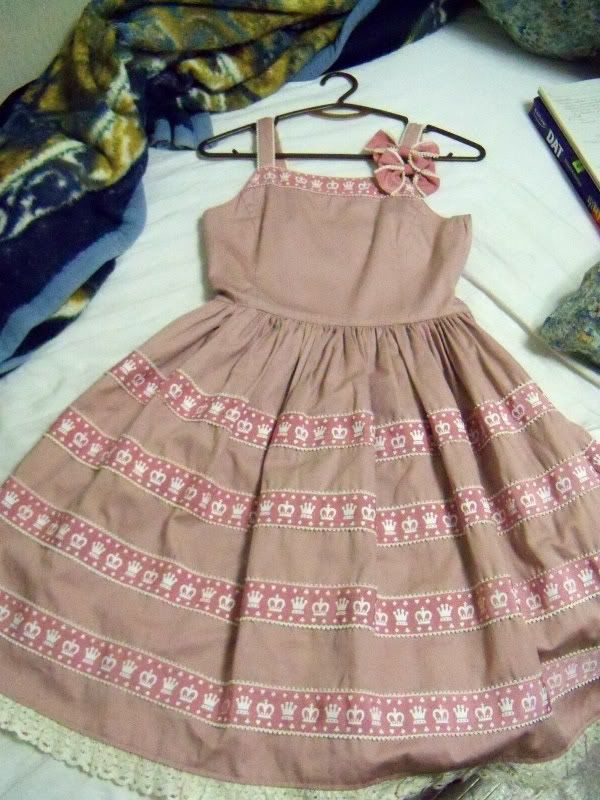 Additional pictures:
Wear: s50.photobucket.com/albums/f321/Dragonlover17/ Back: s50.photobucket.com/albums/f321/Dragonlover17/

Features: Partial shirring in back, side zipper, fully lined, adjustable straps and comes with two detachable bows.
Measurements: I cannot find stock reference for this dress, but it accommodates a 35" bust and 30" waist comfortably. Can go up maybe 1 more inch comfortably, and minimum size is probably 3 inches lower than my measurements. I am 5'8" and the dress hits 2-3 inches above my knees.
Condition: Great. Has some wear on the crown print right near the armpit area where the arms would rub against the dress (see picture). Some small, unnoticeable fading on other parts of the print due to wear from the ruffles of the skirt moving back and forth. Other than normal wear, the dress is in perfect condition; ie no stains or rips. The lace seems a bit dull in color, but since it's uniform all over the dress I think the color is original.
Other: I obtained this dress secondhand in a trade. I do not know how much the previous owner wore it, but it was in great condition when I received it and I wore it only 3x. It has been hand washed with non-scented laundry detergent. I am trading this dress because I've come to realize that dusty rose just does not look good on me.
Allergy Alert: This dress has been around a dog. Although it has been washed, there may still be something on the dress. I would feel awful is anyone had a severe reaction, so please be aware of this before buying.

What I'd trade/partial trade for:
~ The skirt from the same series in a different color
~ Any classic or gothic style JSK (no babydoll, please)
~Any of the following:
AATP Sleeping Beauty JSK (black or ivory)
Red Riding Hood OP, JSK or skirt (red or black)
Lief's Sacred Night, any style, any color

If you are interested, feel free to leave an offer, but know that priority will go to trades. Thank you for looking!