Hello everyone! I'm doing some closet cleaning to sell items that have just been hanging around. I would really like these to go to homes where they'll be worn and appreciated! My feedback page is here.

RULES

- I'm only selling to US buyers.
- All items are in USD.
- I am only accepting payment via Paypal.
- Delivery confirmation/tracking, Paypal fee, and shipping is all ready included in the price.
- I reserve the right to refuse to sell to someone with no feedback or negative feedback.
- First person to leave their paypal address + feedback in a comment or in a message gets the item.
- Please allow for a full week for me to ship things. If you need something sooner, let me know.
- I ship by priority mail.
- No holds/trades/returns. No layaway/multiple payments.
- If you feel the price is too high, please make an offer within reason. Remember, everything is all ready included in the price.


Bodyline Cake OP
print detail
Measurements: Shirred at the bust and back. Bust: 28"MIN-40"MAX. Waist: 25"MIN-38"MAX.
A really lovely and adorable OP that's no longer sold in this colorway on the Bodyline website. In perfect, unworn condition. I did however, seam-rip away two of the pink chest bows, thinking that I would wear it. As such, I have reduced the price a little. It is unlined and made of a very nice medium-thick cotton. --- $50
SOLD

Bodyline Candy Skirt in Mint
print detail
Measurements: Partially elasticized waist. 25"MIN-30"MAX, for comfort.
An original print skirt by Bodyline. It is unworn, in perfect condition, tags still attached. Skirt is unlined, but made of a nice thick cotton. --- $40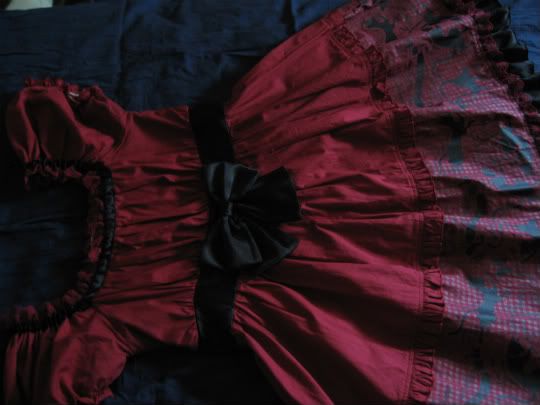 Putumayo Playing Cats OP
print detail

Measurements: Partially shirred bust and partially elasticized waist. Bust: 25"MIN-35"MAX. Waist: 30" MAX.
I bought this OP recently off the community and found it the most charming print! It has a detachable waist bow made of a silky fabric that matches the black part of the waist. Unfortunately, the dress doesn't suit me that well so I've decided to pass it on. It is unlined, but made of a very soft cotton up top and the skirt is made of a slightly stiffer cotton. --- $105
SOLD
Bodyline Cherry Red Shoes
slightly worn-soles

Size: Japanese size 26.0, US size 10.
Really cute, cherry red heels by Bodyline. I've worn them once outside but they still have plenty of life left in them. No scruff marks to be seen. --- $40
SOLD