Final items up for sale that I didn't really want to let go of but I haven't worn for probably two years now so they should go to new homes... sigh. Here we go.

My feedback: Link

NOTICE:


I only take Paypal.


All items have been dry cleaned.


Items will be shipped after payment has cleared through Paypal.


Shipping in the U.S. is $9.95. Will be sent USPS Flat Rate Priority with Delivery Confirmation. I add Delivery Confirmation for free, and ask me if you want insurance.


Shipping outside of the U.S. is $20-30 approximately depending on where you live, sent EMS. Leave a comment with your location asking for a quote if you want a more precise shipping quote.


Asking for details on an item is not a guarantee to the item. You must state that you want the item in your comment and Paypal information for me to send you an invoice for the item to be yours.


Pardon the photo quality, I have a neck/shoulder injury and I just found it too difficult to fuss with the camera much for these pictures. XD; Click through to see full size image.



Stock photo

Anna House Coat Dress

Bust: 18"

Length: 37"

Sleeve: 23" to end of sleeve, 26" plus flared cuff

Condition: Worn once by me, like new, but I have removed about 5-6 bows from it. It had a bow on each wrist, several places along the wrong and generally just flopped around a great deal. Not what I wanted from a coat/OP dress. I will send what bows I can find( I have a toddler who runs amuk so some might have been claimed by him) but the price reflects that this dress is de-bowed. Also it is a very light weight coat. It's just corduroy and a thin lining. Fall coat for sure.

Price: $25

BackLace detail on white white shirt

Angelic Pretty Red White Dropped Waist JSK

Waist: 28" with some shirring for give

Bodice: 16-17" with shirring

Length: 36"

Condition: Like new. The dress has only been dry cleaned by me, and the petticoat is still stiff, and the colors are bright and new. I bought it new with tags from mbok.

Price: $90

Meta Film Strip Cutsew

Bust: 16.5"

Length: 19"

Condition: Like new. Worn twice maybe my me. Dry cleaned only while I owned it.

Price: $30

Meta Red Swan Cutsew

Bust: 16.5"

Length: 19"

Condition: Like new. Worn once. Dry cleaned only while I owned it.

Price: $30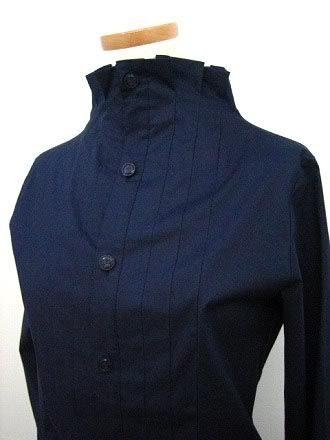 Moi-même-Moitié Blouse

Bust: 17"

Length: 24"

Sleeve: 23"

Condition: Worn once. Like new. (will provide proof pic when I return home.)

Price: $80

Metamorphose Engineer Heart Boots Black

Size: L. 24.5cm. It is a

tight

L, so more like 8.5 than 9. If you wear a 9 in heels, I would suggest these wouldn't fit, but if you wear an 8.5 in heels, then they'll fit mostly like they fit me. They are plastic though and they have stretched a little.

Condition: Gently used. I have worn them a bit, but there is no damage to the soles and only one scuff that is hard to see without using the flash on the camera, shown above on the left toe. Otherwise, it is just wrinkled from being worn. I paid $240 for them new, ordered from Meta.

Price: $90

Shipping: Probably around $15 in the US if I ship in original box, wrapped up for Priority Mail.


Innocent World Black Sweater
Bodice: 16" maybe
Length: 16"
Sleeve length: 21"
Condition: Not new! Complicated. Basically my husband washed it with his clothes by accident and I died a little inside. I might have mourned a bit. Anyways, I managed to use a pill brush to restore it to decent condition, but it had shrank considerably. It is definitely a petite sweater now, and I have big shoulders. So the price reflects this, as I bought it for $60 I believe..
Price: $20

Sold.


Metamorphose My Little House On the Prairie Dress (I don't know what it's actually called)
Length: 34"
Bust: 16"
Waist: 16"
Sleeve length: 21" to wrist, 24" to flare
There is (not pictured sorry) lacing in the back that can be let out maybe another inch across the bust and waist.
Condition: Missing a button, cuz Meta used plastic buttons( T_T). I know it's not a popular dress as well. Otherwise like new.
Price: $45

Sold.


Alice and the Pirates Blouse
Bust: 34"
Length from Shoulder to Hem: 22"
Length of Sleeves From Shoulder: 25"
Condition: New without tags, bought off mbok. Never worn by me.
Price: $40

Sold.


I can do holds for only 48 hours. If you pay a deposit on the item, we can negotiate how long I can hold the item. Thank you for looking!