Things To Know
♥ Paypal only! It's easy. :)
♥ Priority goes to the first person to leave their Paypal.
♥ Shipping to the US is included in the price.
♥ Feel free to make an offer on anything.
♥ I ship using USPS. If you would like a specific way of shipping, please tell me and I'll tell you how much extra it will be.
♥ Items ship from the US.
♥ Items come from a smoke-free, animal-free home.
♥ I have feedback here.

Pink and black floral skirt - $20 shipped to the US OBO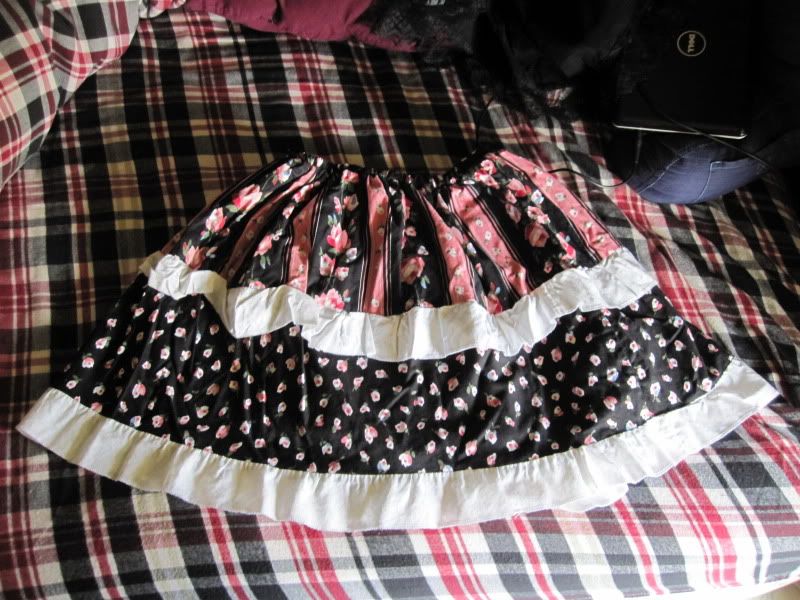 additional photos 1 2 3
- Handmade by me
- Worn once or twice, no evidence of wear. However, there is a small cut in the hem ruffle from my serger; it is sew up tightly and is not noticeable when worn. (see photo 3)
- Fabric is 100% cotton and is unlined.
- Waist is 28 - 40 in (70 - 100 cm) fully elastic. Must fit over hips or bust.
- 19 in (48 cm) from waistband to hem ruffle. sold

Sweet Lolita starter set - $60 shipped to the US OBO


additional photos 1 2 3 4 5 6 7 8 9
- Skirt handmade by me; blouse from brand AT*LAST; headbow handmade by me; socks from LingLam
- Everything is brand new except for the socks, which have been worn a few times and show signs of wear. However, there is no dirt, just greying on the bottom. The black specks in the photo is pilling, not dirt.
- Skirt (unlined) and bow fabric and lace is 100% cotton; blouse is 100% cotton; socks are of an unknown fiber. Perfect for summer because of the light cotton fabric!
- For the skirt, the waist is approximately 26 - 46 in (65 - 115 cm) and it is 20 inch (50 cm) from waistband to hem; blouse is approximately 38 in (95 cm) at the bust and 36 in (90 cm) at the waist, and 22 in (55 cm) long from shoulder to hem.
- Socks are knee length. sold

thank you for looking!