- My feedback can be found here (+46)
- I ship from Hungary, EU
- EU buyers preferred. Sorry, I'm not against US buyers, but I don't like dealing with US Customs issues.
- I ship with registered priority mail, wich has a general fee for all European Union countries, and a slightly higher fees too all other countries. I refuse to ship without tracking, it's for my safety as well.
- I make photo proof of shipping and tracking, so if you do not choose the EMS option wich is insured I'm not responsible if the package is lost.
- if you posted your paypal address, you have to pay within 3 days
- I'm open to reasonable offers
- paypal fees are included!


1. Angelic Pretty Sweet Jam OP in black PAYMENT PENDING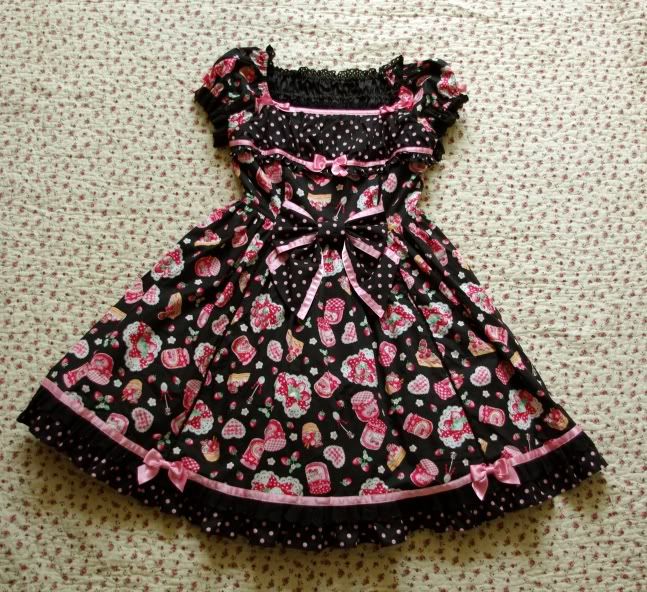 I bought this dress new with tags on from Japan. I believe it was never worn, the tag and the small plastic bag with the extra buttons were still attached, I removed them before trying the dress on. This dress was a long-time wishlist item for me, looks really adorable, but I realized it's not really my style.

Offical photos and measurments
here on HelloLace
.

Actually it's a bit larger than it's promised - I have 106 cm bust / 86 cm waist, and it fit me really pretty, I was not even streching the back shirring all the way. I think it fit's a smaller (C, B) cup-size girl with a wider back better, than a smaller back with bigger cups.

Sleeves have also elastic in both the top and the bottom, can be worn with bolero sleeves and the neck ties on as a cute summer dress. Also good for girls who have a longer torso, since it can be pulled lower to the natural waist.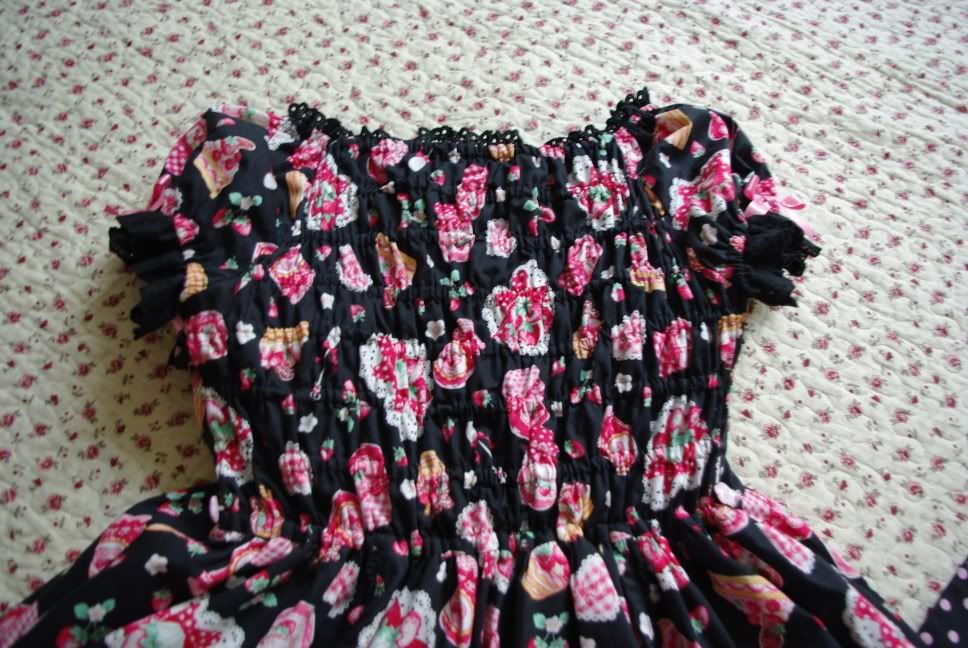 Full back shirring - can go over 100+ cm



Lined, and with a buil-in petti... the tulle is super hard and untouched.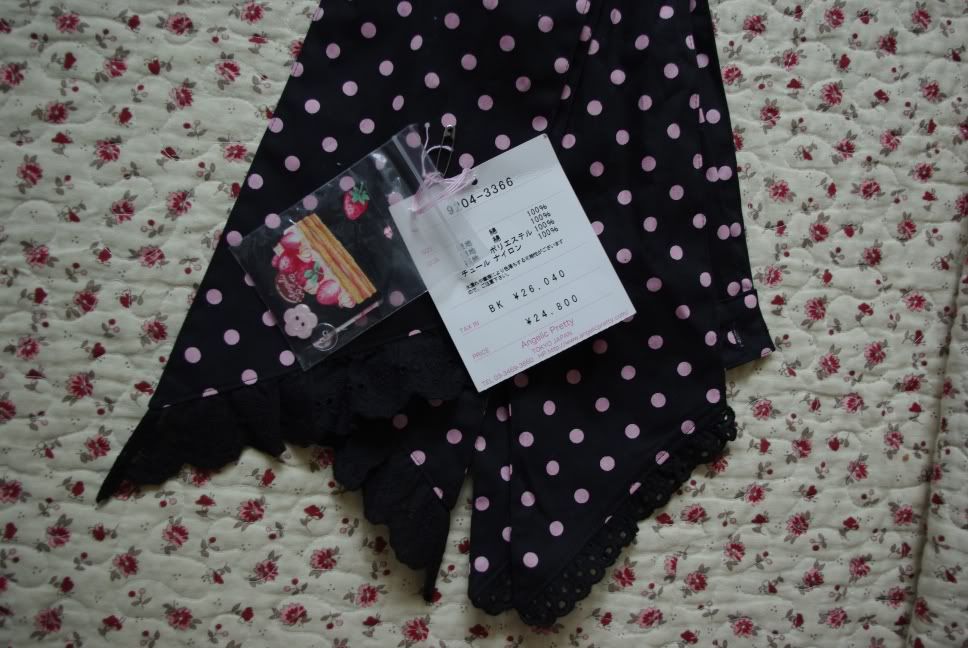 Waist tie, neck tie, and the tag I removed

Price: $200 / 140 EUR
Shipping within EU: $22 / 16 EUR
Shipping outside EU: $35
(Sorry, because of the tulle I can only ship it in a cardboard box to protect it. If you don't need extra protection for shipping, contact me and I'll check the rates.)
2. BTSSB Princess Sleeve bolero
SOLD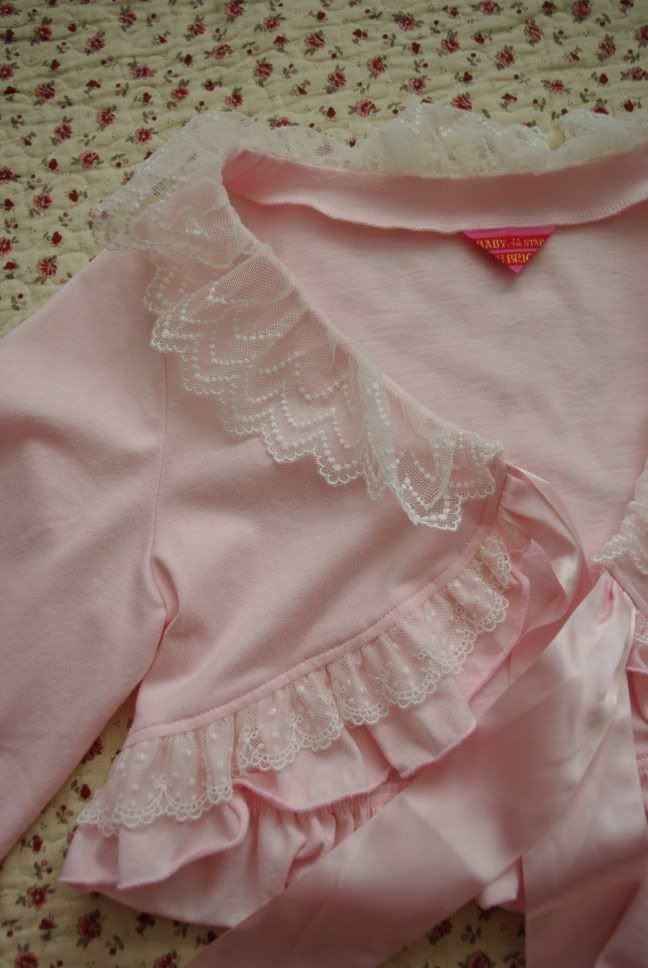 Pink princess sleeve bolero with satin ribbon on the chest and delicate lace around the neck and sleeves. Bought it second hand in great condition, never worn by me, only tried on. The reason I'm selling it that I'm not going to wear too much pink in the future. Looks like brand new.

I think it would look good on a 95-98 cm bust, it still may fit a bigger size since the fabric is very strechy, but you can't fix the bow on the chest.

Price: $60 / 42 EUR
Shipping within EU: $13 / 9 EUR
Shipped to non-EU countries: $21


I'm willing to trade for:
- Heart Marble Chocolate L-size JSK in white or light blue
- Jewel Tree Bouquet OP
- L-size Innocent World OP-s
- classic/rococo style dresses wich fit a 106 cm bust.


Feel free to comment, ask questions, etc! :)