Hey everyone!

Rules:

§ All prices are in USD.
§ I ship from Australia.
§ Prices DO include shipping unless otherwise stated.
§ I use Paypal. First buyer that supplies paypal address gets first preference. Buyer is to pay within 24 hours, otherwise the item will go to the next person in line. I only accept messages on this post, no PM's thanks.
§ I will try and send the items out as soon as I get the payment if possible. This may be the next day, but I will try and be as prompt as possible.
§ I do own a cat, though all care is taken to keep him away from my dresses. Dresses will be washed before being sent out.
§ I can take more pictures if requested.
§ I ship big items through registered post only. Insurance is available; I do not take any responsibility for lost packages.
§ My feedback can be found here on my personal journal and here on eglfeedback

SALES

Item 1: Metamorphose 2009 Summer Special Set in PINK $135USD
STOCK (one on the left)



My Pictures:

This was my first ever Lolita buy. I like it, but after I got the set in black I never wore it again. Pink really doesn't suit me that much. Only worn twice, and kept in a cupboard ever since. Comes with a little accessories bag with wrist cuffs, waist tie, and head bow.
Fit's a bust of 36"~37" MAX and I'd say a 35" Waist MAX. can go a fair bit smaller from shirring and waist ties.
Item 2: Kids Yoyo AP replica Carousel OP in BLACKxWHITE
$150 USD
STOCK:
My Pictures:
Made to my measurements last year, but I've lost weight and it no longer fits me. When I ordered it, I requested black trim to be more in line with the original AP. It's quite think and heavy, it's fantastic for winter though. It does have the detachable bow, but I have to find mine, when I do, I'll send it forward free of charge.



Item 3: Kids Yoyo AP replica Marrionnete Gril OP in WINExWHITExBLACK $150USD SOLD
STOCK: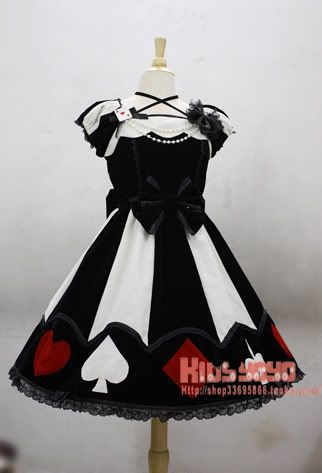 My Pictures:


Made to my measurements, though this one came a bit bigger originally, so now it's swimming on me. It's an amazing dress though. And it comes with a matching head bow. Again, its think and heavy, being made of soft velvet, but really good for the winter months.
Fit's a bust of 40"~45", I'd say, and a waist of 34"~37". Can go smaller from waist ties.


Thank you and have a wonderful rest of your day!