Conditions:
+I DO own both a cat and a dog. They are not allowed in my room/where the clothes are kept, but I think this would be best to mention.
+all items come from a non-smoking home.
+Prices do NOT include shipping
+my feedback page is: here
+PayPal only
+All prices are in USD
+I ship from the US
+I prefer to ship to America, and American customers will take priority. I do and have shipped internationally, but please be aware that shipping will be extra. I will ONLY ship a package internationally with tracking, which again will cost extra. Please inquire for prices.
+The person who offers the most money has priority. If more than one person offers the same price, than both parties will be given a chance to bid; otherwise, the person who leaves/PMs me their PayPal address first has priority

Putumayo Dancing Cats Dress




close-up of print




shirring in the back:




detachable waist bow:



$100.

Fits larger sizes, shirred in the back. Fits my 34" bust/27" waist nicely but may be a little bit loose on smaller sizes. Max bust is about 36". Max waist is approximately 30-31". Not sure about the max measurements but it is very stretchy. A beautiful dress in perfect condition.


Angelic Pretty Royal Poodle Skirt in Red




high-waist corset detail:




back shirring:




waist ties:



$130.

Fits about up to a 28", possibly a 29" waist. Has a small amount of shirring. Waist ties to fit smaller sizes. Mint condition, beautiful skirt. High-waisted. Does not include detachable ribbon brooch.

Angelic Pretty White Long-Sleeved Cutsew sold




Back:




Close-up of collar detail:




worn:



$40.

Mint condition, only tried on and washed by me. A little bit big on my 34" bust, 27" waist. VERY stretchy material. Should probably fit around a 36" bust, maybe a 30" waist. However, larger cup sizes will cause the shirt to ride up. Should not be a problem tucked in but please be warned. Slightly short--does not reach past waist. Would look good over or under a long-waisted skirt. If you have long arms the sleeves may not reach to your wrists.


Metamorphose Hoodie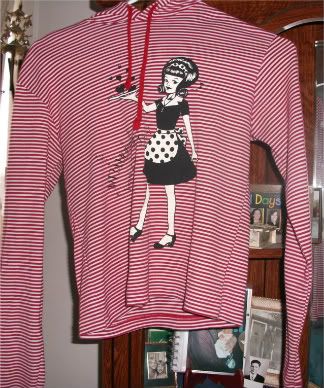 $35.

print close-up:




Adorable hoodie bought off ebay. Looks to be mint condition. Never worn by me. Thin material, would look good over a skirt or JSK. Again, cut slightly short. Should fit around a 35-36" bust, but if you have larger than a B cup may cause the hoodie to ride up. 29 to possibly 30" max waist. VERY stretchy. Also, if you have long arms the sleeves may not reach to your wrists.