MINIMUM $5 PURCHASE TO SHIP!
Please read everything carefully before commenting! :D







Bow and fur close-up ♥ Zipper close-up ♥ Strap buckle detail ♥ Side of the bag ♥ Interior ♥ AP tag ♥ Bottom of bag

Angelic Pretty Leopard Fur Heart Pochette [Pink]
Details: It took me a ridiculously long time to find this bag, but I've realized now that I'll probably never get around to using it. It has an adorable leopard print fur material on the front and back (complete with sparkly bits!), adjustable strap, and really shiny gold hardware, including a bow zipper pull with "AP" on it! I was pretty lucky to find this pochette in brand new condition but the bottom of the bag does have a strange manufacturing error. The pink part bulges out a bit too far at one point, I'm guessing because it wasn't sewn evenly. (Please look at the pictures since it's a bit difficult to explain!) However, when worn, this flaw is barely noticeable, and it's probably a pretty easy fix with a little needle and thread. Also, please keep in mind that my price is slightly less than what I paid for the bag even though it's higher than the original price. :3
Measurements Approx. 8" at the longest, 8" at the widest, and 3" deep; strap can be adjusted from 46" - 50"
Condition: Brand new with AP tag!
Price: $85 [+ $10 Priority shipping in the US, $13 First Class anywhere else]



RINGS!

I had way too many cabochons so I decided to turn them into rings! Many of these were poorly painted or weird colors so a lot of them have been given new paint jobs complete with several coats of varnish to seal them in. Quite a few of them have also been sprinkled with Swarovski rhinestones! Please note that there may still be small imperfections, though nothing too noticeable. All ring bases are nickle-free and adjustable, but they will not fit fingers smaller than a US6.

♥ ♥ Click on the ring number to see a picture of it worn (color variations will use the same picture). Rings that have been painted in any way are marked with a ** after the ring number. ♥ ♥


Shipping within the US is an extra $3 no matter how many rings you purchase. Shipping to all other countries is $7.



THESE ARE $1.50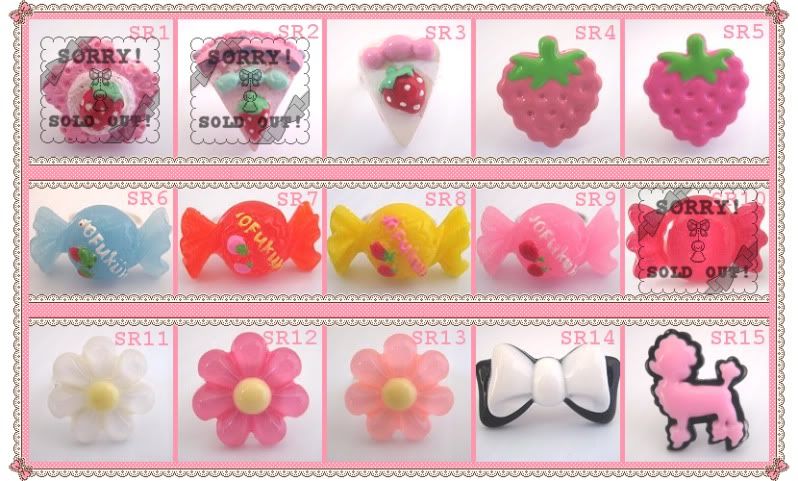 SR1** [Side view]
SR2** [Side view]
SR3** [Side view]
SR4 [Side view]
SR5 [Side view]
SR6
SR7
SR8
SR9
SR10**: Lots of micro glitter, only the back has been painted.
SR11
SR12
SR13
SR14
SR15



THESE ARE $3



AR1
AR2
AR3
AR4**
AR5**
AR6: Glittery
AR7: Glittery
AR8: Lots of micro glitter



THESE ARE $4



CR1**: Slightly bigger than the one to the right [Side view]
CR2** [Side view]
CR3**: Slightly bigger than the one to the right [Side view]
CR4** [Side view]
CR5** [Side view]
CR6**
CR7



THESE ARE $5



FR1**
FR2**: Lavender parts have a light layer of gold over them, cone lines are gold
FR3**: Cone lines are gold
FR4**
FR5**
FR6**
FR7**
FR8**: Cupcake wrapper lines are gold
FR9**: Cupcake wrapper lines are gold
FR10**: Cupcake wrapper lines are gold



THESE ARE $6



DR1**:
DR2**: Lavender parts have a light layer of gold over them [Close-up]
DR3**: A striped star hangs from a tiny silver chain
DR4: Two glittery rings connected with pink and silver chains





PLEASE READ THE FOLLOWING BEFORE COMMENTING...
♥ Priority goes in comment order, whether you leave a Paypal address or not. If I do not hear back from you within 5 hours after I comment, I will assume you're no longer interested and move on to the next person in line (unless you specifically state you will be away for a certain amount of time).
♥ NO HOLDS or TRADES!
♥ I do not accept gift payments since they're risky and I get charged for them anyway.
♥ I accept Paypal - CC or non-CC is fine, but NO E-CHECKS. I expect (cleared) payment within 24 hours after I send an invoice.
♥ All items have shipping prices listed to the US. If you would like to add insurance, there will be an added cost and you must let me know before I invoice you. If an item has first class shipping listed, you may request that the item be shipped Priority for $5-13 (depending on size). For international buyers: I will ship internationally, but you must cover the shipping cost. Please also note that because the cheaper international shipping options do not come with tracking, you are buying at your own risk. Once I drop the package off at the post office, I am no longer responsible for what happens to it.
♥ You can see my feedback here.
♥ When you comment, please let me know which item you're interested in, your Paypal address, and your country.