Rules! And all that stuff

1. Feedback on the databases Here!
2. I only accept paypal
3. All prices include shipping to the US (international buyers please inquire about shipping)
4. Measurements taken flat and doubled- amateur measurements!
5. Priority goes to the person who can pay the asking price and leaves their paypal first
6. All packages include delivery confirmation- once package is out of my hands it is the responsibility of the post office! If you would like tracking or insurance please inquire- it will cost extra.
7. I do accept trades, I look for black, blackxpink and navy colorways!
8. Please don't hesitate to ask questions or make offers!!




Baby the Stars Shine Bright Princess Drop JSK in Black $150 $130

PAYMENT PENDING




My photos:
Front
Back

Super cute JSK and I love the pattern so when I saw it for sale I snatched it up but I really wanted the skirt version.
Bust: 34 inches
Waist: 28 inches- can be made smaller by waist ties



Baby the Stars Shine Bright Bows JSK NWT $90 $75

As someone who has never used the Baby Shopping cart system before apparently I messed up and ordered the pink version of the JSK instead of the Navy version. I paid exactly $108 for this dress including shipping.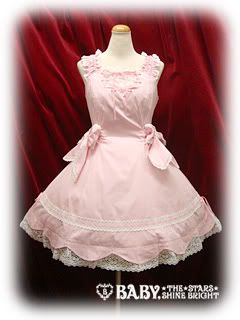 JSK will come in original box with the shopping bag and hanger Baby gave me as well! Proof: Pic 1 Pic 2
Measurements taken from the Navy version which I now own, basic M sizing from baby:
Bust: 34 inches
Waist: 28 inches- can be made smaller with the side bows





Putumayo Alice Frill JSK $150






Proof of me wearing the JSK
Magazine shot of the red version mine is the black with white print
Super cute JSK, yet again I wanted a different color (dark blue) but it was sold out but I really liked the print so I bought the black one. I don't think it really suits me though. I bought this for $180 including shipping it's been worn only a few times, no flaws that I can see. The back is fully sheired so it can fit a wide variety of sizes!
Bust: 28-35
Waist: 24-30



Putumayo skirt PinkxBlack $30 $25




This skirt is in used condition but still very cute! There is some black bleeding faintly on the pink ribbon at the bottom and when I revived it I had to re-sew in one side of the zipper now good as new! A few of the prints of the crosses and flowers are cracking a bit but it's not noticeable when worn.
Waist: 27 inches
Length: 17 inches





Baby the Stars Shine Bright Double Headbow Sax Blue $30 $25

SOLD




from front


I bought this bow as an experiment with different head things and it's not quite my style. When I got it it had some small flaws that are not noticeable when worn, I have tried to capture them and circle them
Here
and
Here
Innocent World Navy hairbows NWOT $20


With flash
Super cute navy hairbows from Innocent World, unfortunately they proved to be too small for what I wanted to use them for. I bought them new at the IW store in Tokyo and never wore them. Great for accents or a more subtle hair ornament!






Blue Innocent World Replica Socks $10

ON HOLD, Black Juicy Couture school socks $12






Both worn only once by me, both knee length.




An*ten*na Shoes- $40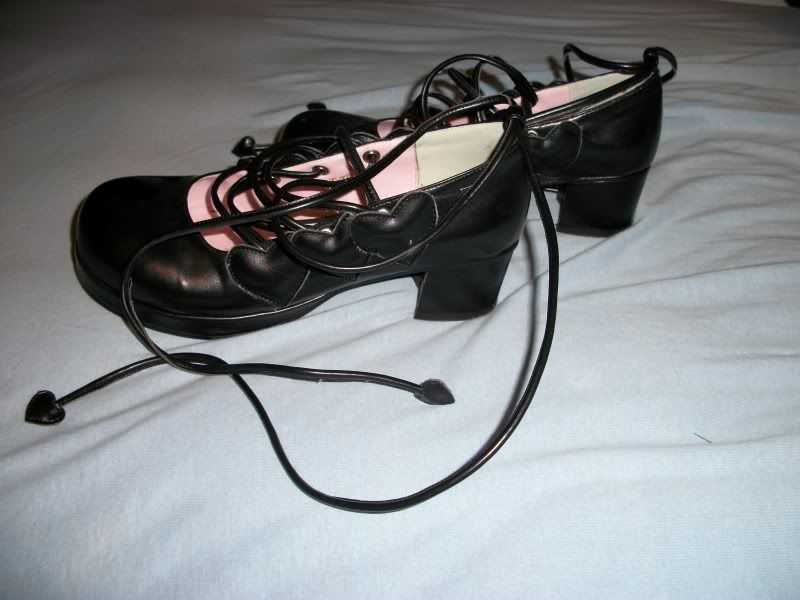 These are real An*Ten*Na shoes, not replicas! Ballerina style lace up shoes with cute hearts on the sides! I really like these shoes but don't really wear them, I've worn them maybe 3 times for a few hours each time. No visible flaws.

Size: Japanese size L





Cyprus dark brown curly wig $85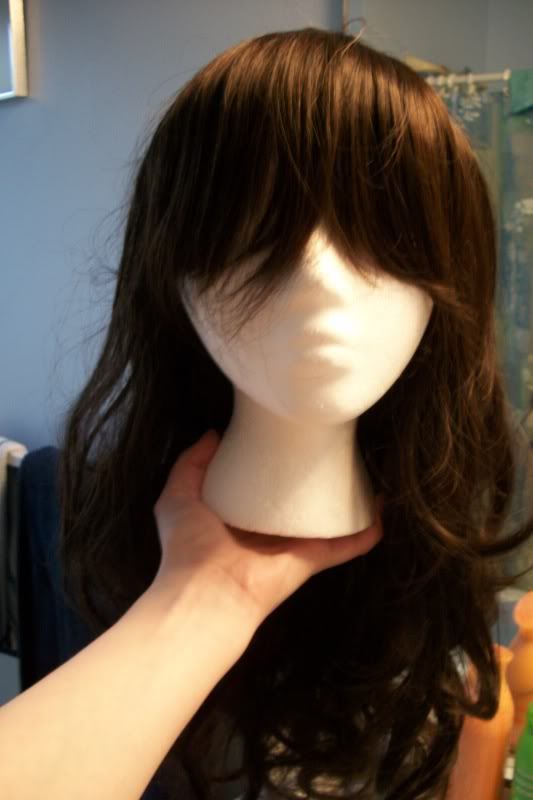 Back
Wig Stand
I loved this wig cuse it's a natural looking dark brown and has elegant loose curls at the end but it ended up being too dark for my skin tone! I only tried it on with a wig cap and since it's been in storage. Bangs are still the original length they have not been cut. Comes with original 3-piece wig stand!





Fake Bangs Blonde $13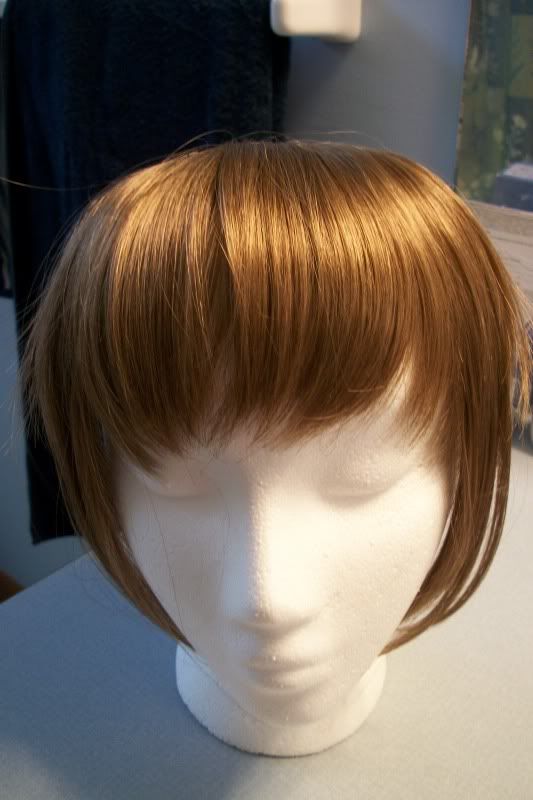 Underside of bangs
I bought these to try out bangs when I was wishy-washy about getting them but now that I have my own bangs I don't need these anymore! They have longer pieces on the side to frame the face better. Only worn out once. They went perfectly with my dark blonde hair color- many people thought I cut my hair!