Rules and Conditions:

-All prices are in USD and include shipping with tracking by USPS. Ask if you need different shipping
-I will look at offers but will take first to give full price (though not without warning)
-I will look at trades
-All items sold as-is. I would like them GONE.
-I reserve the right to refuse any offer for any reason.
-Barring various natural disasters, I will ship the next business day after payment, with tracking when possible. Insurence is included for international, extra for domestic
-Paypal ONLY

*

For Trades:
I am trying to tone down my wardrobe as I just don't wear much in the way of OTT these days. If you want to offer me something, I'll look at anything, but I am particularly after toned-down, onee-san, and mori pieces, though I won't say no to some good fun oldschool XD


***********************************

BtSSB Tulip Bouquet JSK SOLD!
Condition: Excellent
Measurements: Waist: 27", Bust 34" max
Ok, this JSK was not well designed in the bust. You can see in the stock picture how it gapes horribly there. I put in two tiny (less than an inch) tucks at the top of the bust seams to make them stop gaping. The bust is the same measurement as before and this is easily
undone with a couple stitches but makes it fit 100% better. Textured fabric, lined, side zip, detachable bow and waist ties. Worn only a couple times.
Price: $100 shipped domestic, $115 international
What I fixed:




AP Starry Night Theatre OTKs SOLD!
Condition: NWT
Price: $35 shipped domestic, $40 international (airmail)

BtSSB Alice At the Funfair Skirt
Condition: Excellent
Measurements: 22- 28" (56-71cm) waist
Bought new in store. Lovely minty light blue, durable textured fabric, machine washable. Lined with built-in petticoat. Detachable waist ties and partial shirring in back.
Price: $100 shipped domestic, $115 international

Emily Temple Cute Skirt SOLD!
Condition: Fair
Measurements: 24-26.5" waist, 28" if not hooked at top (61-67cm)
Received in a trade. Looks well-loved, but print in great condition, no apparent cracking. No stains or discoloration, unlined, side zipper, slight give to back shirring.
Price: $55 shipped domestic, $70 international





Offbrand Pink Shoes
Condition: Good
Measurements:
Size M (6.5-7 US, 23.5cm, fairly wide)
Bought from One Day In Paradise. Salmon pink shoes. Some small flaws in the manufacturing (holes in scaloping not super crisp, some wrinkling on the PV) but unnoticable when worn. Small bits of elastic on straps for ease in wearing. Worn only a few times by me, a few small scuffs on the inner toe, have been otherwise cleaned since last use. Very comfortable.
Price: $25 shipped US, $40 international
Innocent World Replica JSK SOLD!
Condition: Excellent
Measurements:
24-34" (61-86cm) underbust
Free bust (up to 38", 97cm)
Traded on the sales comm, no tag, but the girl said it was from a store in Toronto, Canada, and after finding this picture I realized it was a replica, though not an exact one (lace instead of ruffles). Dusty pink chiffon, lined in chiffon. Embroidered lace. Built-in waist ties, shirring all the way around. On par with brand.
Price: $75 shipped domestic, $90 international
Meta Punkma Skirt
Condition: Good
Measurements:
24-26.5" (61-67cm) waist
18" (46cm) length
Bought off Yahoo! Japan. Heavy fabric. Lined. Bright print. Detachable pouch on right side. Detachable waist ties with built-in self-covered belt buckle. Buckle and button fastenings in front.
Price: $75 shipped domestic, $90 international
AP Chiffon Ribbon Halterneck Camisole SOLD
Condition: Good
Measurements:
30-33" (76-84cm) bust
28-32" (71-81cm) waist
Traded on sales comm. Cutsew material, with chiffon and embroidered lace over. Detachable neck strap. Shirring in back. AP pink. Small signs of wear (I'm guessing once or twice).
Price: $40 shipped domestic, $55 international
Seaside Sailor Skirt
Condition: New
Measurements:
26-30" (66-76cm) waist
22" (56cm) length
Made from cotton twill. All cotton trim. Pockets in front. Side zipper and clasp. Finished seams. Shirring in back. Hand-applied stars.
Price: $24 shipped domestic, $39 international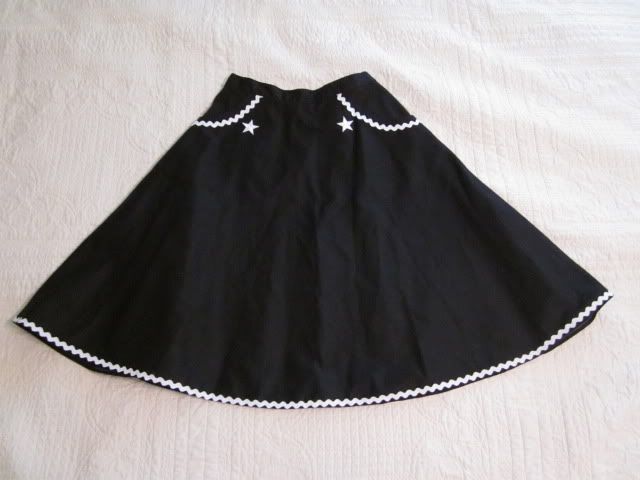 Condition scale:
Poor: Very used, heavy pilling, may have stains, tears, or discoloration
Fair: In used condition, shows wear. Pilling or fading visible.
Good: Some use, beginning to show signs of light wear. May have light pilling.
Excellent: Light use, doesn't show. No stains, tears, etc.
New with/without tags: New, unused or only tried on. Perfect condition.


Thank you for looking!

Will be online at noon EST