- I ship from the UK, everything will be posted a week from now; 31st May.
- Everything is in GBP £ and that's now I expect to be paid
- For reference, my measurements are 37 inch bust, 28 inch waist and 38 inch waist. Everything fits me well.
- Everything is automatically insured for up to £41, if you want insurance for anything over that price then let me know. If something goes wrong; I WILL NOT REFUND MORE THAN £41 IF YOU DO NOT REQUEST INSURANCE.
- If something doesn't arrive and you don't contact me about it, then I can't really sort anything. Please contact and keep in contact with me if you want me to try and get a refund.
- Feel free to ask any questions and give offers, but I will sell the item if someone else offers full price.
- Feedback; http://eglfeedback.livejournal.com/377405.html

I am willing to look at trades, but I'm only really into classic anymore tbh.
I'm mainly interested in; white brand bolero, white medium poof petticoat, innocent world jsks, simple white cutsews.

SOLD




Brought from the comm sales from another member who had brought it brand new. There is a very light scuff on the front bow, only noticeable if you really look. I have hand washed it before sending. Typical AP sizing mean it fits a variety of sizes.
I would guess; 30-38 inch bust, 25-31 inch waist.

£138
UK shipping; £5
Anywhere else: £8


Meta Blouse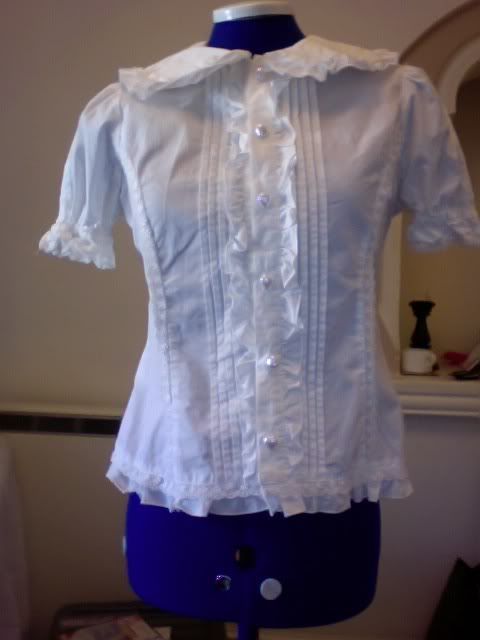 Brought this from a second hand Japanese shop, but I have now come to the conclusion that I really don't like certain lolita blouses. Will fit a variety of sizes as it has shirring and waist ties. However, I don't really recommend more than 37 inch bust.

£32
uk shipping; £3
anywhere else; £5

BtSSB Pink Bolero




Also brought from a second hand Japanese shop. There are no stains or anything, but it does look worn which is reflected in the price. The sleeves are also removable.

£22
uk shipping: £2
anywhere else: £4



Infanta Applique Cardigan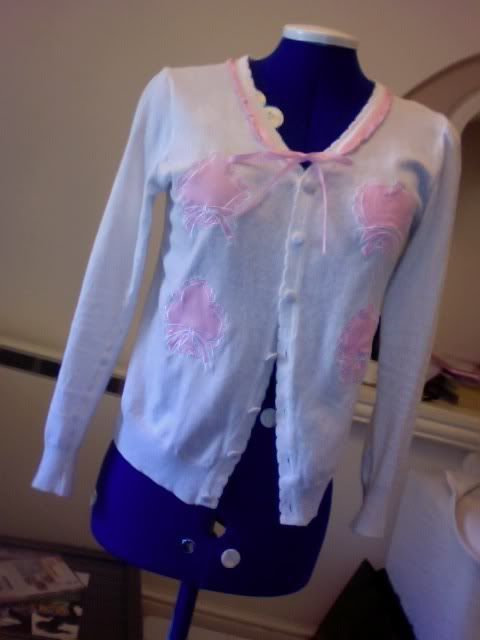 better stock picture; http://i240.photobucket.com/albums/ff16/pinkieh77/sweet_poker_applique_cardigan_1.jpg

Wore it once then hand washed it after. Says it will 'fit all' but I don't think it will fit more than a 38 inch bust or 30 inch waist. It is pretty stretchy.

£10
uk shipping: £2
anywhere else: £4


Pretty Pop Sweet Jewellery




Brought this just before I stopped wearing sweet everyday, so haven't really had a chance to wear it. It is excellent quality and I recommend the shop, but the items aren't my style anymore.
I would prefer not to split this set; if you do only want one thing from it then it can only be purchased with something else.

Everything: £6
Uk shipping; £1
Anywhere else: £2.50

Thanks for looking, feel free to ask any questions.