Information:
- Prices include shipping, but does not include delivery confirmation, insurance, or tracking. Please specify if you would like any of these services (additional costs applies).
- I can ship on Saturdays
- No trades at this time, sorry!
- Paypal only, please!
- Item goes to the first one to leave their PP address OR states that they will take the item.
- Please pay within 48 hours, unless you specify otherwise beforehand =).
- I live in a pet free and smoke free home.
- Items have no flaws unless otherwise specified
- I am not responsible for items after they are shipped
- All positive feedback: http://community.livejournal.com/eglfeedback/171603.html
- Price reduction is done by 20% + shipping price added.


REDUCED: Rose Melody JSK + matching socks: $105 $85 within the US, $111M $91 International On Hold
Measurements:
Bust: 34"-36" (17" flat, but has partial shirring in the back)
Waist: 30" (15" flat, no shirring or waist ties)
Length: 36"

I bought this from a friend, still NWOT. It's a very cute JSK with cherries, strawberries, and polka dots on the print; it's cute but not over the top and can work well being worn casually as well. Sadly it's too big for me so it has to go! The back is opened a bit so that a bustle skirt can be worn under. JSK comes with matching socks (Secret Shop).



[Back]



Angelic Pretty Memorial Cake Skirt: $175 within the US, $181 International On Hold

Measurements: 46cm + 4.5cm (frill) length, 62~72cm waist

I had been searching for this skirt for a while and was really excited about it, but I'm trying to filter down my wardrobe so just favorites. I'm selling this before I wear it and become too attached. No flaws, I bought it on the comm_sales recently and have not worn it. The print is very vibrant, especially against the black colorway.



[Print detail]
Hellolace: http://hellolace.net/wardrobe/angelic-pretty/type/skirt/item/105/



BTSSB Sax Headbow: $35 US/$40 International
BTSSB Sax OTK Socks: $30 US/$33 International

I bought this at Baby SF about a week ago. I bought it specifically for Memorial Cake, but since I'm selling it I don't have a need for these since I don't own any other sax items. Both are NWOT; I tried on one sock very briefly. The headbow is all wired, so you can design and place it however you'd like! The way it's pictured now is just how I placed the wiring.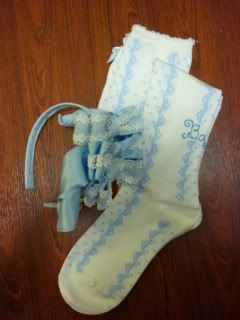 [Headbow detail side]
[Headbow detail front]



BTSSB Pink Strawberry OTK socks: $30 within the US, $33 International

These are still NWOT and still have the sticker and metal clips; I have not tried them on. My wardrobe falls on the darker side, so I've decided to sell these.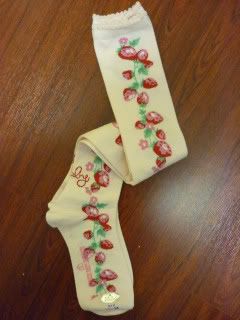 Various accessories: All have been used once, no flaws-
1. Offbrand white headbow: $8 within the US, $11 International
2. 6%DOKIDOKI blue sugar star clip: $15 within the US, $18 International
3. BTSSB off-white hair ties: $10 within the US, $13 International



Thanks for looking!