Terms of sale:
-I accept Paypal ONLY. Unless you know me or live close to me, then I'll happily meet up with you =)
-International buyers welcome.
-I do accept offers, just don't take the cake!
-I ship within 3 business days of payment. I do not post anything on a Saturday or Sunday. I'll drop you a line when your item is on its way.
-I ship items using airmail small packet which has no tracking, if you'd like to upgrade shipping, please ask.
-I do accept trades, but will say no if its not what I'm looking for, please don't be offended if I do!
-My prices are in Great British Pounds £, please convert all prices before purchasing so you don't get any surprises! I like to use XE.com, but it is not entirely precise or in line with Paypal conversions.
-Most of these are taken from my Etsy store, Violet Lime <3
-They are available to buy from there, just click on the link to take you to the listing.
-I have one of each item in stock at the time of posting, I will make more as they sell out. I will not take your money unless I am sure I have enough materials in stock. Making can take up to 3 days, but will usually be ready to go out the next day =)
-I accept orders here for anything on my Etsy, I understand that getting an account on there could be a pain for some!
-Shipping is not included, but is as so:
~Accessories: UK: £2.00, Europe: £2.00, Everywhere else (USA, Asia, Australia, etc.): £3.00
~Clothing: UK: £3.00, Europe: £4.00, Everywhere else (USA, Asia, Australia, etc.): £6.50

EGL feedback: http://community.livejournal.com/eglfeedback/747071.html

♥ New colours are available now! You can find a swatch sheet here. Lavender and Mint were a little too dark when they arrived, but I have different shades on order now, leave a comment and I'll let you know when they're here! ♥


Ribbon and Lace accessories
These accessories are made from grosgrain ribbon and are edged with cotton lace. All edges are finished. Each bow measures approx. 14cm/5.5" from end to end. Ribbon currently available in Black, White, Pink and now Blue! Other colours are considered upon request, but not guaranteed. Lace is currently only available in white.

♥Barrettes♥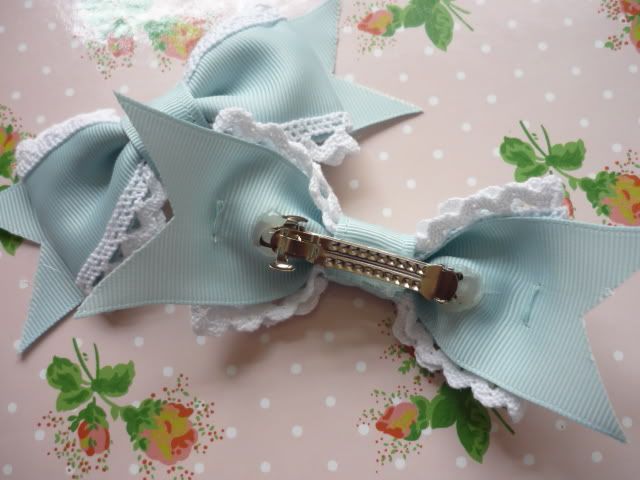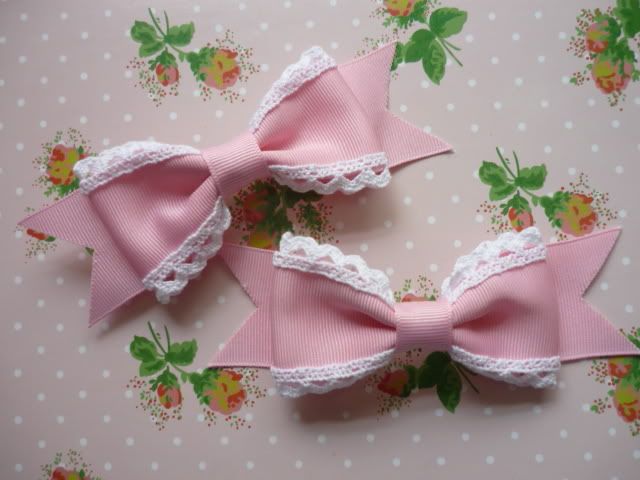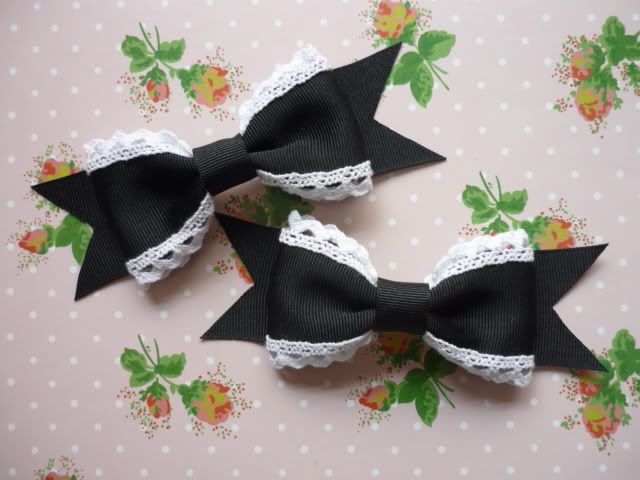 Barrette measures 50mm/2 inches long and is glued onto the back of the bow.
[Pink]
[Black]
[White]
[Blue]
£6.50 per pair.

♥Brooches/Pins♥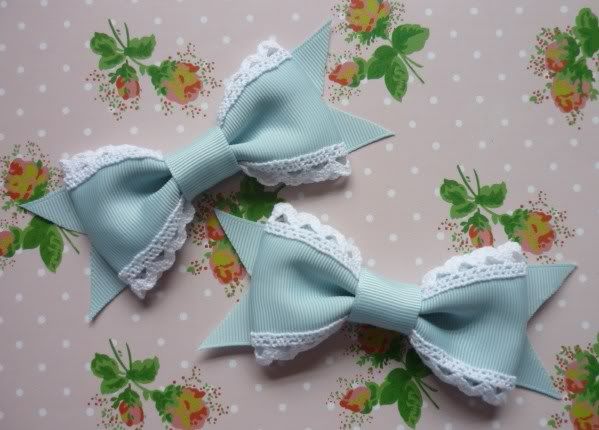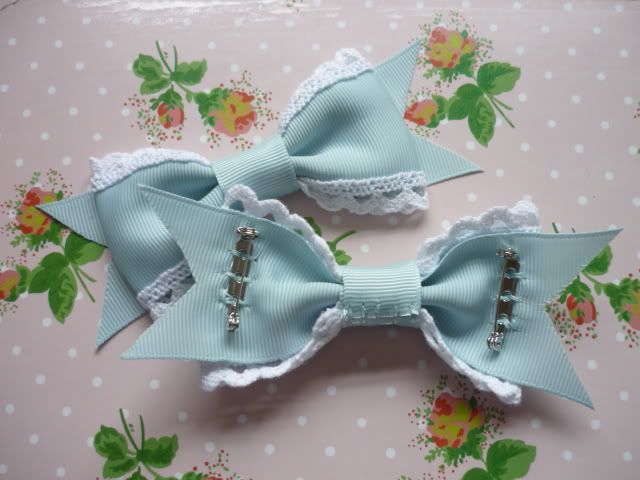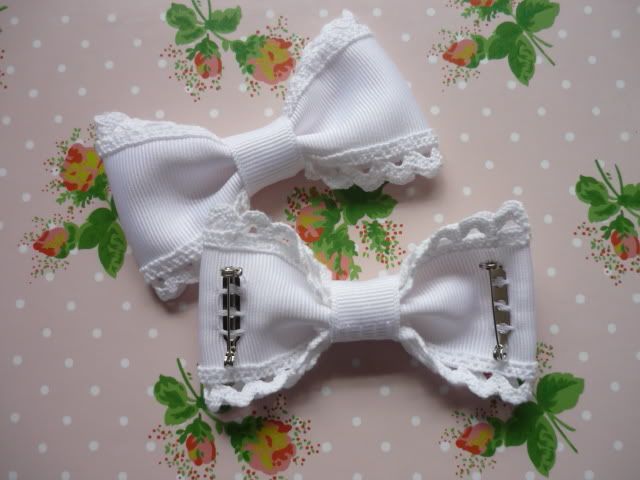 These have two brooch backs on the back of each bow, one at each end to stop them drooping when worn, they are securely stitched on. These are available without tails (the ribbon underneath the main body - the pointy bits!), as the white example shows. Both styles are available in Black, White, Blue and Pink ribbon. Dress is pictured to show how the brooches/pins look when worn and is NOT for sale or included with the brooches.
There are currently no Etsy listings for these, please let me know if you'd like them adding!
Standard bow £6.50 per pair
Bow without tails £5.00 per pair
Other quantities available, please ask for a quote!

♥Headbands♥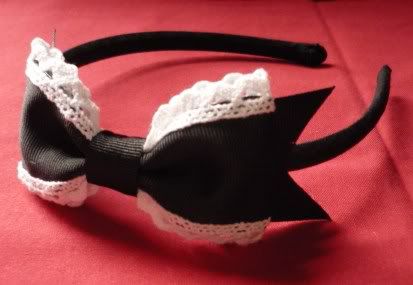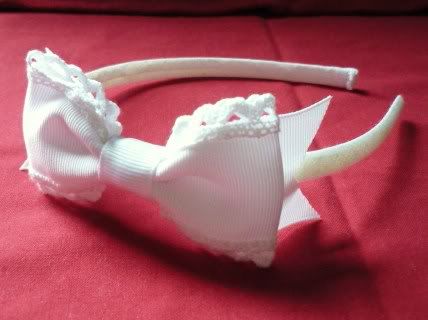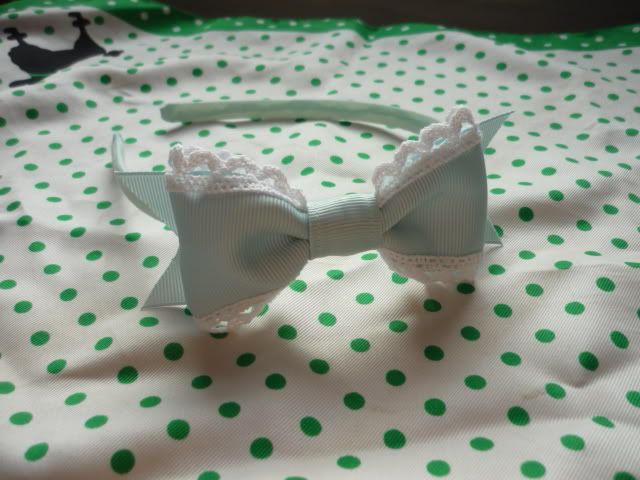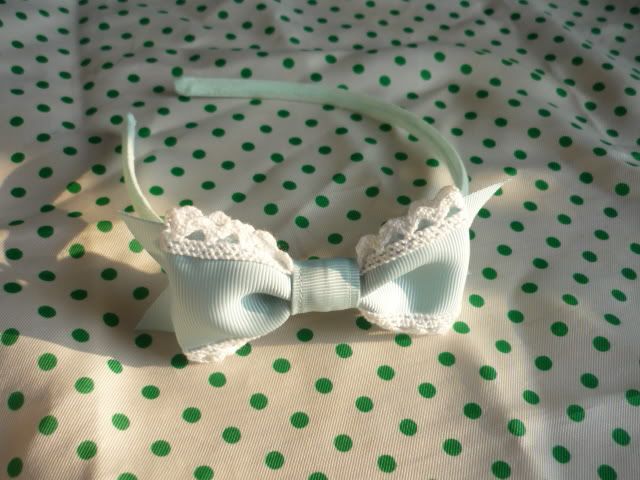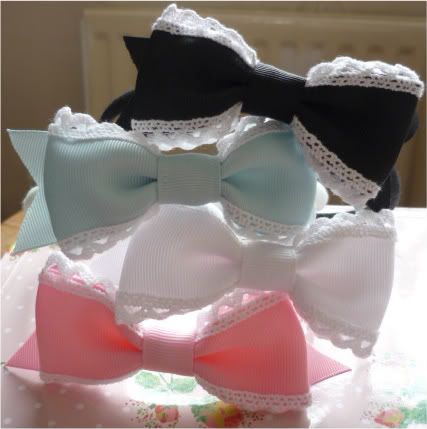 These bows are securely attached to a covered headband and sit on one side of your head. I recommend these for casual and toned down co ords due to the size of the bow (it isn't a head eater!).
[Pink]
[Blue]
[White]
[Black]
£7.50 each.

♥Ribbon Hair ties♥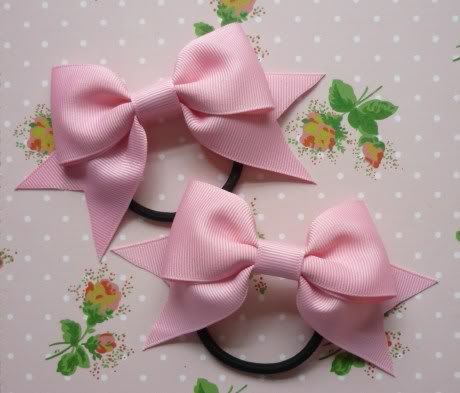 These bows are securely attached to an elastic hair ties. Black ribbon is also available, feel free to ask for an example to be made up.
[Blue]
[Pink]
[White]
£4.00 per pair.
*I'm considering making these to put on headbands, feel free to comment if you're interested in seeing these*

♥Pearly Bows♥
These bows are made from a sturdy interfaced cotton and have pearls securely stitched onto each side, all raw edges are enclosed and tidy. Each bow measures around 13cm/5 inches from end to end. Currently available in white, pink, blue and lavender, but feel free to request any other colour!

♥Headbands♥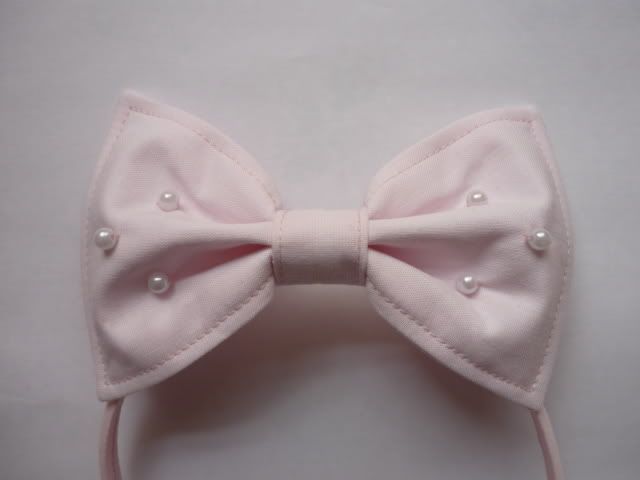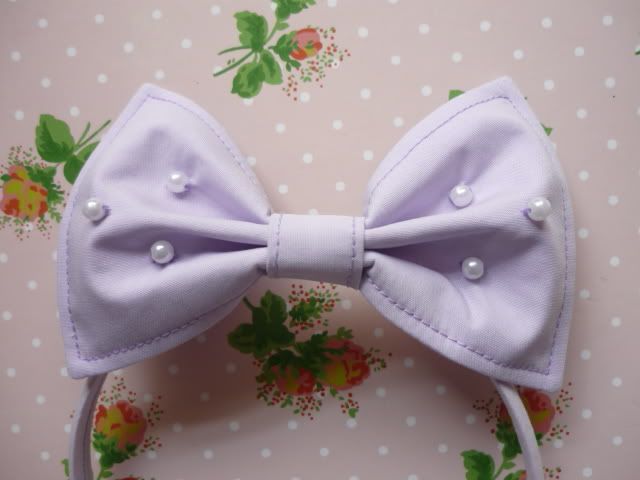 These bows are securely attached to a covered headband and are made to sit on the left side of your head. They do not slide along the headband, so if you'd like them to sit on the other side please request this before buying and I'll move the bow along.
*A note on colour* The pink is a very pale pink and does not match the grosgrain ribbon I use, the photo taken on white is the closest to the actual colour. The blue does not match my sax tea parties or the ribbon I use, it is a colder blue but still baby blue, it does match Meta's girly note (as seen in photo's below).
[White]
[Pink]
[Blue]
[Lavender]
£7.50 each.

♥Brooches♥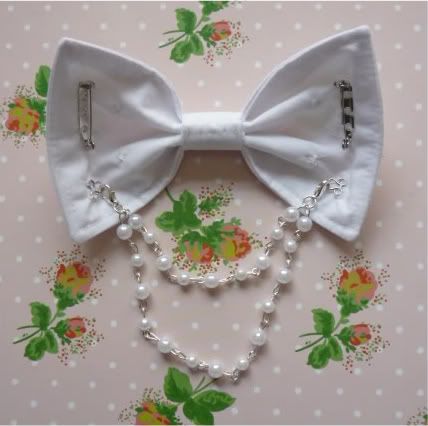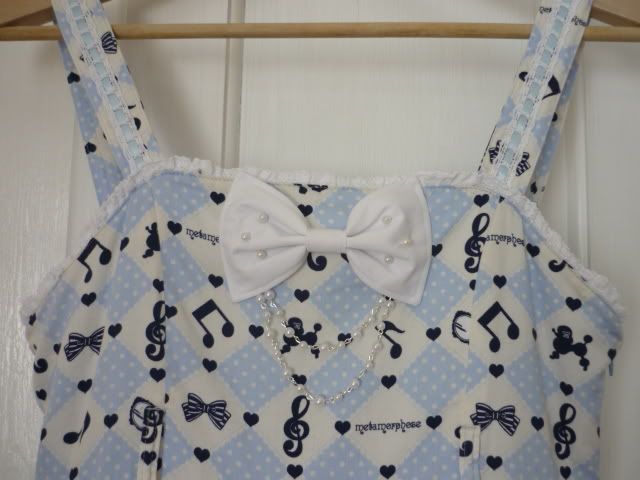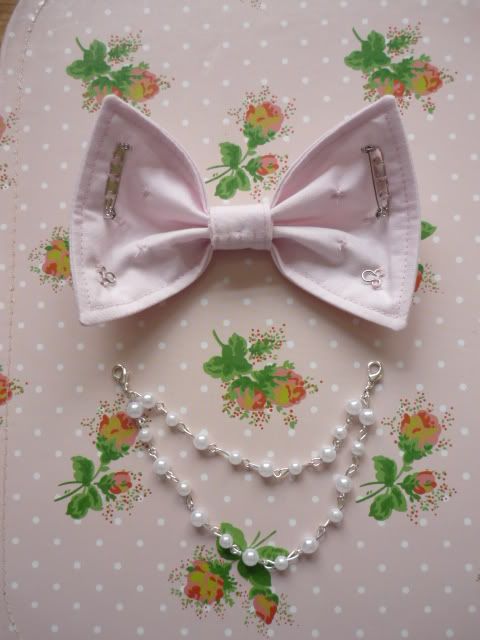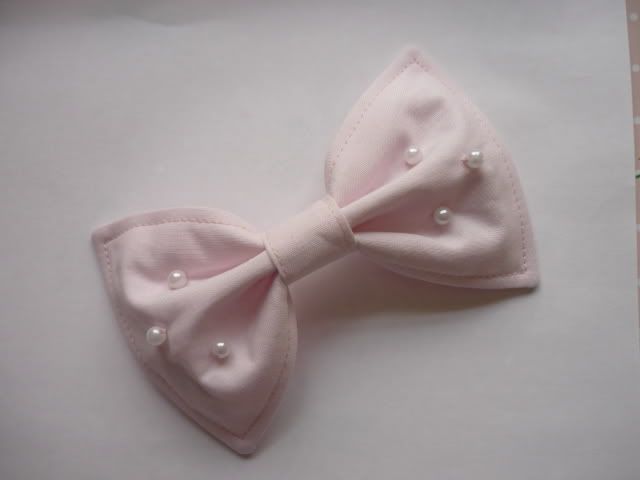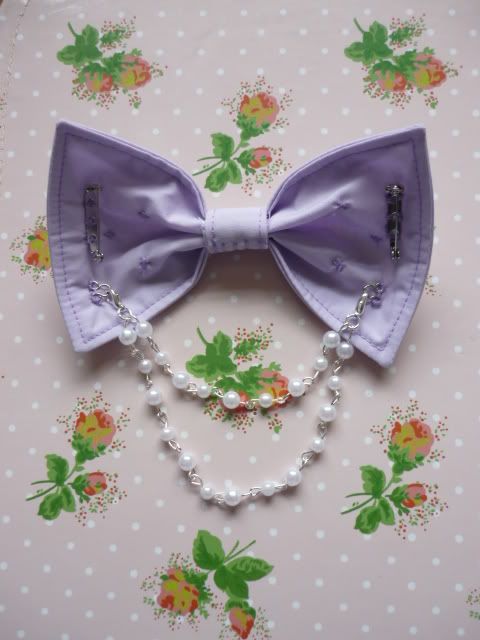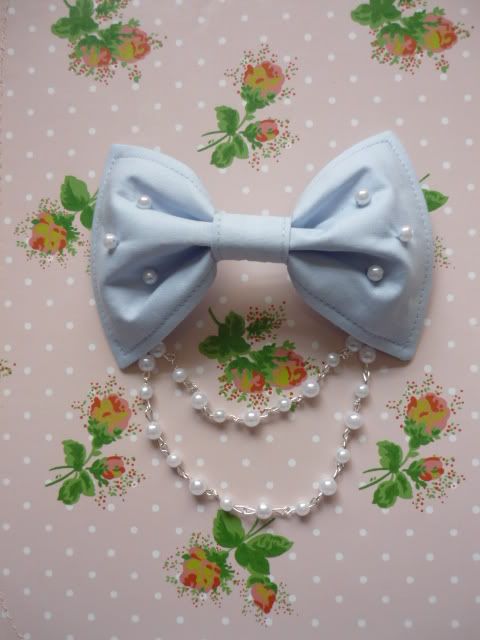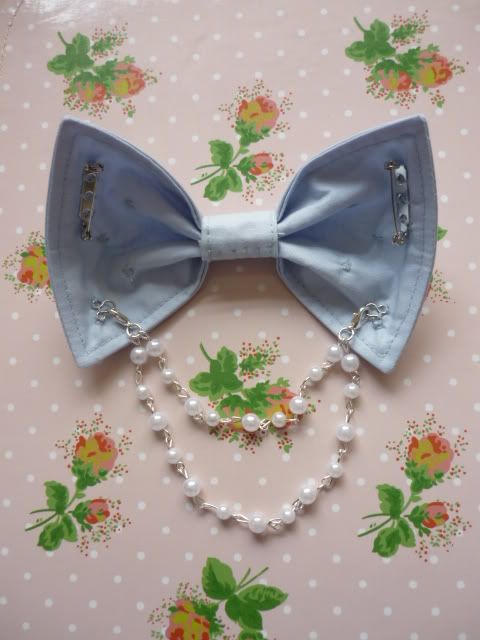 These have two brooch backs on the back of each bow, one at each end to stop them drooping when worn, they are securely stitched on. There is a removable rosary pearl chain along the bottom, this clips onto two loops on the back of the bow.
*A note on colour* The pink is a very pale pink and does not match the grosgrain ribbon I use, the photo taken on white is the closest to the actual colour. The blue does not match my sax tea parties or the ribbon I use, it is a colder blue but still baby blue, it does match Meta's girly note (as seen in photo's). Dress is pictured to show how the brooches/pins look when worn and is NOT for sale or included with the brooches.
[White]
[Pink]
[Blue]
[Lavender]
£6.50 each.


♥Hello Kitty style bows♥
Made from interfaced red cotton in the style of Hello Kitty's head bow. Available as a headband, barrette, mini barrettes and brooch. Bows are in two sizes: standard 12cm/5" and mini 8.5cm/3.5". Currently only in red, but other colours upon request.



♥Headbow♥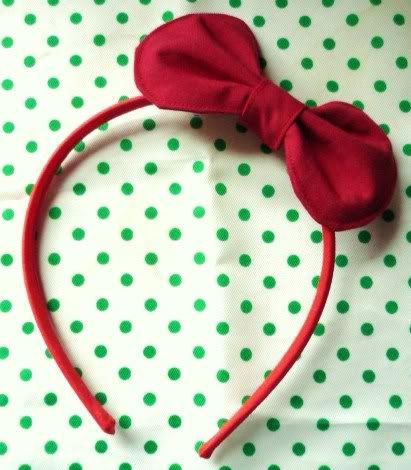 This bow is securely attached to a covered headband and is made to sit on the left side of your head. It does not slide along the headband, so if you'd like it to sit on the other side please request this before buying and I'll move the bow along.
[Etsy]
£7.00

♥Barrette♥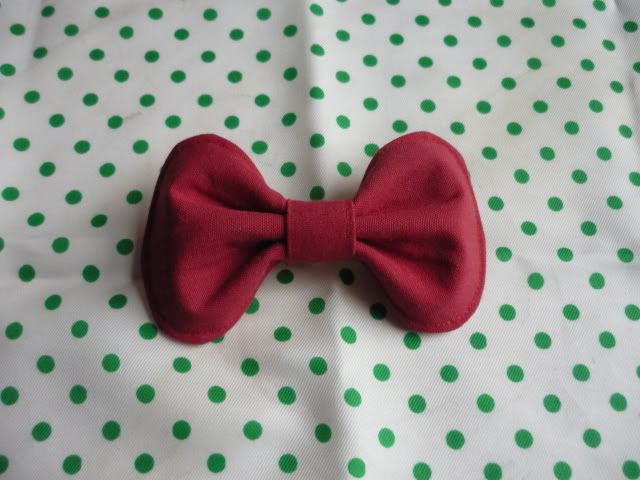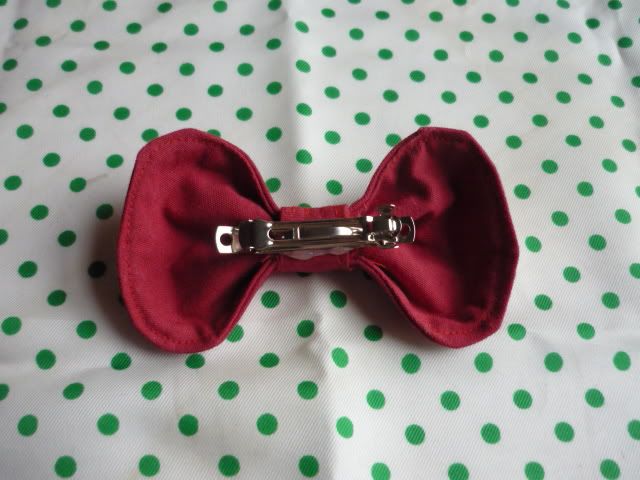 This is one standard size bow, the barrette measures 50mm/2 inches long and is glued onto the back of the bow.
[Etsy]
£4.00

♥Mini Barrettes♥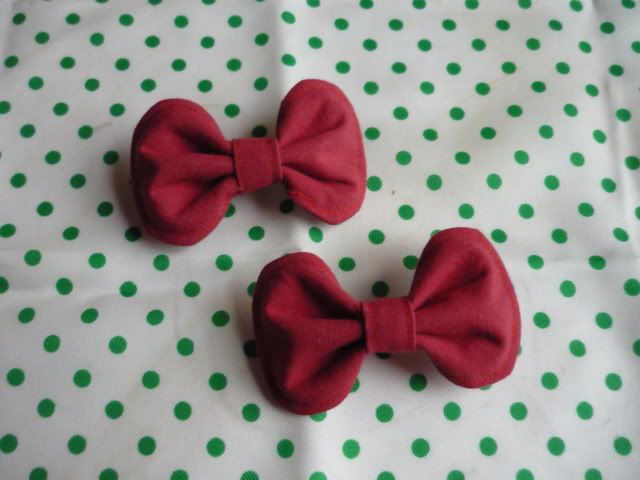 This is a pair of mini size bows, the barrettes measures 50mm/2 inches long and is glued onto the back of the bow.
[Etsy]
£5.50 per pair


♥Brooch♥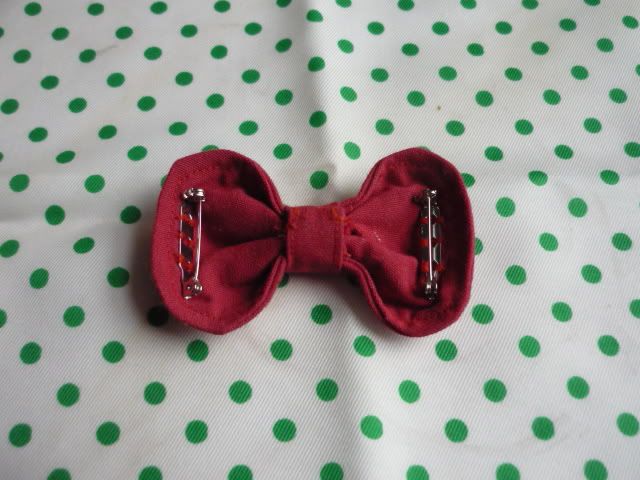 Mini bow on two brooch backs, one at each end to stop the bow drooping when worn, they are securely stitched on.
[Etsy]
£3.50 for one.


♥Wristcuffs♥


1. Basic length white wrist cuffs. Made from cotton lace, attached to a cotton and elastic band, and finished with grosgrain ribbon and rosebud.
£8.00 per pair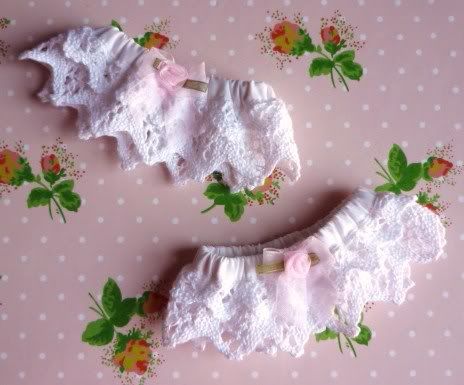 2. Sparkle pink wrist cuffs. Made from 2 layers of cotton lace with a subtle sparkle thread running through, attached to a cotton and elastic band, and finished with a pink chiffon ribbon and rosebud.
£9.50 per pair.

♥Sailor Cutsew♥


Sailor Lolita cutsew. Made from cotton jersey, with a cotton sailor collar. All seams are properly finished and overlocked. [Etsy listing]
Bust: 95cm/37" Max
Waist: 79cm/31" Max
Length: 54cm/21"
I have one of these cutsews in this size and it fits me fine at a 35.5" bust and 28" waist without looking too baggy.
£25.00




♥ My Etsy store is Violet Lime <3 please favourite it to see new stock when it arrives! ♥



♥Thank you for looking! Feel free to ask any questions, I'll reply to them ASAP!♥