Information:
- Prices include shipping, but does not include delivery confirmation, insurance, or tracking. Please specify if you would like any of these services (additional costs applies).
- Paypal only, please!
- Item goes to the first one to leave their PP address OR states that they will take the item.
- Please pay within 48 hours, unless you specify otherwise beforehand =).
- I live in a pet free and smoke free home.
- Items have no flaws unless otherwise specified
- No trades, please!
- I am not responsible for items after they are shipped
- Prices may be negotiable, but please be reasonable.
- All positive feedback: http://community.livejournal.com/eglfeedback/171603.html



Rose Melody JSK + matching socks: $105 within the US, $111 International
Measurements:
Bust: 34"-36" (17" flat, but has partial shirring in the back)
Waist: 30" (15" flat, no shirring or waist ties
Length: 36"

I bought this from a friend, still NWOT. It's a very cute JSK with cherries, strawberries, and polka dots on the print; it's cute but not over the top and can work well being worn casually as well. Sadly it's too big for me so it has to go! The back is opened a bit so that a bustle skirt can be worn under. JSK comes with matching socks (Secret Shop).



[Back]



Black Peace Now white shoulder bag: $65 within the US, $70 International SOLD
Diameter: 7.5"

I bought this directly from the BPN store in SF and used it a couple of times. It is a pure white with rose patterns all over and the interior is all black. This is a great bag and is versatile, because you can adjust the chain's length to make it either a normal shoulder bag or extend it to have it cross over your shoulder. The bag can fit my wallet, iPhone, make-up powder, keys, and a few other small things. I have too many bags, so I'm just trying to closet clean a bit!



[Close up of chains]


Peace Now striped OP (size S/M): $100 within the US, $106 International
Bust: 32"-36"
Waist: 26"-30"
Length: 36"

I also bought this directly from BPN in SF. This is also another versatile item because you can wear it casually, or throw a petticoat under and it will have the lolita silhouette. It's also more of a knit, so it's great for normal to cooler weather. There's a lot of stretch to the dress, but I recommend the measurements above, since further stretching can make the dress look more sheer.
I handwashed this item in cold water, and the black does not bleed into the white =D.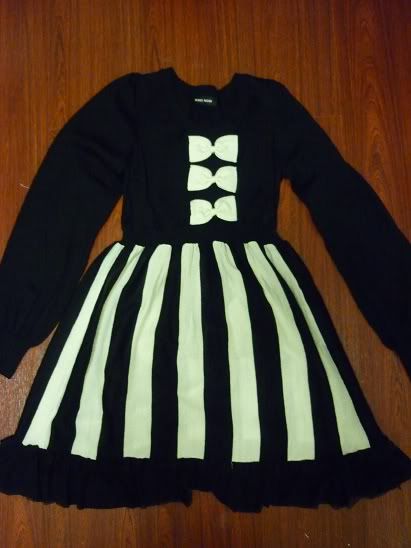 [Close up the material]

Thanks for looking!