Hello Lovely Community!

To get things started here is my feedback:

community.livejournal.com/eglfeedback/975199.html



Payment Info


Prices are in US dollars.
I accept PAYPAL ONLY.
NO PP FEES.
I accept holds for a NON REFUNDABLE %20 payment. I will hold your item for 3 weeks, unless we discuss otherwise.
I accept payment plans. I ask that you are able to pay for at least %30 on the first payment, which will be non-refundable. If you backout after committing to a payment plan, then I will leave negative feedback :( I have had bad experiences with payment plans before, so please don't take it personally.



Shipping Info


I live in California, US.
Once I ship an item it is no longer in my control, therefore, I am not responsible for lost or damaged packages. However, if damage was due to poor packaging, then something can be arranged.
Please understand as a busy college student I ship out either MONDAY or FRIDAY evenings. Thank you!



Trading Info


I love pretty much anything except Sax, or Mint colorways. I don't mind the colors on the clothing, but when they are completely those colors, they don't suit me.
My measurements are:
Bust: 34in
Waist: 30-31in

PROOF:
This Tokidoki Planner will be my proof.


DS/DT


1. Angelic Pretty Kuru Kuru Ribbon Skirt in White 20% REDUCTION (Pending:
imalda ) 5.12.11
Asking: $100 $80 SHIPPED US or $115 $92 SHIPPED Int.

Bought this new from a user not too long ago, I love it but I just realized I can't pull off the shiro feel lol! I take it out and stress so much about dirtying this beautiful skirt. That being said, this has only been tried on a couple times inside.

The skirt features adorable ribbons and small accenting sewn on pearls along with cute ribbon lace detailing along the skirt and waist ties. There is a panel of shirring allowing for some flexibility. There is also a small, built in petticoat. Closes with a side zipper and a clasp.

Measurements:
Waist: 31in MAX Approx 24in min.
Length: 20.5in

(Front)



(back)




Waist-tie Details + Skirt Details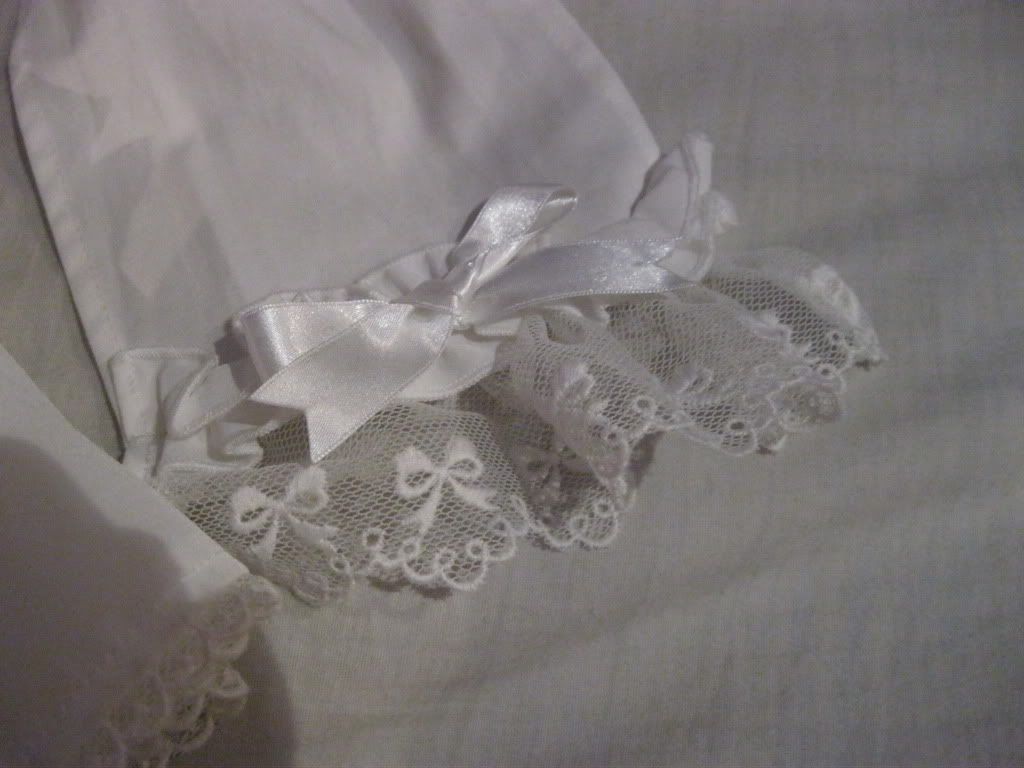 (Tag)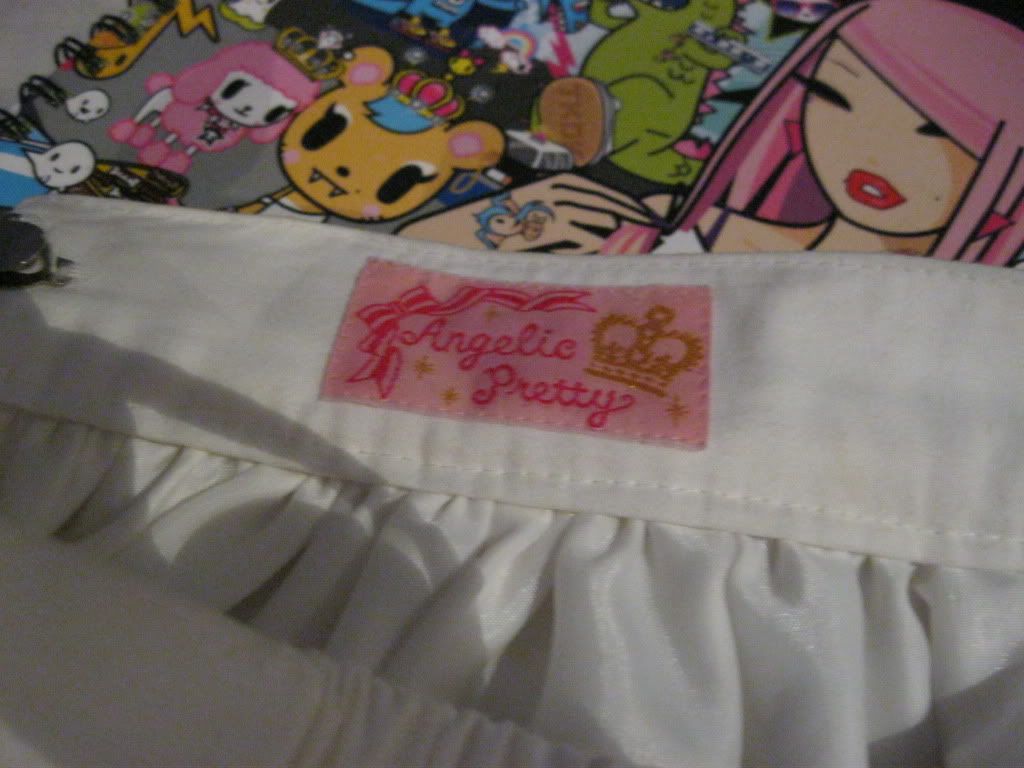 2. Angelic Pretty Black x White JSK (PENDING
shyue ) 5.12.11
Asking: $110 Shipped US or $125 Shipped Int
Bought this new from a user and tried on from another user awhile ago. I've since tried it on multiple times but have never worn it out. I'm selling it because even though its beautiful I have a feeling I'll just never wear it and it should really go to a good home.

This dress has beautiful rose lace and textured bows decorating the bodice and skirt portion, cute ruffles accent the bottom of the dress. Dress has has a lace up back with shirring, a side zipper closure and a small built-in petti although this dress is so full it definately needs a petti beneath.

Amateur Measurements:
MAX BUST: 34in possibly 35 without lacing
MAX WAIST: 32in

Front + Back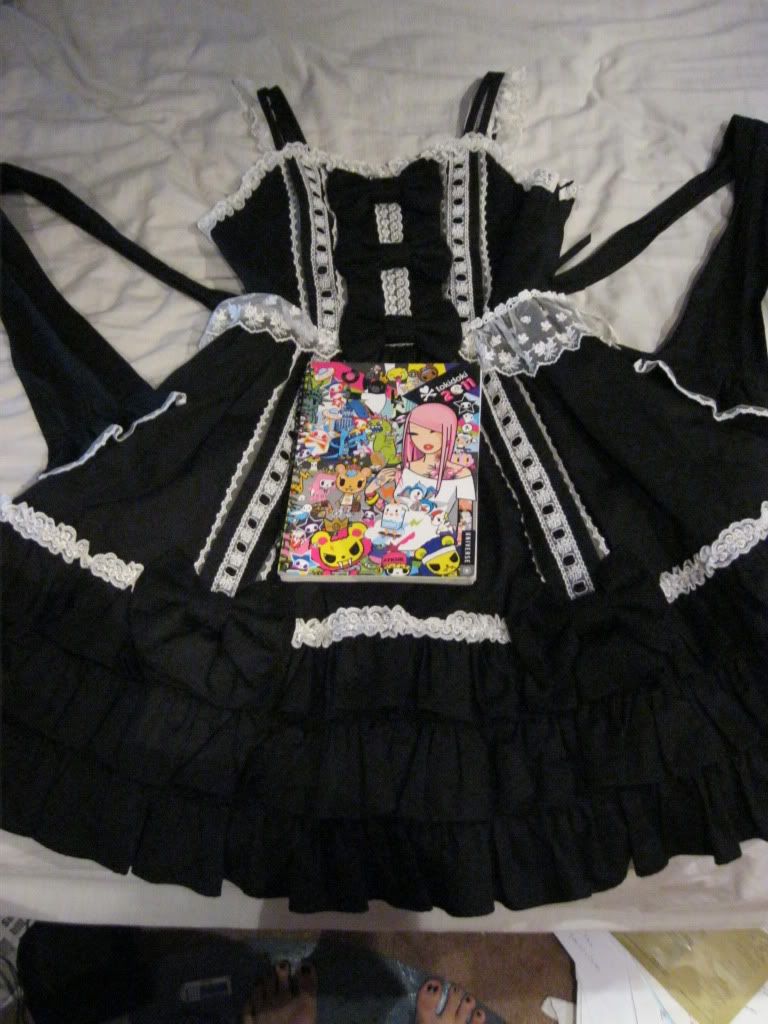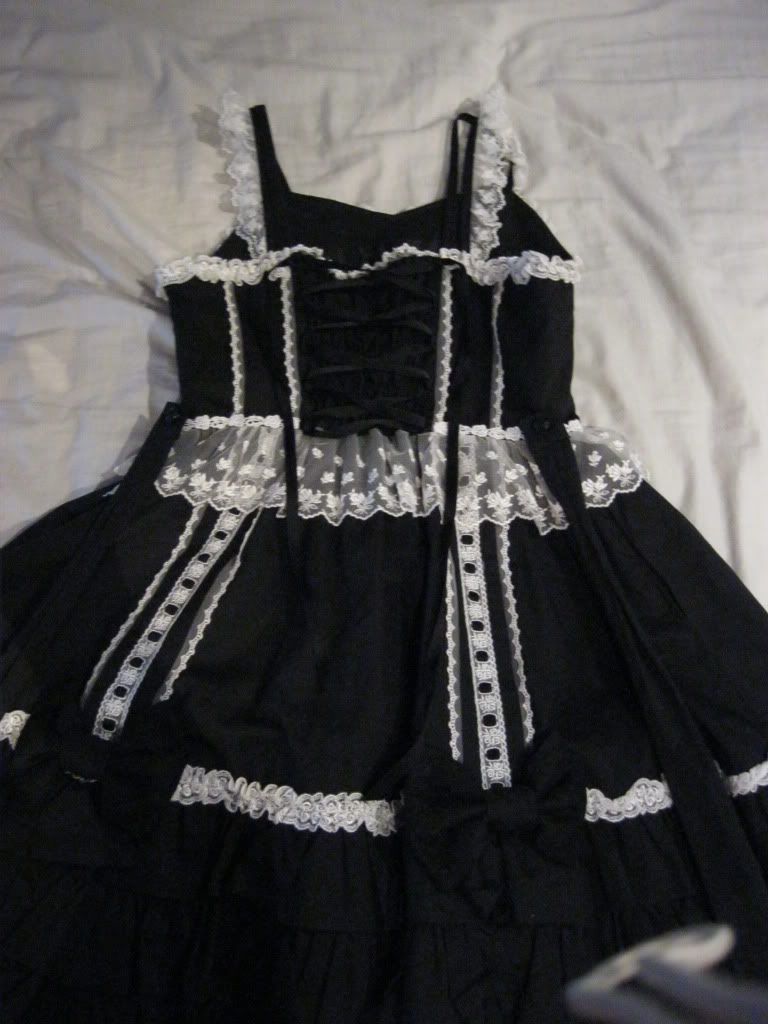 Lace Detailing + Bodice Detail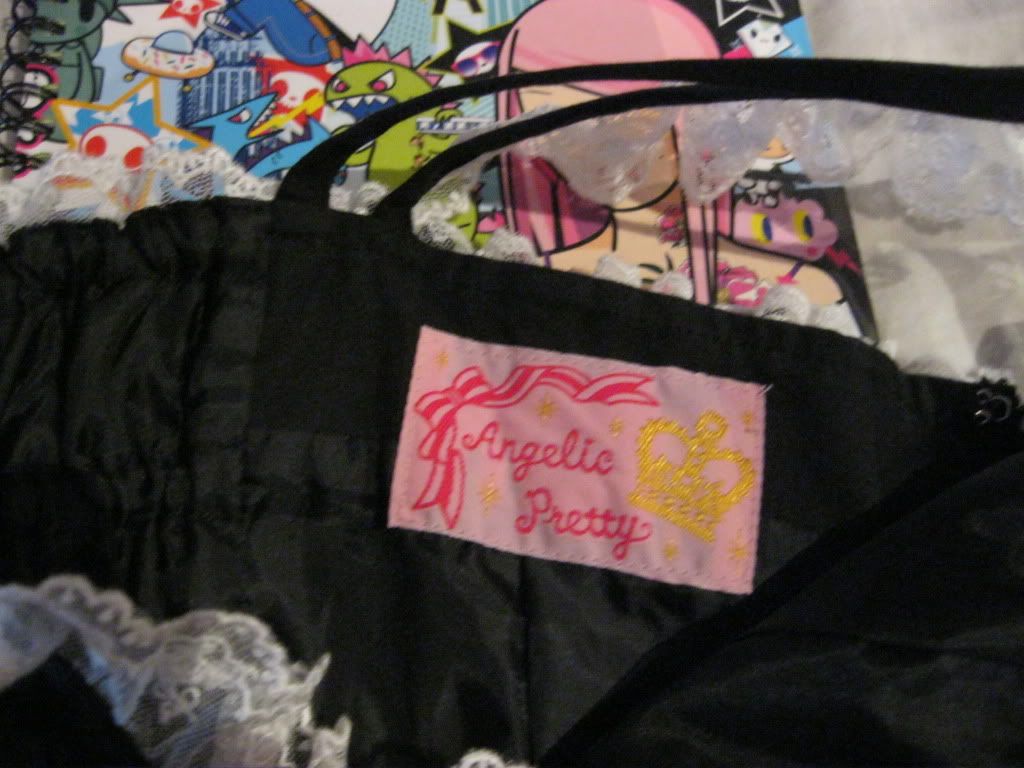 WORN pics: (Shown with petti. Please excuse the editing blobs, lol)
i1096.photobucket.com/albums/g339/Pakiren/ddd.jpg
i1096.photobucket.com/albums/g339/Pakiren/aaa.jpg

If you have any questions feel free to ask! I generally check LJ twice a day. Thanks!