1. Baby Chiffon Polka Dot JSK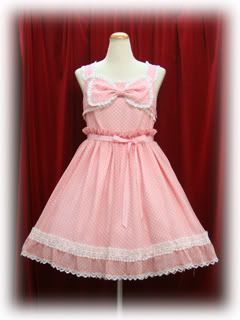 Proof:
i72.photobucket.com/albums/i178/RubyAkiou/Lolita%20collection/pic138.jpg

Additional Photos/Info: (Hello Lace):
hellolace.net/wardrobe/baby-the-stars-shine-bright/type/jsk/item/91/
Measurements: 89 cm bust, 76 cm waist, 89 cm length
Comments: This dress is in great condition I've only worn it twice ever since then it has been sitting in my closet for about two years so yeah it needs a new home. No stains or rips. This dress is one of those dresses I think looks way better without a blouse its really light and airy for the upcoming summer weather. I bet it'll look super cute when paired with cute sandals.
Price: $160 shipped everywhere.
Thanks for looking!