+ Feedback in located
Here
+ I ship from London, UK
+ I only accept payment through paypal, fees are included in the price
+ Shipping to the UK included, I will give quotes for other destinations. Note that tracking will cost a bit more.
+ I don't have any pets or smoke
+ I will aim to ship out the item the day after payment
+ Feel free to make me an offer but I don't hold items sorry
Innocent World Lucky pack Black bolero
Size M (bust is around 90cm)Sleeves are 3/4 length
Brand new without tag, straight from the luckypack

I'm not sure what the material is since I can't read Japanese >_< sorry
Price:
£45
(or make an offer) including recorded delivery in UK, add
£3.50
tracked shipping to Europe, add
£4.50
for tracked shipping to USA/Canada/Asia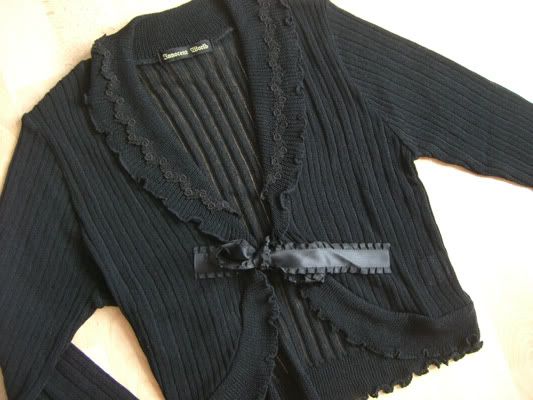 Offbrand Black lacey bolero/shrug
Size UK 10, US 8, Euro 38
Sleeves are 3/4 length

Offbrand bolero (from Marks and Spencer), not sure what material is as there is no tag. There is a hole on the tip of one side caused by ironing, so it's not recommended to iron it unless you cover with a piece of material first to iron over.
Price:

£7
including UK shipping (1st class standard), add
£1
for standard airmail to Europe, add
£2
for standard airmail to USA (if you want tracking it will be the same as the above item)
untied
Close up of the detail

Close up of the damage



Thanks for viewing my post
+ I have some older sales Here such as a cute Marie keycharm, now reduced.
+ Offbrand classic floral halter-neck jsk Here price negotiable