x. I ship from Madrid, Spain
x. I accept payment by PayPal or bank transfer in you are in Europe.
x. PayPal fees are included. Shipping fees are NOT.
x. All prices are negotiable, so feel free to offer!
x. Feedback here
x. I'll be glad to provide any other proof of ownership that you require.
x. Prices are in EURO.
x. First person to post PayPal address gets priority!
x. All measurement are completely amateur, so I could be wrong by a few centimetres.

And... please, don't send me PMs since I don't always receive them!

And now... on to the sales!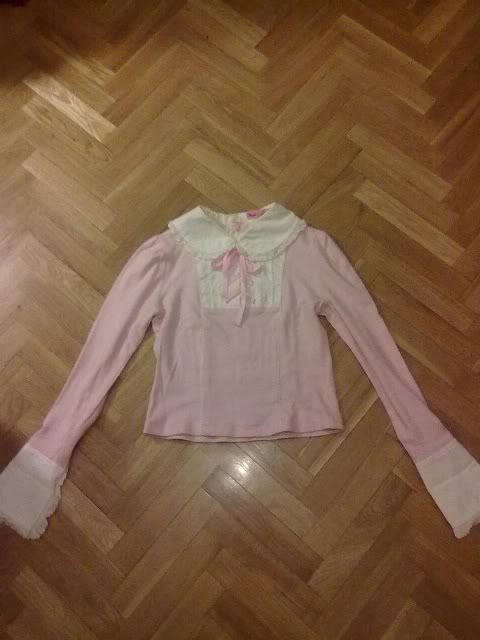 Angelic Pretty pink cutsew.
SOLD, THANK YOU!


I bought this almost three years ago, but the skirt I wanted to coordinate it with was sold and since them I've only gotten to wear it once! Now I would like to gice it a new home.


Backside
.

Sleeves
.

Collar details.


Measurements:
Lenght: 48 cm
Bust: Max. 95 cm. It fits correctly to smaller sizes as well (I'm 83 cm bust and it looks just perfect)

Really, and since it's made of cutsew material, its size it's pretty free like.

Flaws:
The cutsew is worn but in excellent condition except for a little yellowing in the inner part of the neckline. It's not really visible when worn, but I still would like to note it's there. I tried to photograph it
here
, but since it's difficult to see my camera couldn't get it very well.

Price:
30 euros.

Baby, the Stars Shine Bright Sax Blue Paris Princess Drop JSK.

I really love this JSK, but recently I don't wear it that much and my wardroble it's just too full, so here it goes. It's very pretty and in perfect conditions, no flaws or stains anywhere!

Measurements:
Lenght: 91 cm
Bust: 92 cm (it would go a little larger but I won't push it since it does not have back shirring)
Waist: 75 cm.

Price:
130 euros.




Alice and the Pirates Victorian Card pink JSK.

It really saddens me to sell this, but I don't wear as much as I thought I would and I need space and money. I'm the second owner and it's really in perfect condition.

Measuraments:
Lenght: 90cm
Bust: 92-93 cm (it doesn't have back shirring, so I won't push it further)
Waist: 74cm.

Price:
140 euro.




Baby, the Stars Shine Bright WhitexPinkxBlack rose tights.

I bought these myself from Baby Paris, but after some months in my closet I realized they don't go well with any of my dresses, so here they are! I'm their first owner and I have only tried them on at home for about five minutes, so they are really in perfect condition.

Price:
28 euro.




Baby, the Stars Shine Bright redxwhite striped socks.

I got these along with a dress I wanted in a pack, but they aren't really my style, so I'm letting them go. I have only tried them on, but previous owner seems to have used them a lot. They have signs of wear around the ankle and in the base, as can be seen in this photo, but I don't think they could be much note when wearing them with shoes on.

Price:
10 euro.


And so, that's all for now! Thanks for your attention!

PD: I log on from my university since I don't have internet connection where I live for now, so please don't worry if I can't reply to your comments just immediatly.