PLEASE READ:

**Shipping is from Walla Walla, WA 99362 in the United States.

**I prefer to ship only in the United States.

**Shipping is included in the price unless indicated otherwise.

**I ship USPS Priority Mail (please ask if you want Insurance!)

**I accept Paypal and fees will be included in the price.

**Items come from a smoke free and animal free household.

**I do not take offers via PM, please comment here on the post.

**Whomever leaves their Paypal first, gets priority.

** FEEDBACK! <3 **

~~~~~~~~~~~~~~~~~~~~~~~~~


Hello there, everyone! I'm looking to sell some items in my wardrobe!


My watermelon pirate pillow is my proof!


Angelic Pretty's Sweet Jam Skirt in PINK: Asking Price: $70 USD Shipped

SOLD! to
fiordimelo





The skirts waist was ALTERED to fit a larger waist. A friend of mine did it using the waist ties. She did not reconstruct the waist or add a shirring panel, all she did was add a 12 inch section of waist band, leaving the existing shirring panel and waist intact.

The gathering has not been affected at all, nor has the lining or build in petticoat. The zipper and clasp still work, and the pocket is still functional. The Angelic Pretty tag is still in place.

The skirt also came with some (coffee? tea?) stains that the previous owner did not tell me about. Dx I've tried to find them all, I know of at least 3 (and have taken pictures of 2), but for the life of me I could not find the one on the ruffles. They are faint orange-ish round stains that I have not tried to get out.

Measurements:

Waist: 39 inches - 44 inches.
Length: 19 inches


Alterations 1 The outside and the seam, the seam is easily hidden by the waist bow, so it breaks up the difference in the waist.

Alterations 2 The full extra panel put in

Alterations 3 The inside

Alterations 4 The inside isn't the prettiest, but it's very sturdy and no one is gonna see the inside of the skirt anyway!


Stain 1 This is right below the altered seam on the right side, easily hidden by the waist bow.

Stain 2 Right above one of the bows above the ruffles.

Waist Bow


~~~~~~~~~~~~~~~~~~~~~~~~~


Angelic Pretty's Sweet Jam OTK Socks in PINK: Asking Price: $25 USD Shipped
Like New, only tried on by me.





Proof Photo:



I don't know if they were ever worn by the previous owner, but there is some wear to the Angelic Pretty logo on the bottom of the foot.

Wear


~~~~~~~~~~~~~~~~~~~~~~~~~


Anna House White Blouse with Detachable Sleeves: Asking Price $55 USD Shipped
Brand new, only tried on.





Proof Photo:



This blouse was made to my measurements, but unfortunately, the cap sleeves look horrible on me (I have broad shoulders to begin with), as well as the shirred bust. It has pink buttons and pink ribbons decorating it. The back has a tiny bit of shirring at the waist.

This has only been tried on.

I strongly recommend that someone with at LEAST a D cup bra buy this, because there is a lot of room in the shirred bust for bigger breasts and it looks very odd with smaller breasts. I wear a full C cup and there is loads and loads of extra fabric, but it's snug around my rib cage, when I button it. (sorry it this is unclear! If you are confused please ask and I'll try to clarify!)

Measurements:

Bust: 41 inches to 44 inches
Waist: 38 inches - 42 inches
Length: 22 inches
Sleeve length: 28 inches from lace to shoulder seam

Lace and Ribbon detail

Detachable Sleeves

Back


~~~~~~~~~~~~~~~~~~~~~~~~~


An*tai*Na Lavender Tea Parties US Size 9 (25.4 cm roughly) Asking Price: $65 USD Shipped
Brand new, only tried on.

SOLD! to
larajavyjil





Proof Photo: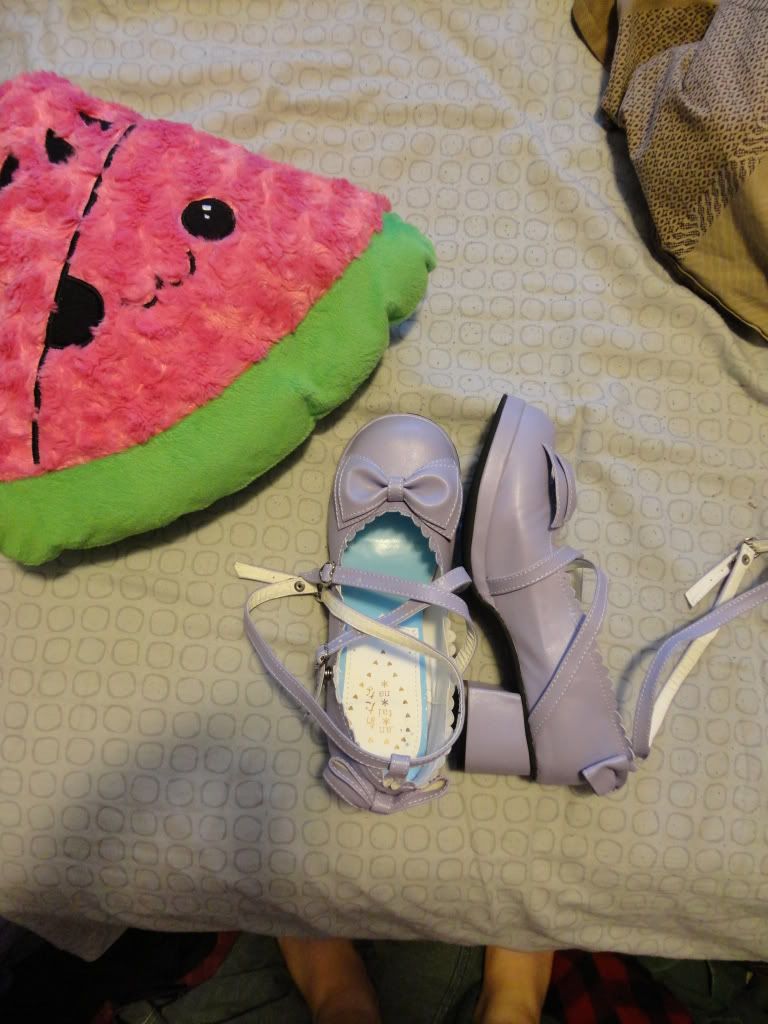 I bought these shoes off of eBay and unfortunately, they are quite tight on my chubby feet. ;o; I only tried them on.
They're a darker lavender color, with the shorter heel (4.5 cm)

Heel Comparison with normal tea parties

Color Comparison with AP's Vanilla Neko



************Please, if you have any questions, feel free to ask me!************