-Shipping with USPS
-Willing to ship worldwide
-I have lots of positive feedback at eglfeedback (+73) and in my journal (+21)
-No Paypal fee! :)
-I accept paypal only.
-Extraneous comments will be deleted
-My roommate recently got two kittens but I don't let them near my lolita because I'm allergic to them.
-Questions? Please don't hesitate to ask! :)
-Prices are negotiable, however- priority will go to whoever can pay full price or highest first.





worn without bust piece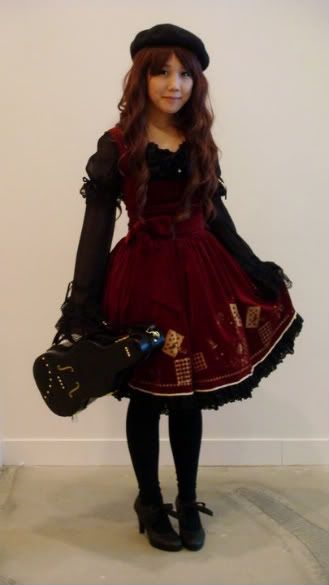 Good condition, worn twice, just has some wrinkles.
Limited edition JSK by Atelier Pierrot. Not many were produced and only two were officially brought to the US for sale (by Tokyo Rebel). It was so limited that it was not even put up on the A-P website!
The dress is a wine velveteen material with gold, sparkly hand-printed trump detailing. The bust portion is chiffon and is removable for an under-bust look! The waist ties are unique so you can tie a bow in the front, the side, or back. I originally paid $308 + shipping

Measurements (amateur ):
max bust- 97.5cm
max waist- 84cm

Can fit sizes below that because of there is lots of shirring in the back (ie. my waist is 27in and it fits).

extra photos:
photo from A-P blog (truest color, though may vary due to monitor settings)
back & shirring

Asking Price: $255 + shipping SOLD

Shipping within CA (w/ tracking & insurance): $10
Shipping within US (w/ tracking & insurance): $15
Shipping worldwide, please inquire



--------------------------------


I am also taking offers on my Vampire Requiem (Ivory) Corset Skirt.

SOLD




I will have more details later. I have to leave my computer right now but please comment if interested.


Please keep in mind, that I paid over $300 on it though I do not expect to get the full amount back.

It is in near perfect condition, no stains, no tears- the only flaw is that the clear boning is very slightly peeking out in the front. This is just a material choice flaw by Aatp on the first release of the series (ivory in general is first-release only). It seems that most VR corset skirts will have this issue after 2-3 wears. It was caused by previous owner as the skirt was never worn by me- only tried on. The lace in the back is slightly stretched. However neither of these flaws are noticeable unless specifically searched for or stared at.