Hello!
Getting back to my old style~
Prices are in CAD
I only ship in Canada and Us. Sorry.
I will use paypal
The shipping + paypal fees are not included in the prices
Sorry for the prices i'm trying to get back what i paid for =/
Also i have cats but i'll wash everything before i ship the items to remove as much as i can!
Everything is in good condition unless it's stated.
Here's my feedback page : http://community.livejournal.com/eglfeedback/1123517.html
I will ship in padded envelopes unless you want a box (the bags will be shipped in a box)
You can ask for more pictures/info if you want!
Thanks!

I'd better like to sell as set unless i can sell everything~
Angelic pretty (measurements from hellolace)~

Milky Planet OP ~ SOLD


84.5cm + 3.5cm (lace) length, 90cm bust, 69cm waist, 15.5cm sleeve length, 27cm cuff

Milky Planet Headbow ~ SOLD



Cherry berry bunny skirt 250$


46cm length, 61~82cm waist

Sweet Ribbon Strawberry OP 300$


89cm length, 36cm shoulder width, 90cm bust, 70cm waist, 17cm sleeve length, 28cm cuff

Sweet Ribbon Strawberry Canotier 35$



Wonder Cookie Bustier Style JSK 300$


89cm + 3.5cm (lace) length, 84cm bust, 67cm waist

Wonder Cookie Headband SOLD


Wonder Cookie OTK Socks 30$



Little Bear's Cafe OP 300$ On hold~


88cm + 2cm (ball fringe) length, 92cm bust, 76cm waist, 28cm cuff

Jewelry Jelly Switching JSK 280$ SOLD~


84.5cm + 3.5cm (lace) length, 88cm bust, 68cm waist
Note : I bought it without the ribbon at the back so it's not the original one
Ribbon

Dreamy Dollhouse OP 250$~


85cm length, 89cm bust, 69~79cm waist, 16cm sleeve length, 28cm cuff
Note : It have a very very light stain on it but it's not noticeable since it's behind the frill part on the top
Can't really see it on the picture

Strawberry Cutsew 80$


48cm Lenght, 36cm shoulder width, 84cm bust, 70cm waist, 14cm sleeve length, 24cm cuff
Note : The strawberry at the front is a pocket!

Lovely Bunny-chan Bag SOLD



Shy Bear Bag 120$



Candy Border OTK Socks SOLD


Heart Lace OTK Socks SOLD


Lyrical bunny socks 25$


Note: Have been weared several times there's stain at the bottom.

Color Scheme Heart Charm Wrist Cuffs SOLD



~~~~~~

Metamorphose~
Honey picnic 120$


Bust :37cm〜55cm Waist:60cm〜88cm Length:69cm

Honey picnic socks 15$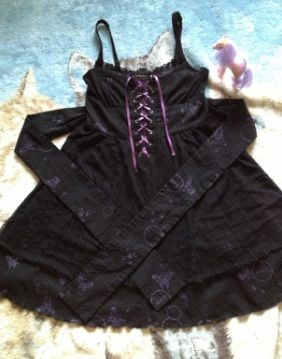 ~~~~~~~

Mintymix wig 50~
Sorry for the pictures.


With pigtails
It's new i only tried it on.

~~~~~~

Secret shop socks SOLD



Chocomint Bows SOLD



~~~~~

Old Sales 20%~

Punk Rave~

Kitty cape~ 16$


Back/ears
It's totally new! never had the chance to wear it =(
Max length: 15-17"

Bodyline~

Macaron Skirt~ SOLD


Back Stock
Weared 2-3 times but like new
Waist: 25-32" Length: 21"

Strawberry Skirt~ 12$


Back Stock
Only tried on so it's new.
Waist: 25-37" Length: 19"

Rose jsk~ 24$


Back Stock Neck/head thingy
Weared one time, i had the sew a button back on but not noticeable (You can move the straps), also the flowers on it are a bit "squished" (came like that) but looks easy to remove.
Bust: 33-36" Waist: 26-28" Length (top of the bust): 27"

Strawberry bag~ SOLD




Dream of lolita~

Wonder cookie Jsk~ 36$


Back Stain Stock
Weared multiple times. Looks great exept the stain at the bottom right.
It's some car stain...i never really tried to wash it off >_> but it's not really noticeable when weared.
Bust: 35-43" Waist: 28-32" Length: 37"
I can take better mesurements if you want because it can go a bit bigger since it's fully shirred in the back.

Fan+friends

Checkered Jsk ~ 32$


Back Headbow (thin black band)
Weared one time like new, bow still have the tag on it. Removeable bows
Bust: 36-40" Waist: 28-32" Length (top bust): 29"

Offbrand~

Whool coat~ 44$


Back
Looks like the one from bodyline but the lace isn't the same.
It's new! Be aware that the shipping price might be a little more because it's heavy!
Max bust: 36" Max waist: 30" Length: 41"

Mini petticoat~ SOLD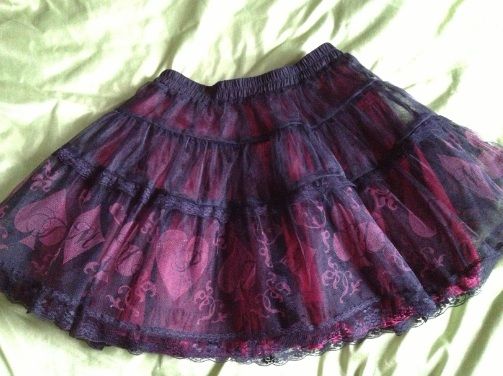 Stock
Like new. Super poofy and good quality!
Waist: 30-40" Length: 9"

Gothic lolita punk skirt~ 32$


This skirt is so poofy! weared like ~3-4 times.
Elastic waist: 26-36" Lenght: 14"-16" with lace

Offbrand socks #1~ 4$


Color
New. Length: 21"

Rainbow socks~ 4$


Color
Only tried on. Knee high.

Heart socks~ 4$


Only tried on. Knee high.

Dot socks~ 4$


Close
Only tried on. Knee high. It's baby pink not white!

~~~~~~

MY WTB!
I mostly want these from putumayo!
I might take other colors but i really want the pink ones!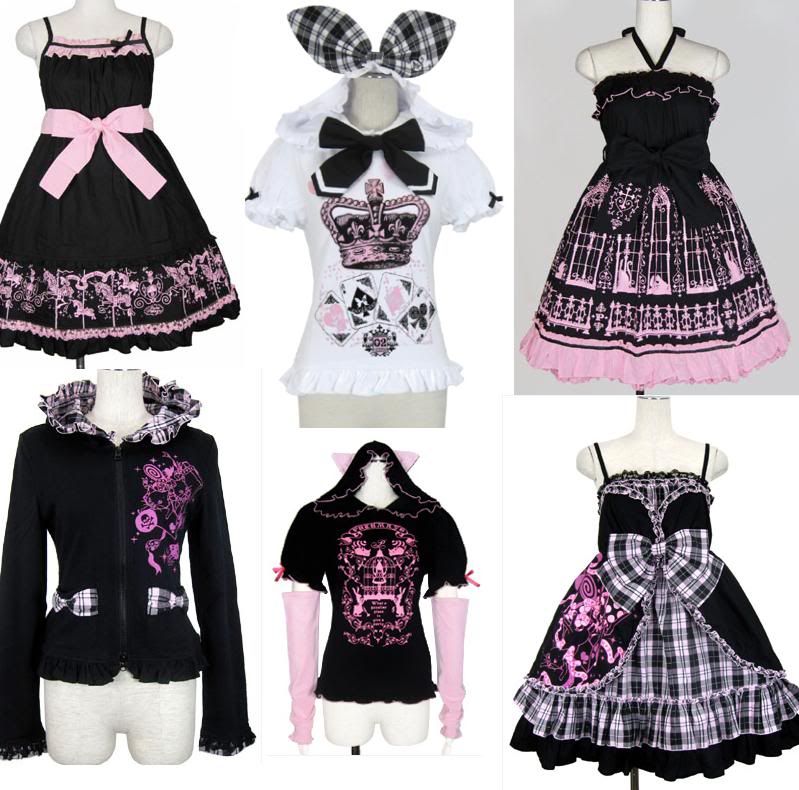 Other WTB


I want some more casual/punk items.I'd really like brnad stuff. Just show me what you got and tell me your price!


Thanks!!