Things to keep in mind:
~I'm in Puerto Rico, US
~Paypal only
Feedback :
Here

I wish to buy a navy colored bonnet. I must have a stiff brim. I also wish for it not to be a half bonnet. I'm trying my luck before having to buy from a brand; I'm looking more to buy used bonnets or maybe one with a small error. (Although if you have a new bonnet, please don't hesitate to show it to me). I'd love it if it has some type of rose within it. I'd also rather it no be made of velvet.
This is a perfect example of what I'm looking for: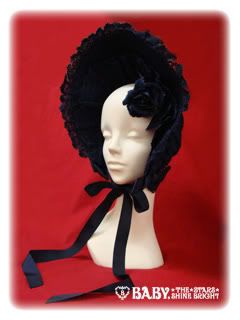 I'm also looking for ethe AatP Lace Print Headbow in Navy
And the double bow headband in NAVY for AatP's horoscope print