The prices do not include shipping and are in Euros.
- Paypal only, no extra fees :)
- I'm not responsible for lost, stolen or damaged packages.
- The one that can pay first, or highest offer will get priority.
- I've got feedback here and for GO here
- I have cats and a dog, so allergic buyers beware.
They aren't allowed in my room, where I keep the items I sell, but sometimes one manages to sneak in.
- To convert currency, use XE
- Shipping includes the price of the packaging

I'm hosting a very quick group order for 2 styles of gyaru wigs, so no long waiting before you receive the wig!
Because I want everything to arrive as soon as possible, there are only 5 items each color available, but there
will be more in the future.



Deadline for ordering and payment:


Thursday the 28th, 9:00pm gmt+1
I might extend the deadline by a day, depending on how much interest there is
Extended until the 29th, 9:00pm gmt+1.

I will place the order around 10:00pm gmt+1, I expect the order to be shipped within 2 days, and it will take about 3 days to reach me after it's been shipped :)

Status:
4-5-11: Everything is ordered and already on it's way to me. Please note that there will be a national holiday in a couple days and I think the package drop off will be closed then.
10-5-11: I'll be shipping the first batch today, then I will be gone for 2 days, and I will continue shipping the other orders after that!
14-5-11: Everything is shipped out! Though the package deposit won't be able to ship stuff until monday :(

Shipping and packaging:
I offer discounted shipping for group orders and I include packaging material costs in the shipping cost.
The wigs can only be shipped as a package, they're too bulky to fit through the mailbox.
Shipping costs depend on wich area your country is in: The Netherlands, EUR1, EUR2, EUR3 or the rest of the world.
So if you want a shipping cost quote, please let me know wich country you're in.





Long gyaru wig, ginger: €35

,-
Spots left: 2 (and 1 on hold)
The fibres are very soft and have a natural shine to them, the wig is already pre-styled and only required to be brushed and maybe fluff up the poof in the back a bit :)
I can only get it in ginger, but the color is absolutely lovely and due to the usage of different tones, it has a more natural effect!

More pictures:
worn
color - please note that the color is very difficult to capture accurately and may look different in real life due to monitor settings. The color is a nice ginger shade.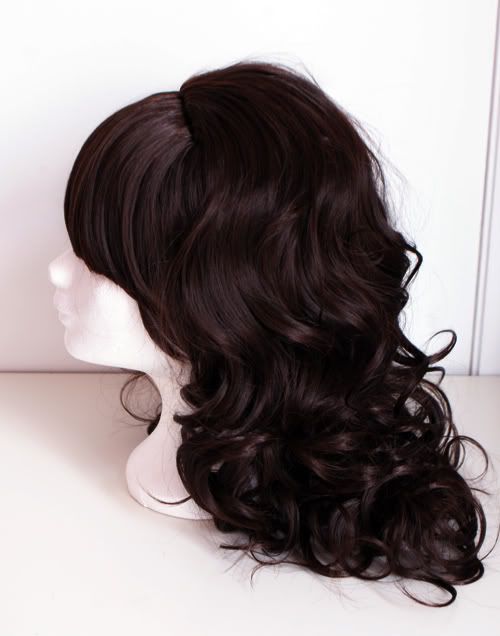 Short gyaru wig, 3 colors: €35



Spots left:
Strawberry blonde: 5
Light brown: 5
Dark brown (shown in first picture): 1

Beautiful and soft hime wig. Inside of the wig there are 2 combs and 2 clasps to secure your wig!
It's a little more shiny, but that is easily fixed and it's because the manufacturer used a finish to keep it soft
and from tangling during transport.
If you don't mind the shinyness, you only need to comb the curls through and maybe re-fluff the bump, other wise
it's a good idea to wash the wig with a special shampoo against the shinyness, or you can choose to powder it.

From my personal experience, this wig is super easy to comb through and barely tangles!

More pictures:
Light brown worn
Inside the wig cap