-Shipping with USPS
-Willing to ship worldwide
-I have lots of positive feedback at eglfeedback (+71) and in my journal (+21)
-Paypal fee to be paid by buyer (4% of total)
-I accept Paypal only.
-Extraneous comments will be deleted
-My roommate recently got two kittens but I don't let them near my lolita because I'm allergic to them.
-Questions? Please don't hesitate to ask! :)




Please read my rules and all descriptions before commenting, thank you !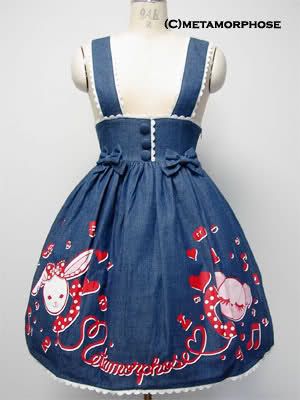 back stock
front view
back

example of the black version worn by mintymix

I bought this JSK from another user on the comms and have only worn the it twice. It doesn't come with the two bows on the front. The damages and wear are from the previous user and I bought the dress without being told about them.
However, luckily the defects aren't very noticeable unless stared at. At the high waist on the front, the seams are a little worn. Overall, the dress has some feeling of wear as there are a few cracks in the print but none are peeled/peeling. It's the heart ones are apparent but even so, they aren't very noticeable unless stared at. hearts on bunny side , bear side. There are no cracks on the bunny and bear. :)

That being said, the dress still has a lot of life even with it's age (2007 print). Also, it's extremely adorable and quite rare... it pains me to put it up for auction but my priorities have changed at the moment.

measurements
waist: 29.5in
bust: free (depends on how you place the straps)

Shipping within CA w/ tracking: $11
Shipping within US w/ tracking: $15
Shipping worldwide w/ tracking & partial insurance: $40
(other types of wordwide shipping, please inquire)

If shipping is less than expected, I will issue a refund of the amount overcharged.

Starting Bid: $150
End Bid & Bidder: $210 by ja3_lolita

***edit: please bid in increments of at least $5

I may be away during the day, so please- no PM bids.
Because I will be away, I may be unable to update current bid & bidder, so if you are interested please watch this post and comments to check if you have been outbid.


Short Auction ends Today, Saturday, April 23, 2011 at 8:00pm PST (California, USA time)



thank you !