Information:
-Here is my feedback: http://community.livejournal.com/eglfeedback/818285.html
-I ship from the US. In the case of trades, we will agree on a shipping method and pay for our own shipping.
-I live in a smoke-free, pet-free environment. These are the only doggies I own.
-I SHIP ON SATURDAY ONLY. I'm greatly sorry but I have a 9am-6pm job, preventing me from shipping on other days.

Rules:
-Serious inquiry only.
-I will list specifically what I want to trade for, but if you feel you have an item that is similar in nature that may interest me, feel free to offer.
-If the value of the item you are offering is significantly lower than my item, I WILL consider partial trades, with the difference being either money to my paypal or other items. The ONLY exception to this is the Wizard of Oz JSK - please see it's individual listing for more information.
-I will consider trades for handmade items, but you must provide clear proof and demonstration of your skills (an etsy link, image gallery, etc)
-I will consider trades for offbrand.
-I reserve the right to decline any trade for any reason.
-Only items with a listed price are for sale.

What's the deal:
So I'm changing jobs and I want to swap out some of my more over-the-top pieces for toned down ones that I can smuggle in to an office environment.


My measurements are
Shoulder - 16"
Bust - 36"
Waist - 28"
Hips - 40"
Shoe: 25 or 25.5~US 8/8.5~40cm

Please don't offer me anything much bigger than the body measurements listed. I will consider items that are a bit smaller (up to 2 or 3 inches smaller) since I have been successfully losing weight and I am close to my goal. Please list measurements when offering an item for trade. Thank you.


All of the items in this post will fit these measurements and 2-3 inches larger EXCEPT the BTSSB Tulip Set, pink bolero and the white shoes. Their size differences are described in their listings.




Proof: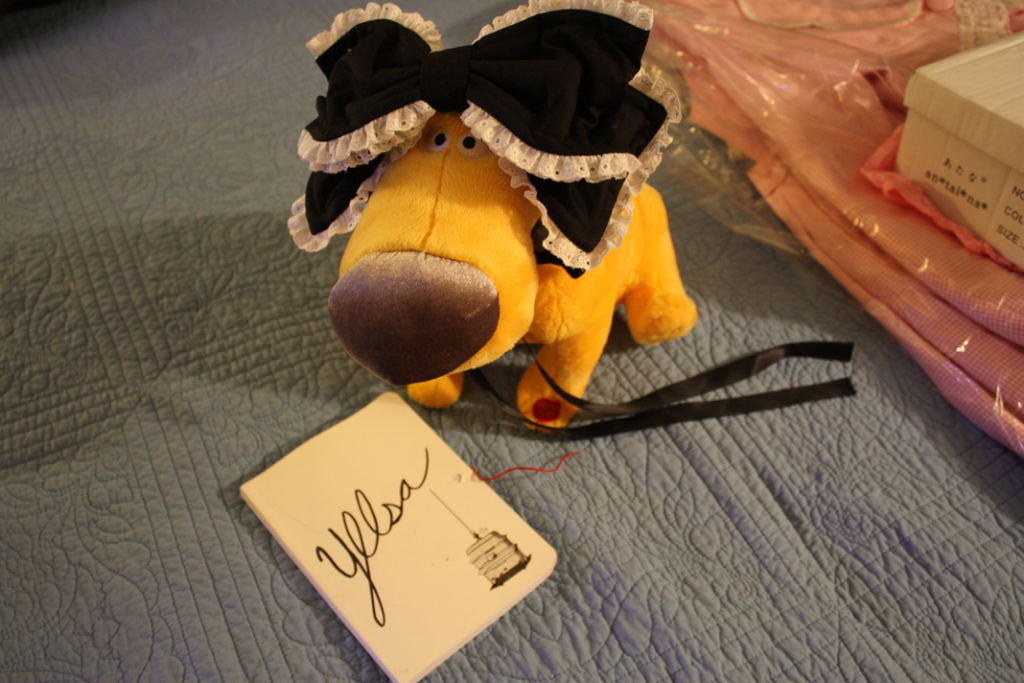 Dug you cannot wear a headbow you are a dog headbows are for humans.
The Stuff:
Baby the Stars Shine Bright
Wizard of Oz Pink Circular JSK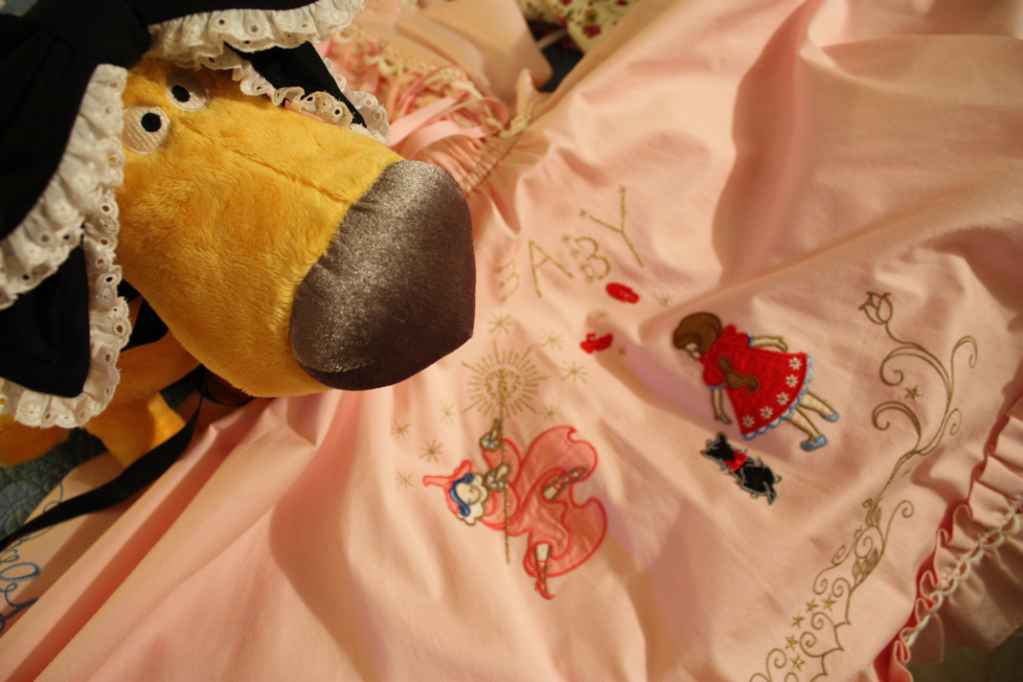 HelloLace Listing
Multiple Closeups




Okay, so I really can't even describe how much I love this dress. The embroidery and applique are simply breath-taking. The only problem is the color. Pink...is just not me. So I want to trade my PINK JSK for a WHITE SKIRT. I will consider this a complete trade - that's how bad I want this skirt in white. The condition of the JSK is pristine. When I bought it, the seller had a picture of a small discoloration on the bottom ruffle, but I honestly cannot find it to take a picture. I will ONLY consider trading for a WHITE SKIRT - I would also very much prefer it to come with the original included underskirt, but I understand that this item is even harder to find than the skirt, so don't be afraid to offer me a skirt without it. I expect the condition to be very very good, equal to the condition of my JSK. I would like the same number and quality of pictures to prove to me the quality of your garment and proof of ownership before I will even begin to discuss a trade. I appreciate your understanding.


I have NOT worn this, only tried on once. I purchased it from mbok, the number of times the previous owner wore is 3-4. Comes with original waist-ties.


BTSSB Flowers and Tulip Celebration JSK+Jacket Set Trade OR $150 Shipped in the US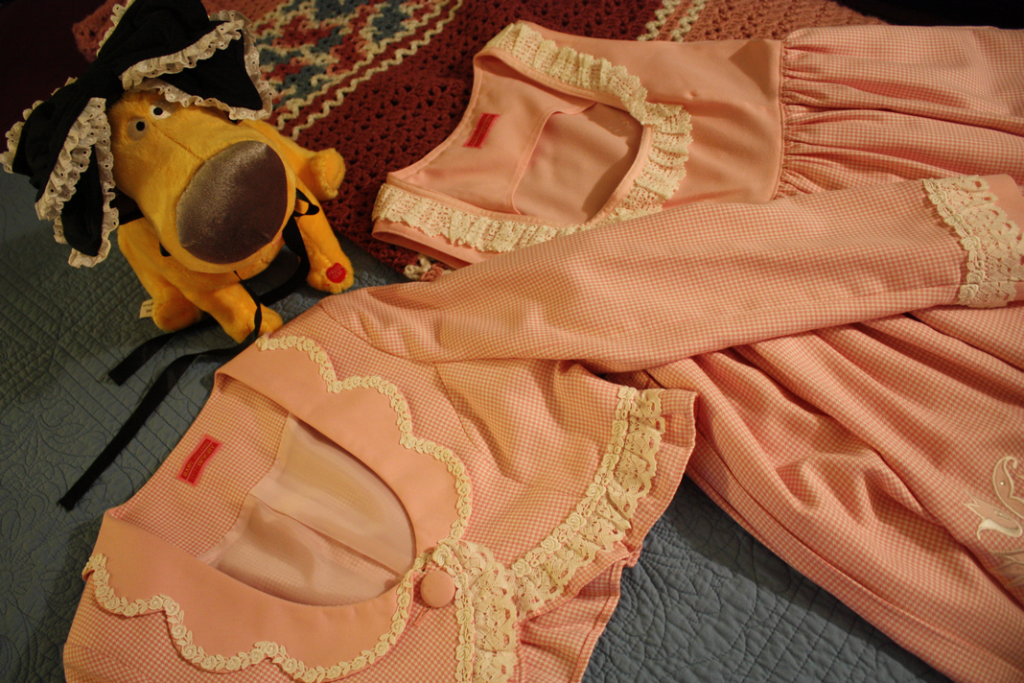 Hello-Lace entry
Stain Close Up
Other Closeups

Another JSK I absolutely love, with a stunning applique. This was my first brand JSK, and I have finally given up the ghost of a hope that it will fit me - I DO NOT RECOMMEND THIS DRESS FOR ANYONE WITH A BUST LARGER THAN 33". Neither the JSK nor the jacket is shirred. The jacket is fully lined. This JSK is a little older and has had some very very slight pilling in various places, I've tried to capture the most obvious portions. The lace also may appear slightly aged in some places, but I wouldn't call it discolored. The only stain I've found is a tiny, barely noticeable dot on the applique. My dry cleaner tried to get it out but no luck. I bought this from the comm, and have never worn it.

Kids YoYo White Fairy Doll Replica JSK Trade or $90 Shipped in the USA SOLD

Proof
Closeups
(Terrible) Worn Photo

I bought this from taobao, expecting the OP but KYY fudged up and sent me the jsk. I'd like to trade it for the white or navy OP version, but I'm also open to other trades. Worn once. It's lovely, just doesn't look great on me, and not the version I wanted. Has 4 bustles that can be adjusted separately. The outer fabric is slightly sheer, and the under fabric is a little more solid, but overall the dress is still a tiny bit sheer.

It looks a little wrinkled because I attempted to wash it in the washing machine on gentle. This is NOT damage it at all, it's just a little wrinkled. I can try to steam and iron it before I send it if you like.

Bodyline Brown Floral JSK Trade or $45 shipped in the USA SOLD

M-Size

Multiple Images
Proof
Worn

Again, a dress I love, but it's a bit ~too~ frilly for me to feel comfortable wearing every day. I am interested in trading this for any of the items shown below, or similar items. I have removed the front white bow from the bodice because it looked hella-tacky and it was crooked. Comes with a large matching bow on a pin. Purchased new from Bodyline, worn 3 or 4 times.
White An~Tai~Na Shoes For Trade OR $45USD shipped (US ONLY)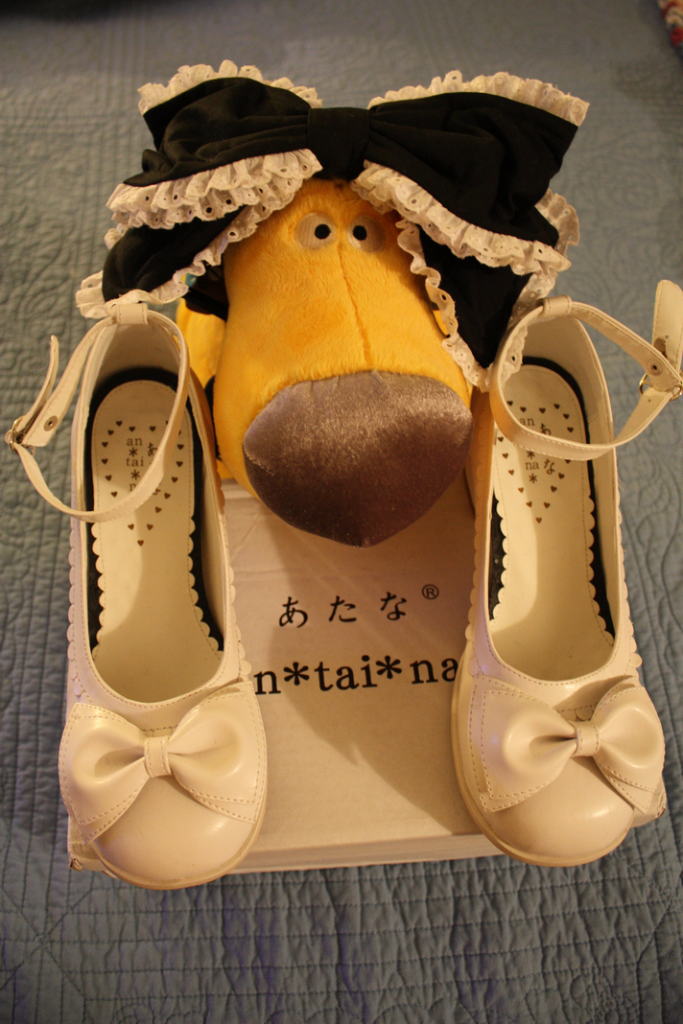 Worn
Multiple Closeups
Marks Marks 2
Size 39/7.5
Purchased from taobao, worn 2 or 3 times. They are really cute, but just too sweet for me. I'm interested in trading these for anything listed below, preferably another pair of shoes in similar condition, and a slightly bigger size (8-8.5 US/40-41cm/25.5JP).Metamorphose Old School Head-Eating Bow Trade or $50 shipped (US ONLY)
Multiple Closeups

This headbow is seriously fierce, but I know I will never have the opportunity to wear it. I would like to trade this for any of the items shown below, preferably another headdress or accessory of equal value. Purchased from mbok, no damages I can see. The bow has wires inside to keep it's shape and adjust to suit your style.



Offbrand Pink Bolero Trade or $15 shipped (US ONLY) SOLD




Proof
More pictures
It's a little too small for me. New and unworn.



Pretty Pretty Things I Will Trade For

I'm aware that some of the things below are things that are WAY out of the value scope of the things I have listed (lol excentrique). They are just there to show you generally what my taste is if you have something similar to offer. Of course, feel free to offer me excentrique if you like :3 Also, if any of these images are your personal picture and you wish to have it removed, please let me know and I will do so as soon as possible. I hope you will consider it a complement that I like your picture that much :)

THE HOLY GRAIL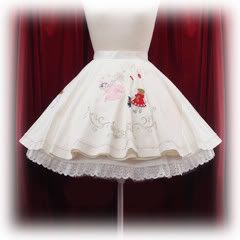 I'm interested in
blacks
browns
greys
whites and creams
Dark jewel tones or dark florals
pinstripes
short sleeve high-neck blouses (black or white)
short sleeve square-neck blouses (black or white)
jsks
OPs
skirts/high-waisted skirts.
Jacket+Skirt sets
Shoes and toned-down headdresses as shown below
Examples of What I'm Interested In
JSKs/OPs
Skirts
Blouses
Shoes/Hair Accessories/Others



WTB


If nothing above interests you for trade, I would like to buy black or white short sleeve blouses, and black, brown, white or

red

shoes. I am also interested in a

RED

short sleeve blouse.
Update: I've decided to accept money in exchange for the BTSSB Tulip JSK, Fairy Doll replica and the Bodyline Dress. In the interest of fairness, I will sell it to the first person to leave paypal and pay my invoice. Thank you.