-Hello! My egl feedback is located here: click me!


-I accept paypal as payment!
-I prefer to ship in the U.S, but if you are 100% certain you want an item, please feel free to ask =)
-Shipping Rates are not included in the price listed below, please inquire.
-I am open to trades and offers; I am partial to Angelic Pretty <
-All items come from a non-smoking and pet-free home!!
-All measurements provided are an approximation.

onto the photos!





DS

:

1. Angelic Pretty wine red skirt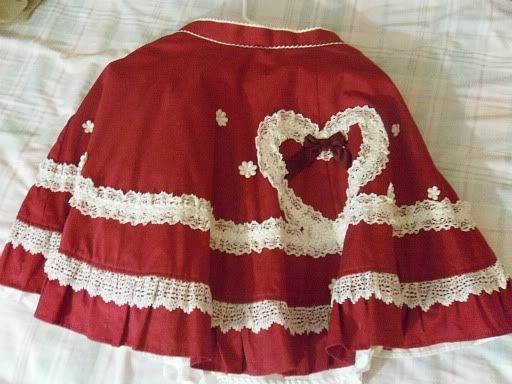 detail:
Click here!

Description: I've worn this skirt 2-3 times, and it is very appropriate for colder weather! It is lined and has a layer of stiff tulle underneath.
Measurements: No shirring! the max waist measurement is 26inches.
Price:

SOLD





2. Angelic Pretty wine red tiered skirt including matching headbow
(taken with flash)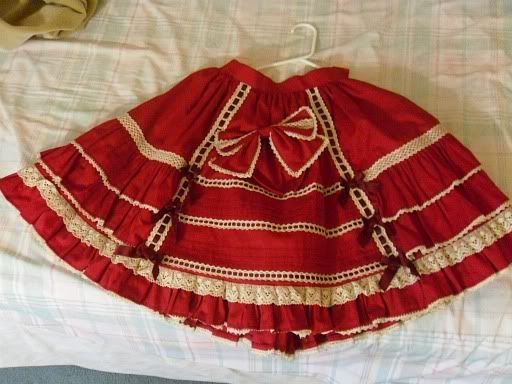 detail: Click here!

Description: Has been worn a few times. I really love this skirt, but it doesn't fit my style anymore. It has really cute pin-tucks accent the skirt trimmed with antique white lace! Has a layer of stiff tulle with underskirt.
Measurements: 26-27inches max!
Price: 70 USD excl. shipping



3. Angelic Pretty boudeaux red headbow



Description: It is a slighter deeper red than the skirts. It has lovely fake pearls sewn into the white lace~ It is wired and can be shaped =) It has only been worn once for a few hours, but then put into storage.
Measurements: free
Price:
SOLD




4. Angelic Pretty red cutsew



With sleeves attached:



Description: It's super cute and perfect for a holiday! It has shirring in the front so it can accommodate different bust sizes. Includes detachable sleeves and it is pretty stretchy! The lace is either stretched or rolling up on some parts of the cutsew. The price does reflect this.
Measurements: free
Price: 30 excl. shipping



5. Emily Temple Cute red cutsew



Description: A perfect valentine's day cutsew! the sleeve length is three-quarters.
Measurements: bust is approximately 32-34inches and waist is approximately 25-27inches.
Price: 20 excl. shipping







WTB

:
I am searching for a pink Dreaming Macaron headbow please!


Thanks for looking!