All items come from a smoke-free/pet-free home.
Payment methods accepted: Paypal or European bank transfer. I don't charge Paypal fees.

I ship from Germany.
Items will be shipped within 7 days after payment.
I am not responsible if an item gets lost.
Prices do not include shipping.
If you want to make an offer, feel free to do so!
My feedback page: http://community.livejournal.com/eglfeedback/1133160.html
(Ebay feedback only, since I only bought and sold items within the German Community up until now)
Items:
Rose Melody Merry-go-round JSK in black SOLD


Worn few times, good condition
Measurements: Bust 90cm max., Waist 70cm max., Length 90cm
Details: shirred back, zipper at the side, detachable waist ties, the two ribbons with pearls at the front are also detachable, print detail
Price: 70€
Anna House Blouse in White SOLD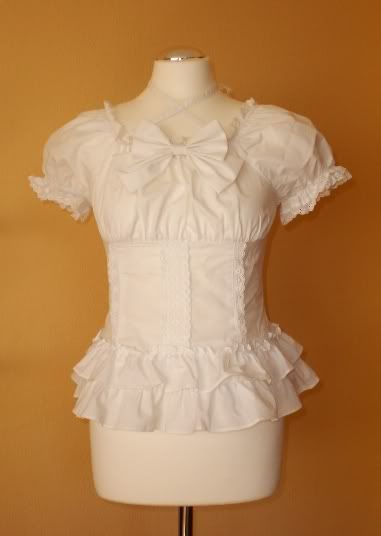 Worn few times, good condition
Measurements: Bust ca. 90cm max., Waist ca. 70cm max., Length ca. 50cm
Details: shirred back, zipper at the side, bow is detachable
Price: 25€
Bodyline White Skirt with Cherry Print


Worn 2 times, good condition
Measurements: Length ca. 50cm, Waist ca.60-80cm (very stretchy)
Details: Bustle back, bow not detachable, print detail
Price: 35€
Bodyline Sailor OP in Black SOLD


Worn once, good condition
Measurements: Length ca. 90cm, Bust 88cm max., Waist ca. 70cm max.,
Details: detachable tie, zipper at side, buttons in front, detachable belt, back side
Price: 40€
Bodyline Black Headdress SOLD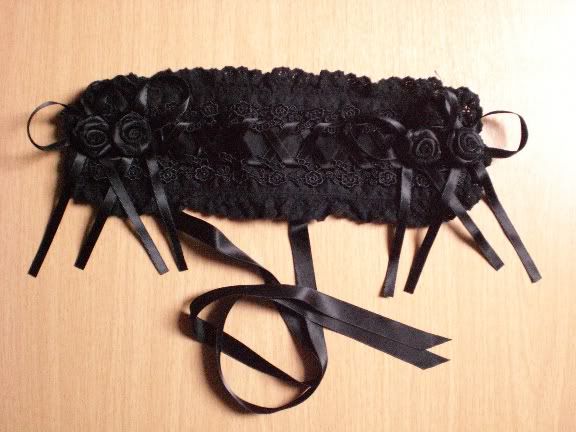 Only tried on, excellent condition
Price: 6€
Kidsyoyo Violin Rose Beret in Dark Red


Only tried on, excellent condition
Details: Violin Brooch is detachable
Price: 20€