Here's my feedback: http://community.livejournal.com/eglfeedback/1174692.html
☆ Paypal only please, first to leave paypal address gets priority.
☆ Prices include US shipping. No international orders, please. Sorry!
☆ I will post additional pictures and measurements upon request. My measurements are Bust 32" Waist 26"
☆ Prices are negotiable but please keep it reasonable!
☆ I DO have 2 dogs but I keep my Lolita in a separate room where the dogs aren't allowed in. They are both Yorkies and have hypoallergenic fur in case those with allergies are worried.
☆ Items come from a smoke-free home.

~-~-~-~-~-~-~-~-~-~-~-~-~-~-~-~-~-~-~-~-~-~-~-~-~-~-~-~-~-~-~-~-~-~-~-~-~-~-~-~-~-~-~-~-~-

Baby the Stars Shine Bright Black Baby Doll Jsk New with tags - 115 USD Shipped


proof pic: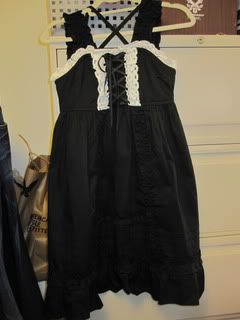 bought this directly from the baby site. i only tried it on and i just dont like the way it looks on me. its new with tags but it does not come with the headbow.

Bodyline White shoes size 23.0 New- SOLD!




Also new i have only tired on to find it its just too big for me.

link to old sales

http://community.livejournal.com/egl_comm_sales/14155940.html

http://community.livejournal.com/egl_comm_sales/14324757.html


if you have any question please let me know!
~thanks for looking~