Feedback: Here
o I'm shipping from CO, USA
o All prices are OBO, though I do have the right to decline certain offers if they are deemed too low.
o I may accept trades, if you have anything fully-shirred/fits a 45" bust, 40" waist
o Paypal only, please. No e-checks!
o PRICES ARE SET FOR SHIPPING WITHIN THE US WITHOUT INSURANCE. Please inquire if you would like to add insurance to your package; you'll be responsible for paying the extra fees.
o I WILL SHIP INTERNATIONALLY, BUT PREFER TO SHIP WITHIN THE US IF POSSIBLE.
o PLEASE ASK SHIPPING ESTIMATE FOR INTERNATIONAL SHIPPING.
o Not responsible if you don't purchase insurance and your item gets lost in the mail.
o I accept holds, so long as you leave a 20% non-refundable deposit.
I am 5'7" tall for reference. Please inquire if you want to see additional photos.


F F/Retroscope Items

Black shirred-waist F F blouse, size 14, can accommodate larger sizes
Tried on once. Otherwise brand new.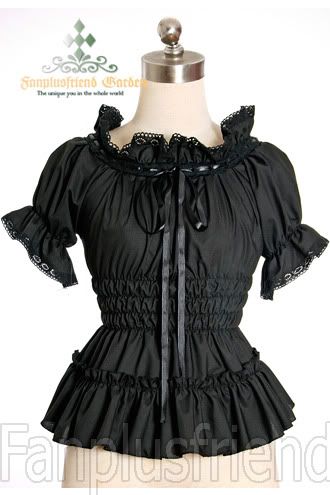 Measurements:
36-40" bust
28-52" waist due to fully shirred waist

Although the waist is so stretchy, the bust area is not very forgiving. I would not recommend anyone past a US average size 16/18 buys this blouse for that reason.
$41.50 shipped SOLD!

Red F F sleeveless blouse with red lace-up corset ribbon (ribbon not shown)


Tried on once. Otherwise brand new.

Measurements (taken flat):
Bust: 19-23.5" MAX
Waist: 15-19.5" MAX
Length: 20" from top of strap to bottom of blouse

Additional Photos:
back
front without ribbon
Closeup of lace
$36.35 shipped

WILL SELL BLOUSE AND BLOOMERS AS A SET FOR $40 SHIPPED

Red F F bloomers


Tried on once. Otherwise brand new.

Measurements (taken flat):
Waist: 11-22" MAX
Length: 15"
Thigh circumference: 15.5" MAX, ribbon can adjust it smaller

Additional Photos:
no flash
back
$20.91 shipped

WILL SELL BLOUSE AND BLOOMERS AS A SET FOR $40 SHIPPED SOLD

Retroscope Black Bustle skirt size XL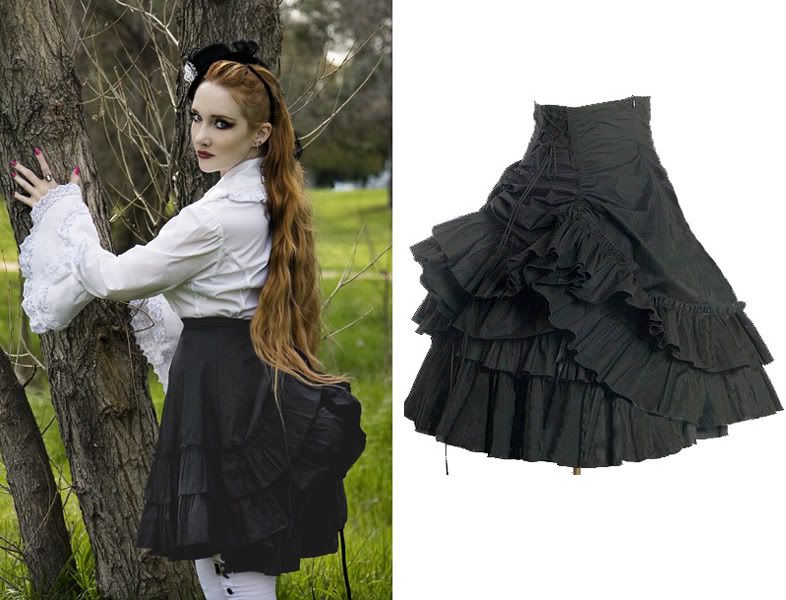 Well loved black skirt; great condition although worn quite a few times. Comes with ribbon drawstrings to raise or lower the bustle in the back for a more dramatic effect.
$41.50 shipped

Measurements:
Waist: 36-40"
Length: It hits my knees, I am nearly 5'7"

Additional Photos:
Front of skirt *red specks are from the camera, not on the skirt. White specks are lint and will be removed before shipping.
back
Closeup of back bustle SOLD

Retroscope Black Opera Jacket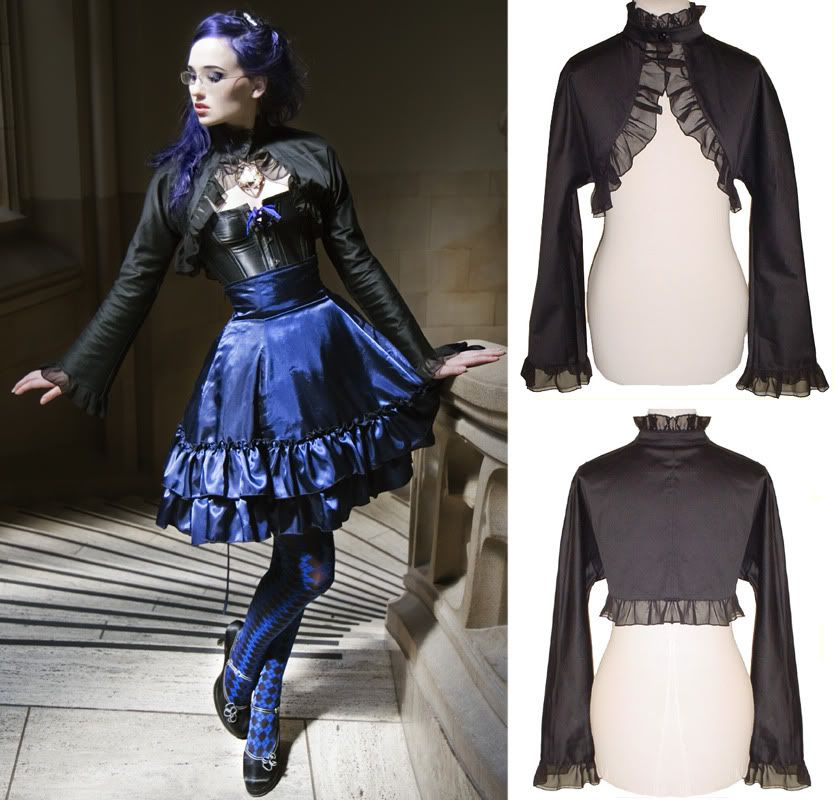 Worn twice, excellent condition! Awesome for busty lolitas!
$35.36 shipped

Measurements:
Bust: 46-47"
Shoulder-to--shoulder: 22in
Length: 19.5" top to bottom
Sleeves: 25" shoulder to bottom of ruffle.

Additional photos:
front
back SOLD!

Handmade/Other nonbrand items
Anna House Black skirt w/White polkadots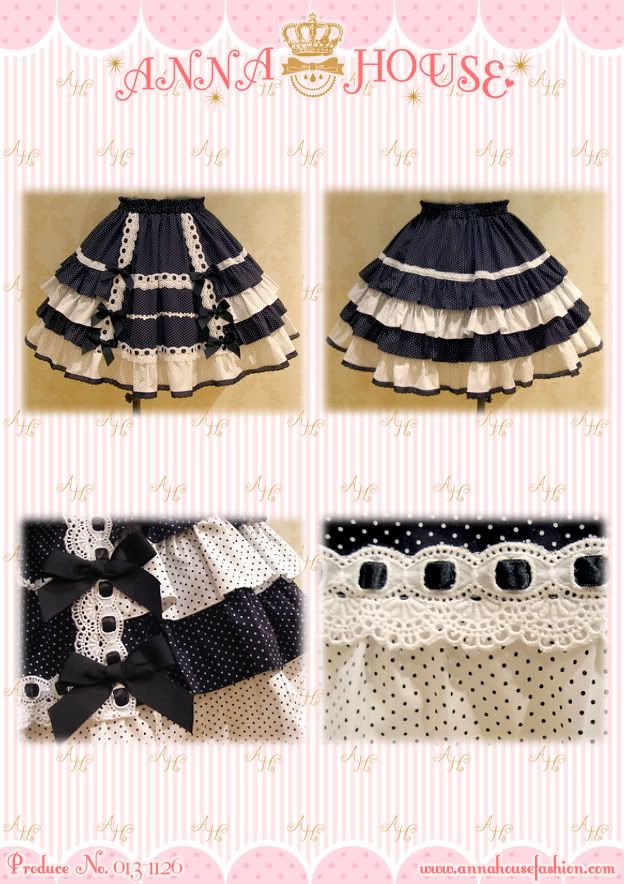 Purchased secondhand from the sales comm. Worn once, excellent condition! *I must point out that for some reason, the tag was sewn onto the inside of the FRONT of the skirt. I don't know why, but it's how it arrived to me. No one can see it since it is on the inside, though! ;)
$41.50 shipped

Measurements:
Waist: 25"-45" comfortably, 48" Max
Length: 19"

Additional photos:
skirt
back SOLD


Anna House Cream Floral skirt


This skirt is no longer listed on Anna House's website. Worn once by me; it's very lovely and great for classical styles! Comes with two detachable bows.
$41.50 shipped

Measurements:
Waist: 25"-45" comfortably, 48" Max
Length: 20"

Additional photos:
back of skirt SOLD!

Handmade Pink sweets skirt


Handmade skirt bought off the sales comm. Never worn! The sweets fabric is super cute, and the same fabric as used in Anna House's cupcakes skirt.
$36.35 shipped

Measurements:
Waist: Free size, can stretch to AT LEAST 50"
Length: Please inquire.

Additional photos:
Closeup of fabric SOLD TO FRIEND IRL

White handmade 3 tiered ruffle skirt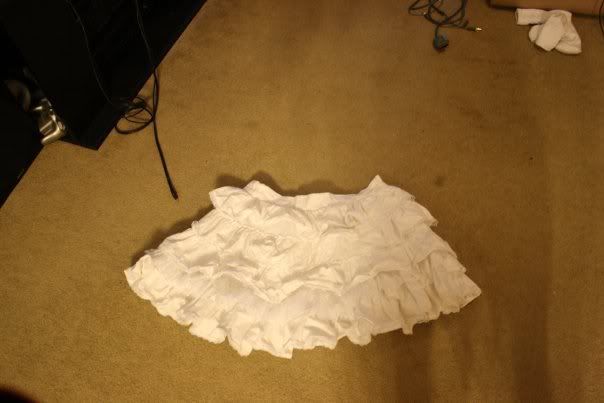 white is so hard to photograph, sorry!
Worn once, bought from sales_comm back in September 2010.

Measurements:
Waist: 35"
Length: please inquire. I am nearly 5'7" and it hits about 3" above my knees.
$20.91 shipped

Additional photos: (Taken in a hurry)
1
2

Redxblack punk shirt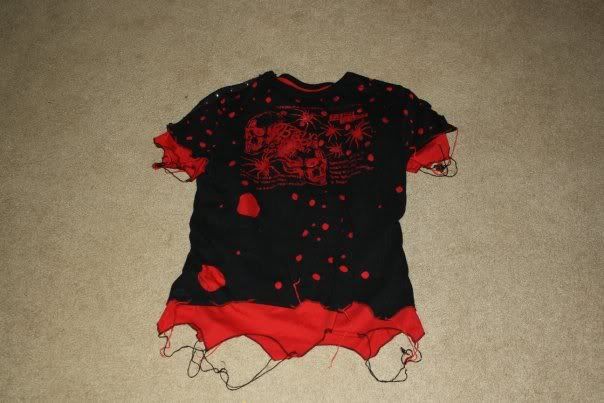 Bought from someone on the sales_comm, I think they may have worn it once. Never been worn by me.
$26.06 shipped

YOU CAN TAKE BOTH PUNK SHIRTS FOR $40 SHIPPED OBO

Measurements:
Bust: up to 38", but wouldn't go past 36"
Waist: Up to 34", wouldn't go past 32"
Fits a size L, approximately.

Additional photos: (Taken in a hurry)
1
2

Black "Punx" punk shirt


Worn 2-3 times, still in super condition. Bought at a convention.
Price: $20.91 shipped

Measurements:
Bust: up to 40"
Waist: Up to 36" approximately

Additional photo:
Back

YOU CAN TAKE BOTH PUNK SHIRTS FOR $40 SHIPPED OBO

DollyBerry Mint summer jsk w/matching headbow and ribbon


Made by a Korean lolita brand, I believe the name is DollyBerry.
Worn once by a friend for less than 15 mins. Unfortunately, I've noticed that the elastic thread on some of the shirring in the back is coming undone. It's on the second row out of 6, and looks like it can easily repaired with elastic thread and a sewing machine. This dress comes with a matching headbow and ribbon you can wear around the bodice.
Damage is reflected in price, Originally bought for over $100, selling for $41.50 shipped OBO

Measurements (taken flat):
Bust: 14-23" MAX
Waist: Free waist/same as bust because of shirring
Length: 37" from top of sleeve to end of skirt/ 23" from beginning of skirt to end of skirt

Additional Photos:
closeup of fabric
Matching headbow/ribbon
Fraying elastic thread SOLD!


I have deco nails available for sale in THIS POST, as well as THIS ONE! I am also available for commission at my website, Bubble Cafe. If you have any questions, feel free to ask! :D