Terms of sale:

*I accept Paypal and European bank transfer.

*Prices do not include shipping and/or paypal fee unless stated otherwise.

*Priority goes to the person who can provide feedback and pay first.

*I have the right to turn an offer down if you have negative or neutral feedback.

*Payment must be received within 3 days of invoice unless you contact me and I agree on new terms. If not, neutral feedback will be left and the item will be put up for sale again.

*I have feedback in my journal and on the dbs:
community.livejournal.com/eglfeedback/463607.html

*Once an item has been handed over to the post office, I will not be held responsible for any lost or damaged packages. I will however try to help as much as I can in case of lost items.

*I don't smoke but own cats, and while my cats are not allowed in my room, my clothes might still contain some cat hairs.

*It is possible that my picture backgrounds differ. I have taken some pictures from my poupee account. I can assure you that they all belong to me, but let me know if you have your doubts and I can take additional pictures.



Long Moi-Meme-Moitie EGA jsk. Plain skirt and printed top. In great condition.
Closeup on top fabric: i117.photobucket.com/albums/o44/Espy-chan/IMAG0259.jpg
Length: 120cm Max bust: 88cm SOLD



Angelic Pretty sax pearl flower knit. This must be an old and rare piece; as you can see it has a different label than the blouse. Looks a bit frumpy when laid out but is adorable when worn! Amazingly soft knit; it is embellished with knit flowers with pearll hearts. Also has cute pearl buttons.
Pearl flower and knit closeup: http://i117.photobucket.com/albums/o44/Espy-chan/Me/Sales/004-1.jpg
€40



Meta Georgette Frill bolero in pinkxblack. Amazingly soft fabric, with black logo embroidery and satin ribbon. New without tags!
€40



H&M Polkadot skirt. Lovely lightweight skirt that can easily fit poofy pettis. Makes up for amazing casual coordinates! Worn a few times but no damage at all.
Max waist: 70cm ; length: 50cm
€20 SOLD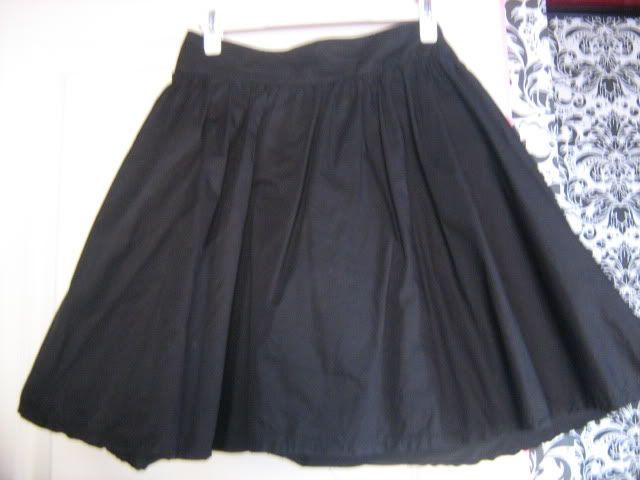 Same skirt as above, only in plain black. Worn a couple more times. No damages or stains.
€15 SOLD



Baby the Stars Shine Bright Alice Chess Babydoll jsk in pinkxred. In okay condition; has a yellowish stain in the middle and I'm unsure of the cause. Does not come out with washing. Is not really noticable; the colour kind of fades into the fabric. It is about 2cm in length.
Max bust: 110cm
Stain: i117.photobucket.com/albums/o44/Espy-chan/IMAG0264.jpg
SOLD



Putumayo blackxblue rabbit cutsew. Bought secondhand but in great condition, no damage to the cute silver print.
Max bust: 100cm
€30



Putumayo Wonderland blackxpink parka. Very cute assymetrical fabric use! Has a print in the back aswell that says 'Putumayo, land of screaming dreams'. Good condition, worn quite a bit.
Max bust: 100cm
€35 SOLD



Btssb pure white Magical Icecream camisole. Adorable print from the Icecream series! The fabric even has little heart punchouts. Can be worn as regular or halter top. Has a tiny yellow spot in the upper right corner of this picture, it might come out in the wash, I haven't tried.
http://i117.photobucket.com/albums/o44/Espy-chan/003-2.jpg
Max bust: 100cm
€25



Pink Emily Temple Cute Meadows A-line skirt. Stained! It has 4 tiny ink spots on the front side; they can't get out with washing. Not really all that noticeable unless you look for them. Biggest stain is about 1cm wide, the rest only millimeters.
i117.photobucket.com/albums/o44/Espy-chan/IMAG0234.jpg
€25



Black Innocent World high neck blouse. Worn but in great condition. Also comes with a black frill tie so you can have a bowtie around the neck (not pictured, but will be included).
Max bust: 100cm
€50 SOLD



Simple white cutsew by Baby with gorgeous rose lace cuffs. Worn and washed twice, in great condition. Closeup of lace:
i117.photobucket.com/albums/o44/Espy-chan/IMAG0232.jpg
Max bust: 100cm
€30



Light pink Baby the Stars Shine Bright poodle cardigan. Has a tiny bit of damage on the knit lace around the bust; a tiny discoloration that I can not get on picture. Not noticable at all unless you know where it sits. Otherwise in okay condition, worn quite a few times but has lots of life left.
Max bust: 92cm
€30



Baby the Stars Shine Bright blue LP Usakumya tote. Used twice, no stains or damage.
€12



Btssb Magical Icecream headbow in black. Adorable headbow matching the Icecream series, worn a few times.
€15



Rare Angelic Pretty blackxsilverice crystal socks with white fake fur toppers.Worn a fut times but in great condition! Please note that the fur seems more greyish due to bad lighting. It is in fact (off)white.
€20 SOLD



Angelic Pretty Ichigo Ribbon OTK socks in blackxpink. Made of really stretchy knit fabric; nice and cozy and great for girls with bigger calves! These have been worn quite a bit but still have a lot of life left in them.
€12



Baby crown and logo knee-highs in black. Only worn once cause I'm not a fan of knee-highs. Make for great casual socks!
€12 SOLD



Innocent World knee-high crown logo socks in black. Worn a couple of times but I prefer OTK's. In great condition, good for bigger calves!
€12 SOLD



HeartE pink strawberry knee-highs. Got these adorable socks in a set but never wore them because I prefer OTKs. New without tags!
€12



Angelic Pretty Cherry Lace print OTKs. Have been worn about 3 times but in like new condition! Bought these to match a skirt that I have already sold, so there is no use in keeping them.
€15 SOLD





Black fake fur scarf/collar from H&M. Closes with a hook on the inside. Satin lining so it's not itchy. As new.
€10 SOLD



Same as above but in lavender.
€10 SOLD



Baby the Stars Shine Bright Usakumya LP keychain. Unused.
€10 SOLD



Angelic Pretty Heart Check headbow, in great condition. Black with pink accents and sparkles.
€25 SOLD



Pinkxoffwhite Swimmer Present Box bag. No longer new with tags; I can take a new picture if needed! Has been used as shows some signs of it; tiny scrapes and spots of dirt. In good condition however.
€30 SOLD