Details on the trade:
-If transfer of funds occur, I will be using

P

aypal ONLY


-Anyone willing to trade will be responsible for shipping their item, and I will do the same with mine
-I will be willing to negotiate any extra funds needed to cover difference in cost of item [Quality of your item will be considered]
-Link to my
FEEDBACK



Hey everyone! I am looking to trade my Cherry Berry Bunny skirt in red for the JSK [preferred] or the OP in RED ONLY.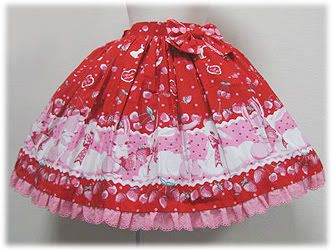 My proof picture:



Hello Lace Measurements: 46cm LENGTH & 61-82cm WAIST

Please note:

There is no damage to the skirt and the condition is like new! I have only worn the skirt myself for less than an hour total.

The trade will include the waist bow and waist ties to the skirt, but not the head bow or any other accessories pictured.

What I am looking for:




OR



I am only interested in trades at this time!

Feel free to ask any questions and offer me prices to include with the trade if you have either the JSK or OP and are interested in trading.