My feedback can be found here (+43)

This is a group order / pre-order for lolita badges, beer openers and charity gifts. Please read this first before commenting.


1. Please use the following order form:

Name:
Paypal address:
Location:
Shipping method: normal / normal + priority / normal + tracking / normal + priority + tracking
Items ordered:
- Type: Beer opener / Lolita Badge / Charity item
- Function / size / color

(If you order different types, colors, please copy-paste the last two rows as many times as you need.)


2. Process of order:

- You fill out the order form, and wait until I answer your comment with the total of your order.
- You check it, and if it's okay with you, I'll send you an invoice on Paypal.
- You have to pay within 3 days.
- Group order will be closed on the 1st of April. Extended to 3rd of April. Please post your orders before that date.
- Badges will be produced within maximum 2 weeks after the GO is closed and all the orders are placed.
- After the badges are finished, I'll pack them and ship them. You'll get either a PM, or an email on your paypal email address confirming the shipping info.


3. Further info about your order:

- These badges are handmade by my friend - but she has a normal daily job and private life, and it takes her time to make these badges, especially such a big variety. Your order might be shipped after 5 days, but might be shipped only after 2 weeks. Please be a little patient - I'll contact you anyway, if there is any new info about your order.
- Paypal fees are included.
- I'm not responsible if your package is lost, especially if you didn't request tracking number.
- I'm not responsible for the quality of your items. I examine all items before shipping and if there is any visible mistake I don't ship it out.
- All available variety of sizes, colors and types are shown below. If you have a unique request - you want a different background color, a different hair color, or a different size, it's no problem, but it may cost $2-$5 more to customize, depending on the difficulty of editing.


4. Shipping options and prices

Normal shipping within EU countries:
Up to 3 badges - $2
Up to 5 badges - $3
Up to 7 badges - $4
Up to 9 badges - $5
For mirrors and beer openers +$0.50 since they are heavier.

Extras:
- priority mail: $2
- tracking number: $2.50
- tracking and priority: $4.50

*note: for EU countries I don't recommend tracking number, but priority ensures that it's going to arrive within 9-10 days. Without priority (even with tracking number) it may take up to 1 month.


Normal shipping to non-EU countries:
Up to 3 badges - $4
Up to 5 badges - $6
Up to 7 badges - $8
Up to 9 badges - $10

Extras:
- priority mail: $2.50
- tracking number: $3.50
- tracking and priority: $6

*note: outside EU shipping may take longer and there is a higher risk that mails without tracking and/or priority may be lost. I highly recommend to take the tracking option at least, but without priority it may take up to 40 workdays to arrive.

I take a photo proof of every shipped package, and I'm not responsible if a package doesn't arrives. If you requested tracking I can open a claim at the local post office, but that's the maximum I can do.

Items will be shipped either in a normal envelope but covered in bubble-wrap, or in a bubble-wrap envelope, depending on the size and delicacy of the shipped items.


5. About charity items

"Show your heart" is a charity project originally started by Gackt, and many Japanese celebrities support him and his action. Elyon (
szaloncukor ) who designed this month's egl header designed our little lolita girl who shows her heart to support Japan.
We already had a GO on these lovely badges and accessories in Hungary, and all the profit of "Show your heart" item sales will be offered as a donation to Global Giving's Touhoku earthquake charity. Those who buy charity items will get a screenshot of the recipt of all donations with the shipping confirmation mail.


6. Prices

Badges - 32 mm: $2.50
Badges or fridge magnets - 44 mm: $3
Mini mirrors or magnetic beer openers - 55 mm : $5


And now, up to the items: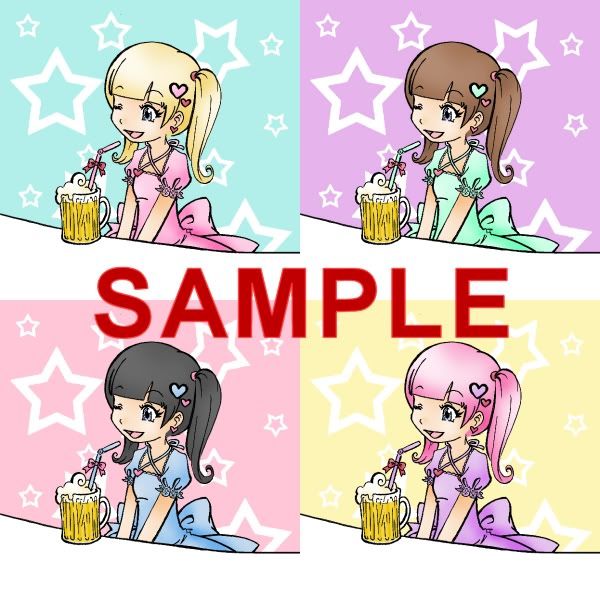 Type: Beer opener
Function - beer opener / Size - one size (58 mm) / Color: MINT - LILAC - PINK - YELLOW
Not available in other size or function.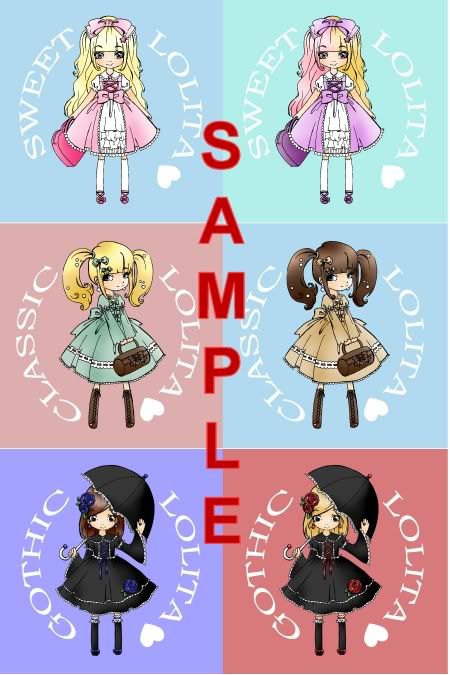 Type: Lolita badge
Funciton: badge or fridge magnet / Size: one size (44 mm) / Color: SWEET BLUE, SWEET MINT, CLASSIC MAUVE, CLASSIC BROWN, GOTHIC BLUE, GOTHIC MAUVE
Can be ordered as mini hand mirror (58 mm - $5), or beer opener (58 mm - $5).




Type: Charity item
Function: Mini mirror (58 mm), fridge magnet (44 mm) or badge (32 mm) / Size: one size (for each type, see above) / Color: no color options.
Can be ordered as 44 mm badge. I personally don't recommend it as a beer opener since it's an item that reminds us on the tragic and awful events that hit Japan since the 11th of March - but if you want a bigger size fridge magnet, don't be afraid to comment.


Some sample of the finished works:

Beer openers front and back: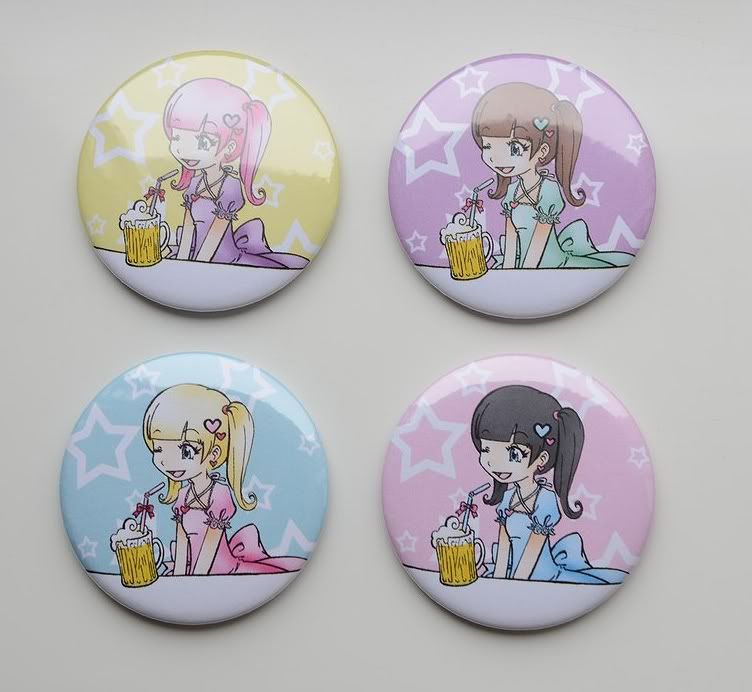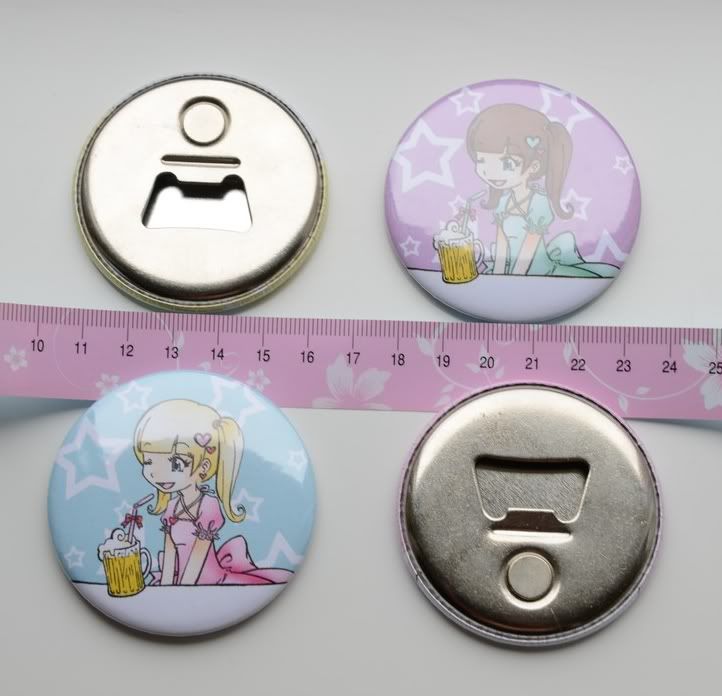 Badges and beer openers size chart (small badges, rings and hair pins not available right now)
44 mm lolita badges on the left.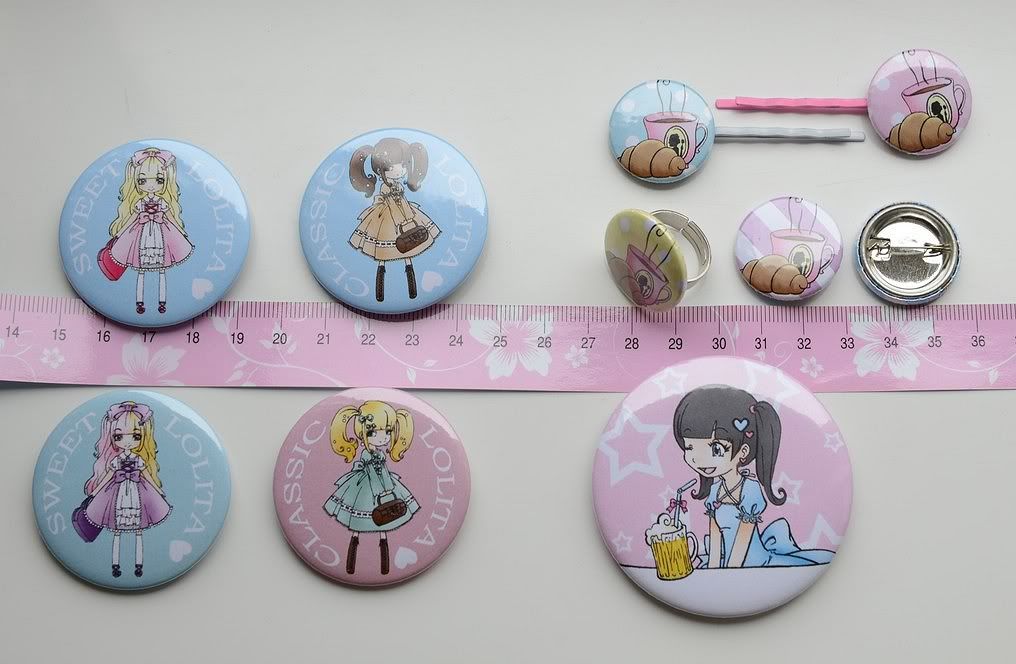 Charity items front and backside:
44 mm magnet, 58 mm mirror and 32 mm badge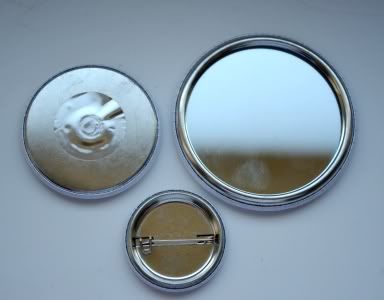 (Fingerprint is there intentionally to make it more visible that it's a mirror :) )


If you have any questions, feel free to ask.