Welcome to my sales <3

- I generally send out things on Monday or Friday, as I have college or freelance work on the other days.
- Feedback http://community.livejournal.com/eglfeedback/377405.html
- I ship from the UK.
- Everything is automatically insured for £40. If you do not request insurance then I am not responsible for giving refunds for missing packages. I can only refund you up to £40 if a package goes missing and you do not request insurance
- Everything is in £GBP and that is how I prefer to be paid. Obviously I take exchange rates into account with my prices ;D
- You can show me trades but I'm pretty picky, I only really like sweet and sweeter classic items such as IW and BtSSB. I would much prefer money so trades are unlikely though.
- Item goes to first person to put down paypal to show you are serious.

For reference, my measurements are 37 inch bust and 28.5 inch waist. The mannequin has roughly a 34 inch bust and 27 inch waist.
Currency converter that I use; http://www.xe.com/ucc/

SOLD

I brought this from Fairy Angel a few months ago and haven't really worn it. It doesn't fit around my bust very well.




Close up of the bow and ruffles. Both can be removed with buttons to make a more simple peter pan collar cutsew.
This cutsew seems to be very new to me, it was obviously dry cleaned before I received it and I haven't worn it once. There is a tiny beige mark on the collar, but that was after I really looked up close.
I think it would fit around a 27-32 inch waist. As you can see, the waist is fairly loose on the mannequin. I would also recommend not going above a 35 inch bust, it –does- fit me but looks stretched and I think anymore than 35 inches would make it looked stretched also.

Asking £32 OBO + shipping (ask me for a quote)

SOLD

Again, I haven't really worn this since I brought it. I do quite like AP, but this print is a bit too OTT for me!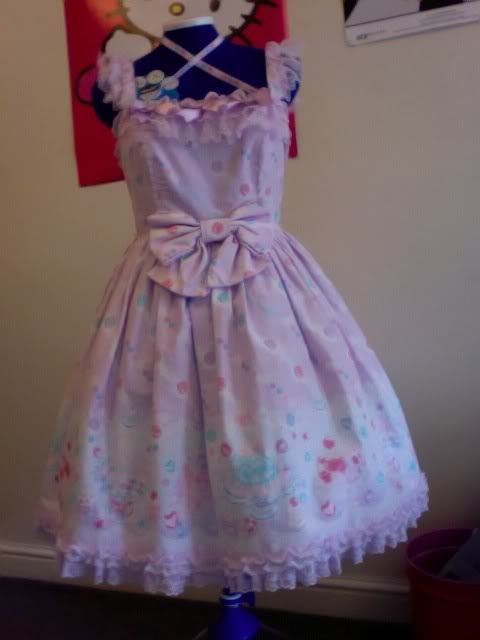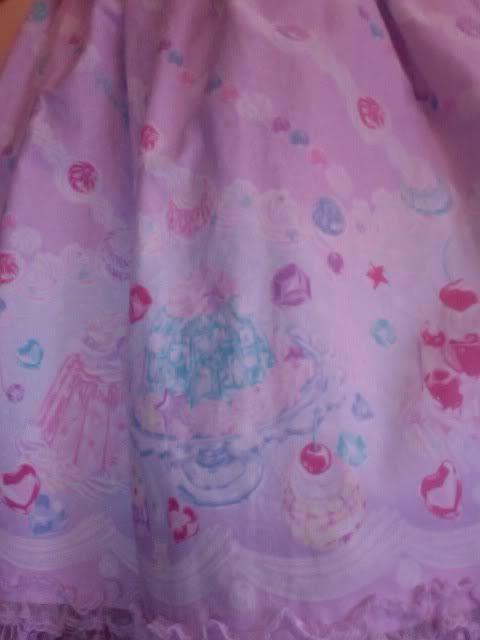 Close up of the print. The print is quite pale and has a dream like quality to it <3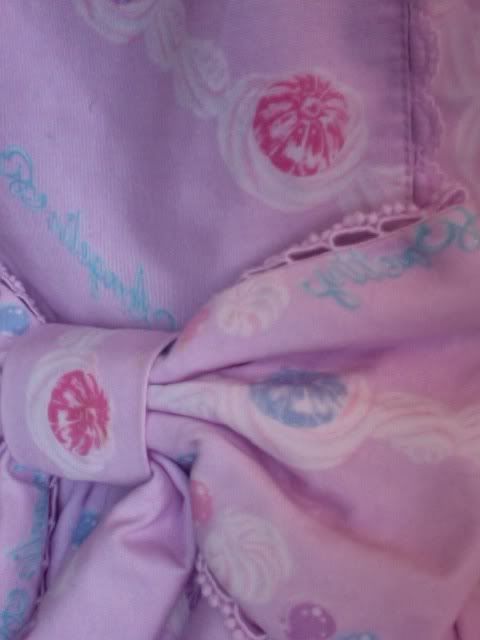 There is some slight discolouration on the bow. My camera couldn't really pick it up.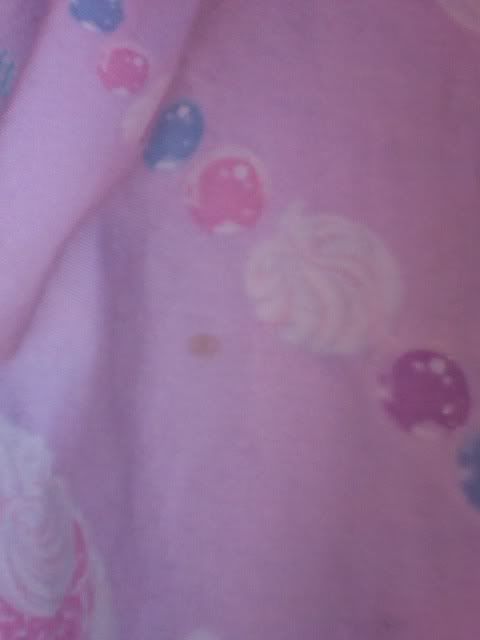 Another small mark just on the skirt.
It comes with waist ties and ties for the neck, it can also be used as a halter neck. There are many ways to wear it!
There is shirring on the back of the dress so it would fit up to a 38inch bust and 30 inch waist comfortably. I fit comfortably into this dress with room as does the mannequin.

£135 OBO + shipping (ask me for a quote)
Going to be more expensive to ship due to weight

SOLD




Purple Wristcuffs from Angelic Pretty. Pretty self explanatory.

£24 OBO + shipping (ask me for a quote)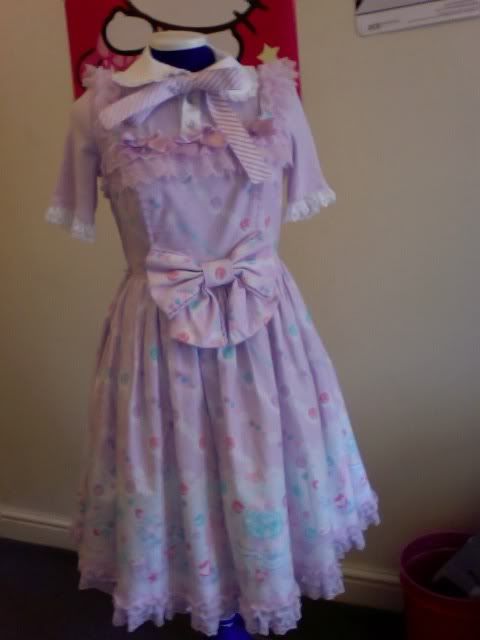 If you want to buy all the above items (JSK, wristcuffs and cutsew) as a lavender set then there will be a small discount and matching extra items! Due to the cost of shipping the discount won't be too big outside of the EU, but we can discuss it :)
Lip Service Underbust Corset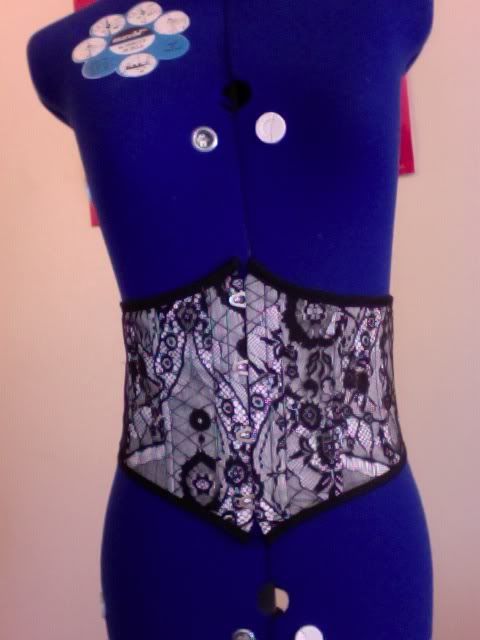 I brought this a couple of years ago and wore it once or twice because I had a similar underbust corset that I preferred. According to the site it is steel spiral bones and it feels like that to me too. From Lip Service.
Labelled as a small, can fit me with the laces slightly undone. I would say about 26-29 inch waist.

£13 + shipping (ask me for a quote)

Thanks for looking <3 Feel free to ask questions!