I'm moving soon and need to cover some costs that have come up, so I'm hoping this will sell quickly and smoothly.
I have feedback from the old DBS, which is viewable here on the new feedback system. Buyers receive + feedback upon completion of payment and confirmation of delivery, and all buyers get a thank-you gift with order from yours truly :-D

All items are in the condition indicated and come from a household with dogs and cats, so if you have serious allergies be advised. Both items ship via USPS Small Flat rate boxes for $5.20 anywhere in the United States.
I would prefer to sell within the US or Canada, but am willing to ship overseas provided you pay for delivery confirmation and insurance (I mark items as a gift for customs). Please ask about shipping to your country if interested.
Item goes to my preference, but normally that's the first person willing to pay. Payment through paypal, fees included in price. <3

Here's the goodies!

Bodyline Floral JSK in Blue: SOLD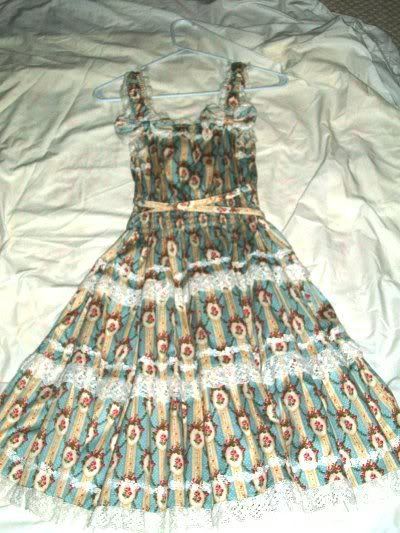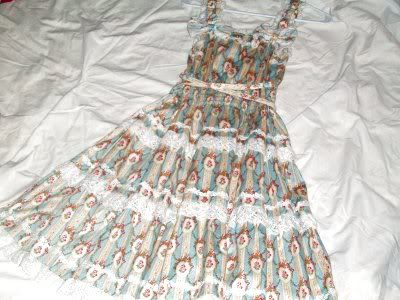 Fits me now (measurements Bust 36, waist 27), but also fit me very nicely when my measurements were Bust 40, waist 34. So it will fit a variety of sizes. My height is just over 5' 5.5" (so 5'6" basically), and with my poofiest petticoat the hem falls right above my knee-cap.

Lovely jumperskirt with a vertical blue floral pattern and tiered skirt with soft cream lace. Detachable waist-ties. Item is Used, but in good condition and well cared for. $29 +shipping SOLD


Meta Socks in Black with Gold Embellishments:SOLD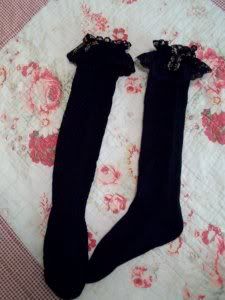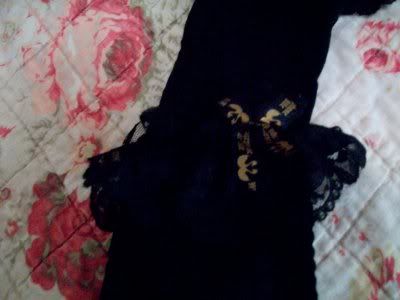 New w/o tags, these have only ever been worn to try on. Got them in a lucky pack while back and have nothing to wear them with, so here they are to find an owner who will appreciate their coordinating possibilities.

I have ~12 in calves at the widest point around and these fit comfortably and snug so even though the knit is stretchy I wouldn't push it too far out or it might hurt the socks/your legs. $25 plus shipping SOLD

ALL SOLD, thanks so much everyone <3 !