Terms of Service
Payment:

I accept paypal only, sorry!

Priority

:

For guaranteed priority, you must (1) be the first to leave your paypal for the item, (2) pay full price, and (3) pay within 24 hours of invoice. All three conditions must be met for your spot to be guaranteed.



Otherwise, the item moves down the line to the first person who fulfills all three criteria. For example, if you leave your paypal first and can pay within 24 hours, but you offer a price lower than the asking price, then the buyer who left their paypal after you and will pay full price within 24 hours gets the item instead. If no one fulfills all three criteria, then highest priority goes to conditions 1 and 2.

If no one offers full price, it goes to the buyer offering the highest price. I will wait 24 hours after receiving the highest offer, to give the other buyers a chance to counter-offer.

At this time, cash has priority over trade.


Holds

:

I am willing to hold items for a non-refundable 20% deposit, unless stated otherwise. This may be negotiable, let me know i

f you want to work something out

.

Please leave your paypal address to hold your place in line

. I will not invoice until you give me the go-ahead. Paypal addresses will be screened for the buyer's protection.

Shipping

:

I ship by default using recycled packaging and first class, un-tracked and uninsured. For international shipping, I automatically mark packages as "gift" and mark the price down. Please let me know if you would like something different!

I am not responsible for the item(s) once it has left my hands. If the package is lost and no insurance was purchased, I will certainly descend upon the post office on your behalf, but I do not refund.




Offers are welcome, but please keep in mind that due to my priority policies listed above, you may forfeit your spot in line in the process.

Loss of communication after 24 hours will be interpreted as a loss of interest, and the item will pass on to the next buyer in line.

My household is non-smoking and (unfortunately D: ) pet-free.

All prices are in USD, and all measurements are amateur because I am armed with only a straight ruler and a flat mattress.

If you are more comfortable purchasing through PMs, feel free to do so. However, please leave a comment here stating which item you are interested in and that you have PMed me, as a courtesy to other buyers.


My feedback is here.

Offbrand Faux Fur Jacket
(NWOT)
No longer for sale




Purchased new online, selling because I drown in it ;_; Only tried on, never worn out! Super warm jacket, suitable for chilly winters =] It also has pockets!



Measurements
Max bust: 38 inches
Waist: Free size, extremely stretchy!


Price: $35 + shipping and pp fees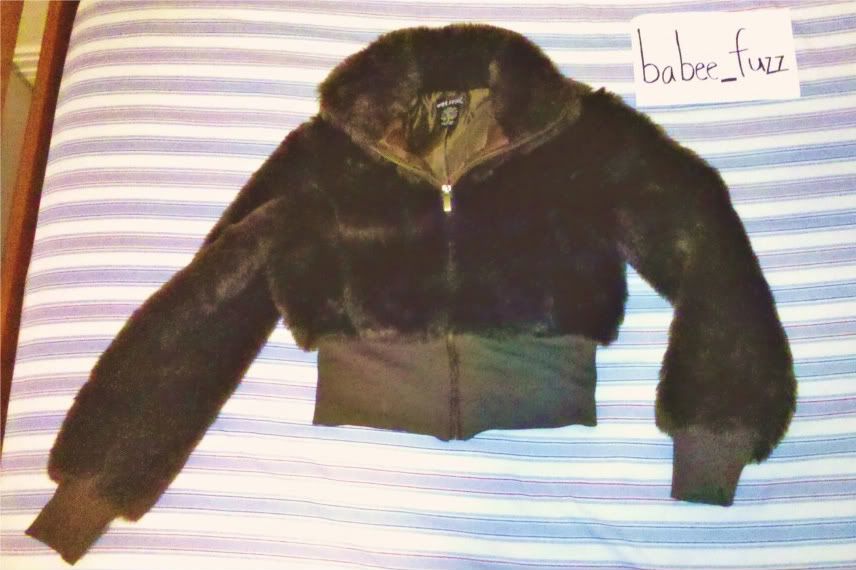 On a hanger Pocket!

Worn pictures:
Modeled by a friend, since the jacket's measurements run closer to hers than mine. More useful than seeing me be a shapeless blob in it =P
Zipped all the way up one, two, three
Zipped halfway up one, two, three




Offbrand white blouse (NWOT)

Purchased secondhand during my mad hunt for a white blouse that went with most of my wardrobe. It has a cute bit of scrunching up along the sides for a more flattering fit =] I've since bought another blouse that I love more, so this one needs to go! A bit wrinkled from storage, but no other flaws.

Measurements
Bust: 33-36 inches
Waist: 27-30 inches

Price: $15 + shipping and pp fees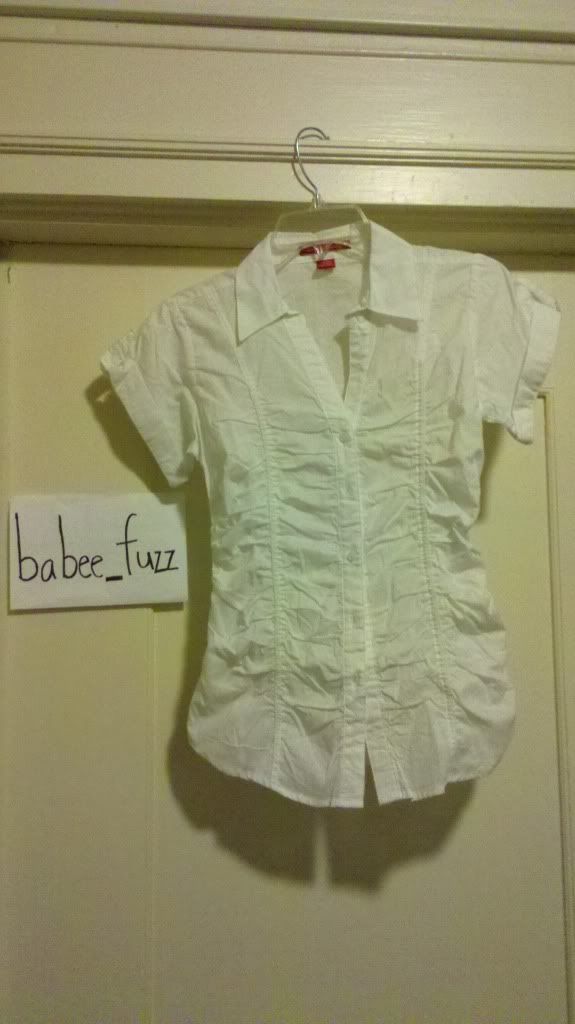 KKJJ

(cupcake)

Petticoat

SOLD, thank you!





KKJJ petticoat:

I purchased this NWT and wore it out once. Selling because it is seriously too poofy for me ._.

Measurements
Waist: Free size, closes with a drawstring



Offbrand (A-line) Petticoat SOLD, thank you!



Offbrand black petticoat

: I bought this secondhand in good condition. Selling because it's too long for me and keeps trying to peek out, the sneaky thing. Would be lovely for taller lolis!

Measurements
Waist: 29-34.5 inches, fully elasticized
Length: 21.5 inches from the very top of the waistband to the very bottom of the hem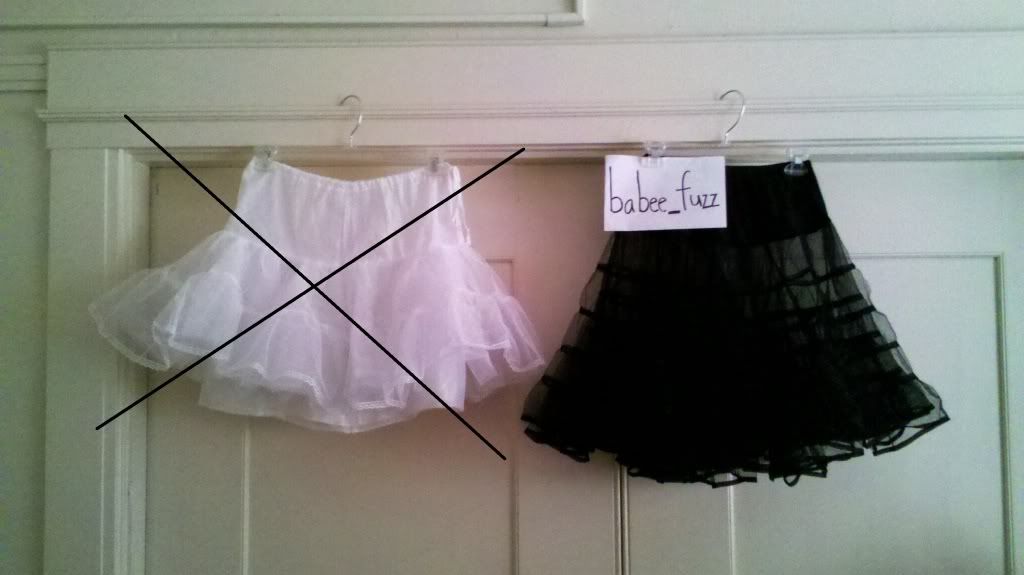 KKJJ
closeup one
,
closeup two

Worn pictures:
skirt alone
,
skirt+petti
Offbrand black
closeup
Bodyline Children in a Music Room Skirt
SOLD, thank you!
Purchased secondhand in lovely condition! It was originally a JSK, but the previous owner converted it into a skirt. She was a professional seamstress, so the sewing is decent =] I absolutely love the print as a skirt, but I've finally emerged from my denial to admit that the skirt is simply too long for me ;_; The bows and pearls are detachable, and the skirt closes with a zipper. There are (un-detachable) waist ties, and a small panel of shirring on the back. The skirt is white, and the print is a soft, warm grey with the exception of the children's skin and occasional decorations here and there, which are a very light cream. Comes with a matching hairbow!

Measurements
Waist: comfortable max is 29inches, partial shirring
Length: 23 inches from the very top of the waistband to the very bottom of the hem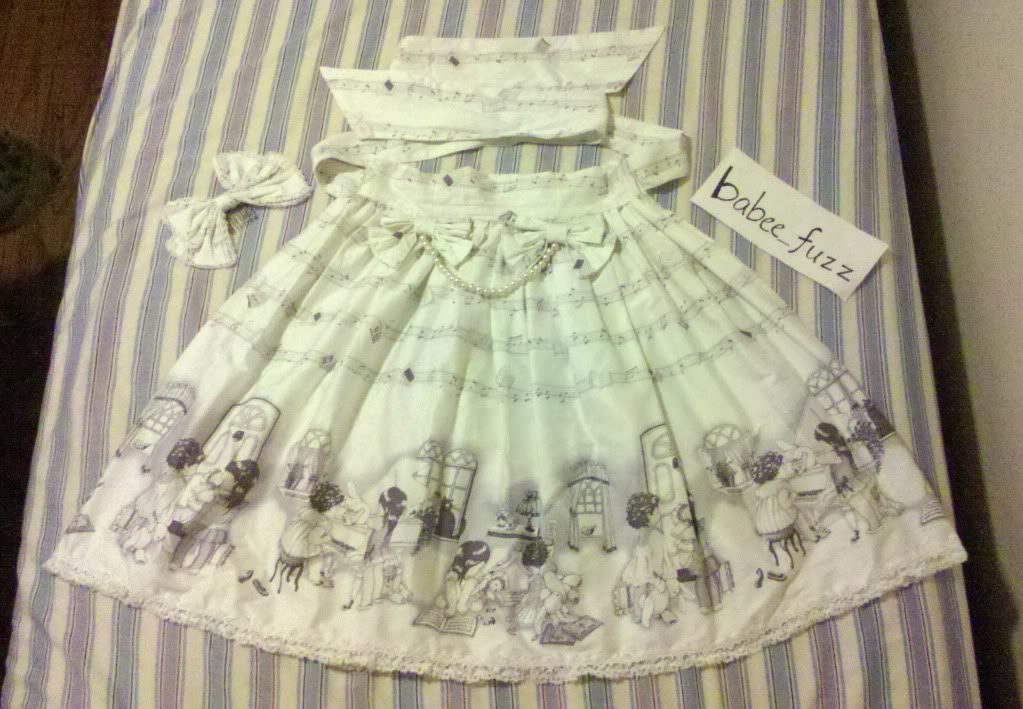 Closeup of print (Note that the background shading of the print starts turning more lavender as you move towards the right side of the picture. This is the result of my shoddy indoor lighting and shoddy camera ._. The background shading is a warm, solid grey throughout, and there are no stains) :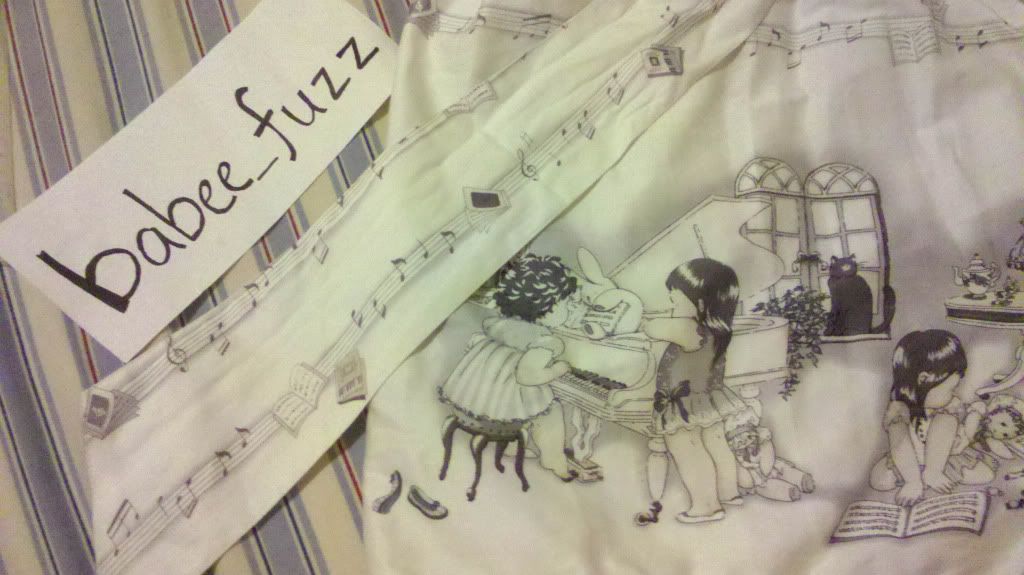 Back of skirt
Liz Lisa Velvet Top
SOLD, thank you!
I purchased this secondhand as a gift for a friend, but it unfortunately ended up not fitting =( Previous owner reported that the top has been worn a couple times, but I can find no flaws.

Measurements
Bust: 27-30 inches
Waist: 25-30 inches
The top is made of a stretchy velvet material. Due to the cut of the top, I highly recommend this for only B-cup or lower.



Back of the top

Closeup of tag






SS Multi-dot Socks

(NWT)



Never worn or tried on!



Price: $15 + shipping and pp fees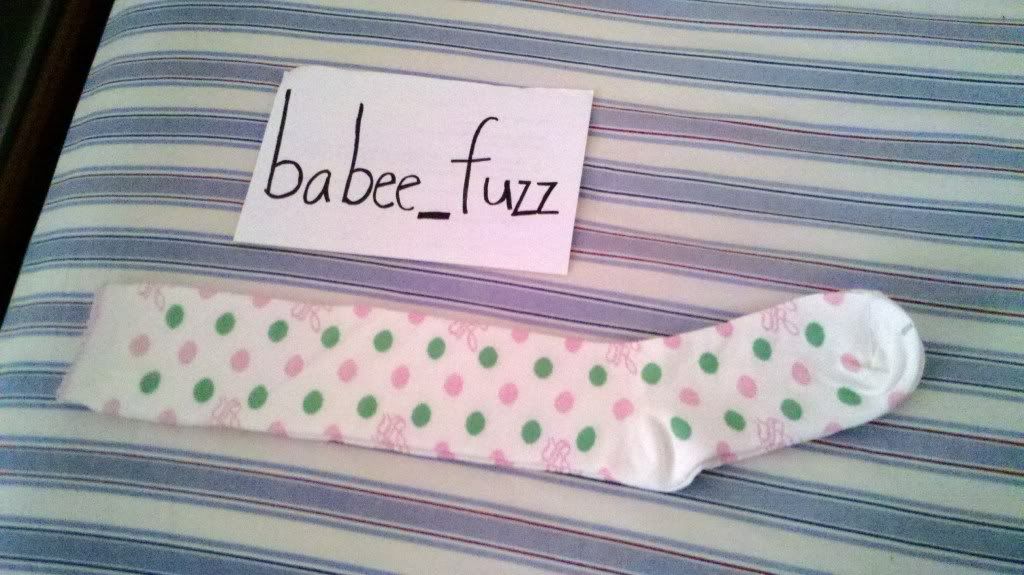 In packaging






Red Vinyl Bow Wallet

(NWOT)



The wallet closes with a metal clasp, and has plenty of pockets inside!

Price: $25 including fees and shipping within the U.S.





Wallet completely closed

Inside of wallet



I also have a pair of AP Candy Border OTKs for sale here :D


---------------------------------------------------------------------------------------------------------------------------------------------------------------------------------

For a friend:

Everything below here is for a friend of mine =] The entire transaction will take place through me, including paypal and shipping. All items have been kept at my apartment, so the household is still smoke- and pet-free. Please understand if my replies for items in this section are delayed, since I will need to check with my friend first :3

All of my terms of service still apply.


!DT only: AP Milky-Chan ring in pink (NWOT)

Looking to trade for the same ring in the

brown

colorway only!


Thanks for looking! <3