A couple of things first
• Shipping is no longer included in the prices due to some financial snags I have hit (thus, sales). I can, however, do my best to offer you the lowest shipping prices possible, with multiple options. I can also add tracking and insurance upon request. International shipping is a-okay!
• Local buyers in the five boros are also welcome to arrange for in-person pickup/exchange.
• I accept regular and CC paypal. To echo the previous statement, buyers in the five boros can also arrange to pay cash or check in person. In the case of checks, the item does not ship until the payment clears. Rather than e-checks, it is faster if the buyer transfers money to their paypal account.
• My feedback page is here! Please don't forget to leave feedback, guys. ♥
• I have nosy cats in my home. I have, to my knowledge, kept them 100% away from everything I intend to sell, but if you get a couple gratis cat hairs, here's my apology up front.




If you are interested in purchasing an item, please leave your paypal and location (zip code if in the US) in your comment for invoicing! I will screen it.


ITS pink ice cream jsk w/ customized front, $85 SOLD
Worn for a couple hours at NYAF 2008, then for a couple more hours last fall. I just never wear it :C it breaks my heart to sell it, but I am dying for cash! Fits busts 40"-45" and waists 33"-38" easily, may even stretch an inch or two more. Pictured on 16W form, with 42" bust and 32.75" waist, and over an ITS poof petticoat.


ITS pink ice cream sidebow, $15
Worn as many times as the jsk, so pretty much in pristine condition. Would prefer not to split the set! SOLD




BtSSB resized pink Alice Cookie skirt w/ refurbished (? is that the right term?) double side bow, $100
Was resized by ITS some time ago to fit waists 28"-33" using the waist tie fabric, and she was sweet enough to create a double side bow from the spare fabric. Unfortunately, my waist size now fluctuates between 35" and 37", and the muffin-top look is not cute. As a result of Baby being a fabric skinflint, the skirt does not accommodate much poof (although it has a light built-in petticoat, like most brand); the ITS poof petticoat underneath in the photo is overstuffing it. You would be better off with a light petticoat. There is no separating the double bow from the skirt, also.
It breaks my heart to sell this item :C I was hoping to buy a second skirt later on down the line as spare fabric to make my own jsk.


ITS 3-tier white skirt, $24
Fits waists 28-31", 20" long; no petticoat in photo, sorry. SOLD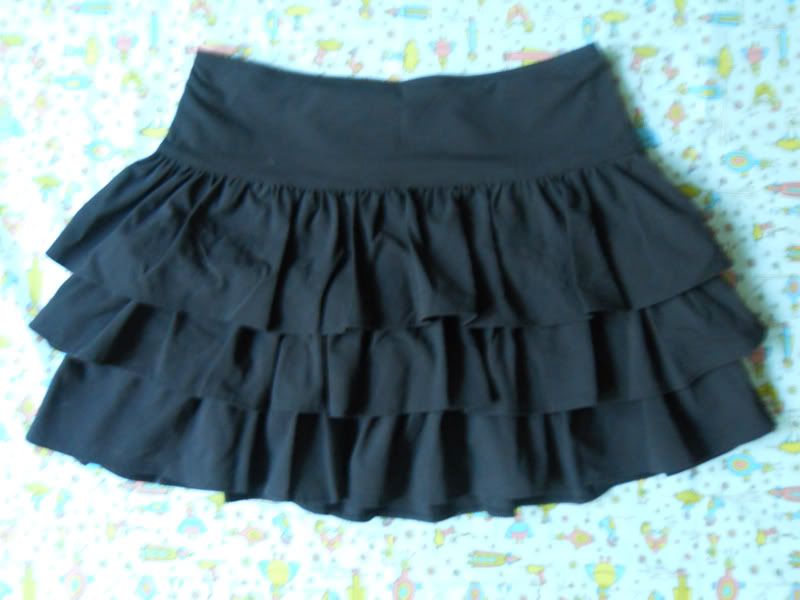 Black H&M tiered mini skirt, size 10, $15
Fits 38"-40" hips, though the bigger the hips the shorter it will be. Reminds me of AP's minis!




Polka dot version of the above H&M mini skirt, also size 10, $8
Unfortunately it has a light stain on the front, thus the reduced price.




Etsy listings!


Lime polka dots and pink stripes onepiece - Size L/XL - PREWORN
$80


Black x pink glitter onepiece - size L/XL - PREWORN - B grade
$50 SOLD


Multi-colored polka dots x gold headbow
$25 NO LONGER AVAILABLE



HUGE blue floral headbow
$25



Cherry seersucker headbow
$25



Marimekko-esque floral headbow
$20



Multi-colored polka dots headbow
$25


And please check out my older posts for AP and Putumayo!