Conditions:
+I DO own both a cat and a dog. They are not allowed in my room/where the clothes are kept, but I think this would be best to mention.
+all items come from a non-smoking home.
+my feedback page is: here
+PayPal only
+All prices are in USD
+Prices DO NOT include shipping/Paypal fees. Shipping to US for each item should be $6 which includes tracking
+I ship from the US
+I prefer to ship to America, and American customers will take priority. I do and have shipped internationally, but please be aware that shipping will be extra. I
+The person who offers the most money/can pay the fastest has priority. This does not mean you get the item if you leave your paypal and drop off the face of the earth.

as for trades: I will consider trades, but I will sell first. Mostly interested in blouses/cutsews that fit my measurements of 34-27-35. NO bodyline. Offbrand such as Rose Melody etc. is okay. I prefer brand.


Cutsews and whatnot:


H. Naoto Hangry & Angry Long-sleeved Cutsew




Print Closeup:



$30.
Flat measurements: 30" bust, 31" waist. Sleeves are super long and measure 24". Very stretchy--should fit at least 36" bust. Worn a few times, can be safely washed in washer.

Blouses:

Forever 21 cap-sleeve white blouse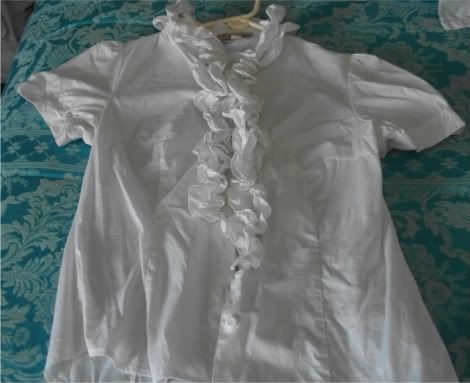 $20.
Back is plain. Cap-sleeves. Flat measurements: 32" bust, 28" waist. Fits up to at least a 34" bust. Worn about 2 times. About as sheer as the average American blouse--should be worn with something underneath. Back is plain.

Atelier Boz 3/4 sleeve white blouse SOLD



$40.
Very cute. My favorite blouse. Not recommended for measurements over 34" bust, 27" waist. 14" sleeves. Would fit smaller measurements nicely. Sleeves have shirring and back has a strap/waist tie. Slight pilling on collar--hard to pick up with a camera. My favorite blouse. Thicker/nicer material than the Forever 21 blouse. Big peter pan style collar and flower-shaped buttons.

Angelic Pretty White Long-Sleeved Cutsew



$45.
Mint condition, only tried on and washed by me. A little bit big on my 34" bust, 27" waist. VERY stretchy material. Should probably fit around a 36" bust, maybe a 30" waist. Slightly short, would look good over or under a long-waisted skirt. If you have long arms the sleeves may not reach to your wrists.


Metamorphose Hoodie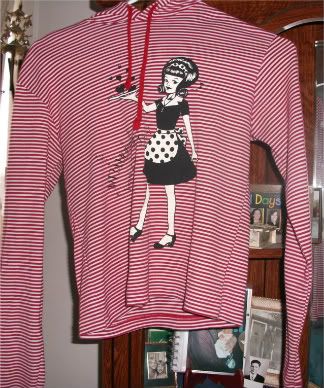 print close-up:




$40.
Adorable hoodie bought off ebay. Looks to be mint condition. Never worn by me. Thin material, would look good over a skirt or JSK. Again, cut slightly short. Should fit around a 35-36" bust, 29 to possibly 30" waist. VERY stretchy. Also, if you have long arms the sleeves may not reach to your wrists.