Paypal only please.

No trades for this post.



If you send payment as a "gift", I will donate the $ amount that would otherwise be taken by paypal for fees.





Payment is accepted in either Canadian$ OR US$ (at par). Please let me know if you want to be invoiced in CDN$ or I will default on US$.



Preference will be given to buyers from US and Canada due to long international shipping times.

Flat-rate Shipping (for any number of items, unless otherwise specified on the item description)
Canada:
$8US via Expedited Parcel (insured and tracked)

USA:
$11US via Small Packet Airmail (insured, no tracking)
$17US via Expedited Parcel (insured and tracked)

Other countries (shipping based on weight):
$9US via Small Packet Airmail (insured, no tracking) for UNDER 0.25kg only.
$17US via Small Packet Airmail (insured, no tracking) for OVER 0.25kg and UNDER 0.5kg only.
$35US via Small Packet Airmail (insured, no tracking) for OVER 0.5kg only.
Please comment with your country for quotes on anything else. Shipping can get expensive to far away countries. XpressPost (EMS) is usually around $60-70 (because Canada Post is really expensive).

Disclaimer: I cannot and will not be held responsible for parcels if no tracking number is purchased. If you want a tracking number, please request Expedited Parcel shipping.

I ship within 2-3 business days from when payment is received. My school term is picking up pace now, so I can't guarantee that I'll be able to go to the post office every day, so 2-3 days is the best I can do right now. ^^




Feedback (and lots of it):

http://community.livejournal.com/eglfeedback/182948.html



No holds. First to invoice gets first dibs.



Please see end of post for auction items.




1. Angelic Pretty white Parasol with Tote bag $45US SOLD


http://i1102.photobucket.com/albums/g441/amy_the_yu/Lolita/Lolita-Misc21a.jpg


Condition:

Brand new with tags. Includes the folding umbrella/parasol and the matching mini-tote. Lavender print on a white background.






2. Angelic Pretty pink Parasol with Tote bag $45US SOLD


http://i1102.photobucket.com/albums/g441/amy_the_yu/Lolita/Lolita-Misc22.jpg


Condition:

Brand new with tags. Includes the folding umbrella/parasol and the matching mini-tote.

Pink print on a pink background.


3. Angelic Pretty pink LP Cut-sew $35US SOLD


Condition:

Brand new without tag. From the winter LP. I own too many t-shirts, so this is up for grabs.


Measurements:
Bust: 28in-34in (has a bit more stretch to it, but it might cause the print to crack.)
Waist: 26in-31in
Length: 22in




4. Putumayo morbid fairytale print Cut-sew $32US SOLD


Condition: Used, good condition. Slightly gathered at the shoulders and cuffs. Each cuff has 4 fabric covered buttons and the cuffs do unbutton (although it's not necessary to get the top on and off). The design is cracking, but there's no flaking and it's a very nice morbid fairy tale print.
Bust: 32in-37in
Length: 18.5in
Sleeve Length: 23.5in
Shoulder Width: 15in




5. Putumayo high collar Top $35US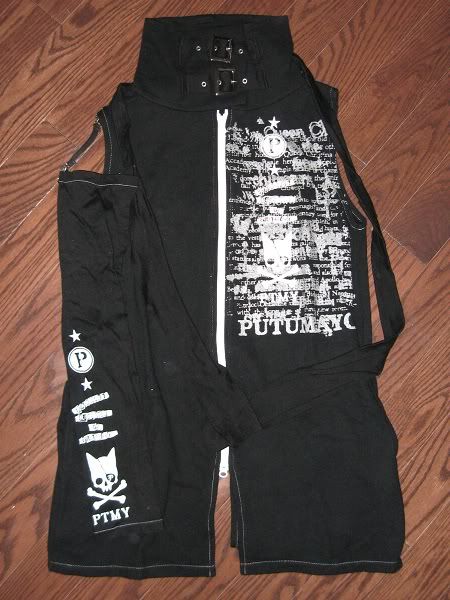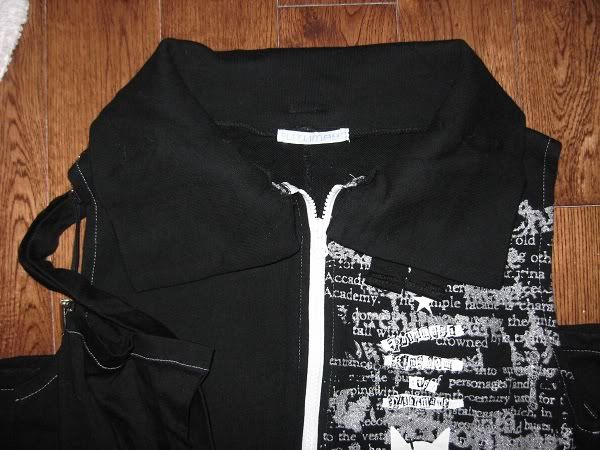 With the collar down.
Condition: Excellent used condition. Silver glittery print on the chest area. White print on the sleeve. The sleeve is removable and is held on with a double ended clip strap. It also has a thin removable tie that's strung through a loop in the back of the collar.
Bust: 35in-41in
Length: 32.5in




6. Algonquins skeleton trump motif T-shirt $20US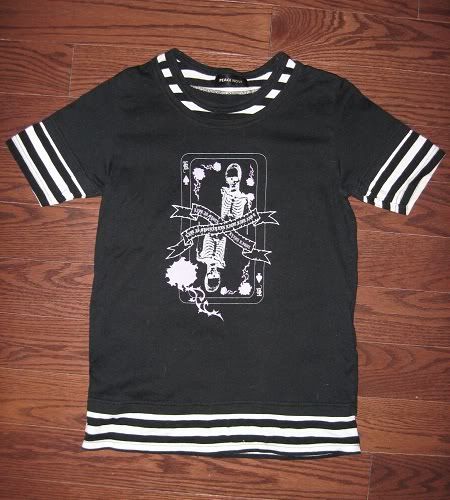 Condition: Used, good condition. Worn several times, but still in great shape. Layered look all in 1 piece. Has slight pilling at the bottom. I own too many printed t-shirts, so this is up for grabs. This was part of my regular wardrobe after my boyfriend got his cat (we don't live together), so it may have some stray cat hairs on it and those with cat allergies should be careful. Machine wash safe.
Measurements
Bust: 31-37in
Length: 23.5in


7. h. Naoto T-shirt $18US


Condition: Used, good condition. Worn several times, but still in great shape. It's a true black (my camera's flash washed out the pic) although it is a tiny bit faded from repeated washing. I own too many printed t-shirts, so this is up for grabs. This was part of my regular wardrobe after my boyfriend got his cat (we don't live together), so it may have some stray cat hairs on it and those with cat allergies should be careful. Machine wash safe.
Measurements
Bust: 35-38in
Length: 22.5in


8. Peace Now black Zip-Up Jacket $30US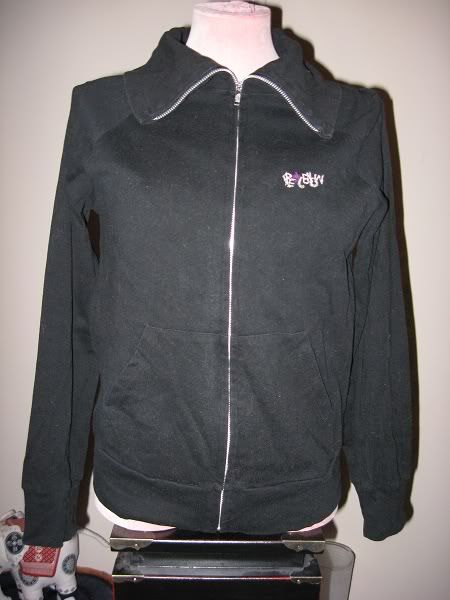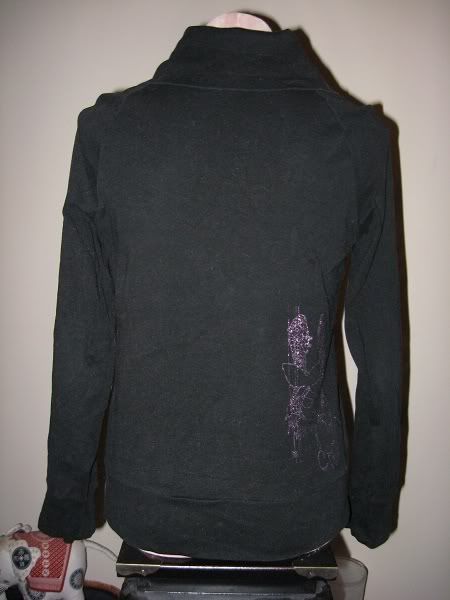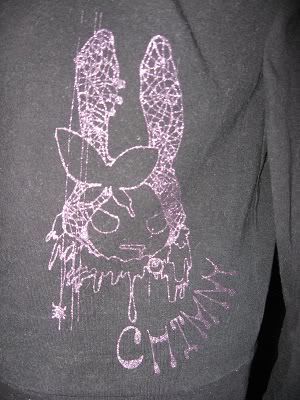 Condition: Used, good condition. Worn several times and has very light pilling in areas, but still in great shape (the flash washed out the colour, it is true black). Extremely comfy zip-up jacket with a mascot print in purple glitter. I'm purging my stash of hoodies, so this is up for grabs. This was part of my regular wardrobe after my boyfriend got his cat (we don't live together), so it may have some stray cat hairs on it and those with cat allergies should be careful.
Measurements
Bust: 35in-44in (can actually stretch a few more inches, but these are my recommendations)
Length: 25in (28in with collar turned up)
Sleeve length: 23in


9. Meta white LP bloomers $22US SOLD
Condition: Brand new, never worn.
Waist: 24-46in (very stretchy)
Length: 12in




10. Innocent World postcard set $22US shipped to USA/Canada, $25US shipped anywhere else.

Brand New.






Direct Auctions terms:

- Auctions end Tuesday March 22 at 11pm EST (Toronto/NYC time). Auctions ended.
- Shipping is flat $20US within USA and Canada and includes tracking and insurance.
- Minimum bid increment $5US.
- Payment plan for up to 3 weeks available, but $50 deposit is required with 24 hours from end of auction (sent as "gift").
- All bids above minimum bid will be donated to help with the Japan earthquake relief. *
- If the winner is willing send payment as a "gift" to avoid paypal fees, I will donate the cost of the fees as well.

* For those curious about how/who I will be donating through, I will be doing so through the Red Cross. My family has a close family friend who happens to be the Vice-President of the Chinese Red Cross (and old university classmate of my parents). I have also worked for the Chinese Red Cross in one of their branch head offices (in the Publicity department) a few years back. My family has made donations through the same channels before towards other earthquake relief efforts. Earthquakes are something that hit very close to home since Sichuan the hometown of my mother's family and I had close relatives (my uncle, aunt, 2 cousins, their spouses and children) who were directly effected in the 2008 Sichuan earthquake. I also have family who work in earthquake detection and prevention technology. I hope this information is useful to those who are considering bidding to help contribute towards the earthquake/tsunami relief efforts and gaining a new piece for their wardrobe as well. ^^




Metamorphose Perfume Print JSK




Condition: Excellent used condition. Worn 3 times. No dirt or discolouration that I can find. Removable bows include the large bow in front and 2 small black satin bows. It has partial back shirring. I find myself preferring OPs or skirts now, and recently got the skirt version of this print, so I'm offering up the JSK. Definitely one of Meta's best prints.
Measurements
Bust: 34in-39in (Can be adjusted and made smaller with partial back shirring and corset lacing)
Waist: 27-31in (Can be adjusted and made smaller with partial back shirring, corset lacing and removable waist ties)
Length: 36in
Starting bid: $185US
Current bid Auction ended:

$195US by x***x




Donation amount:

$10






Angelic Pretty lavender Happy Garden JSK + headbow



(sorry, the pic's a bit washed out.)
Condition: Excellent used condition. The JSK is the back shirred high waist version and would be adorable for Easter and spring. There is no damage that I can find although there is a small one quarter inch stain on the skirt part of the JSK that is so faint it won't show up in my photos. The hairbow has a tiny bit of yellowing on the inside at the ends. The hairbow is padded and will hold it's shape through anything you can throw at it.
Measurements
Bust: 34-38in (Can be made smaller with corset lacing in the back. Will stretch to max 39-40in, but might not be very comfy.)
Waist: 29in-33in (high waist measurement. Can be made smaller with corset lacing in the back and waist ties. Will stretch to 34-35in, but might not be very comfy.)
Length: 36in (including lace)
Starting bid: $185US
Current bid Auction ended:

$205US by b***t




Donation amount:

$20






Atelier Boz black Swallowtail Jacket




Condition: Excellent used condition. One of my favourite designs, but unfortunately, does not fit me. Atelier Boz jackets are incredibly hard to find on the 2nd hand market and you will definitely understand why once you've worn one. Wonderful fabric and fully lined. Tailored for a beautiful fit on anyone and perfect for every day wear or as part of a coordinate.
Measurements
Bust: 31-34in (Adjustable with corset lacing in the back.)
Waist: 24in-27in (Adjustable with corset lacing in the back.)
Length: 38in
Shoulder width: 15.5in
Arm length: 21in
Starting bid: $135US
Current bid Auction ended:

$205US by h***o




Donation amount:

$77




If these auctions go well, I will do another one next week (once these end) to raise more funds, so please don't hesitate. Remember that paying by payment plan is an option. ^^