Im in desperate need of money atm so Im selling things i dont really use.

I ship from the UK
All prices are in GBP
Sizes are UK sizes, please refer to conversion chart here.
If anyone has any questions please dont hesitate to ask!

I also have some Visual kei style and offbrand clothing for sale in my journal here

Feedback: feedback page



AP royal poodle replica skirt

Bought from Camden market in London last year, have only worn it a couple of times otherwise it just hangs in my wardrobe most of the time, was kind of an impulse buy
Size: has shirring at the back, so at a size 10-12 it fits me fine and could be worn by someone much smaller, but i wouldnt recommend above a size 12.
Price: £25 (price lowerd significantly as the detatchable bow it came with was messed up and unuseable so I've thrown it away)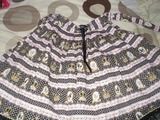 GosuRori volumes 7&9

These are great for anyone who's into lolita and sewing, all dress patterns are still intact, perfect condition, I just never read them anymore and theyre taking up space.
Price: £10 each or £15 for both.





Thanks for looking! ^_^