I Ship fom USA
prices include USA first class shipping and pp fees
i require tracking, this makes overseas expensive.
I will do NYC facetrade

yes, i might be interested in trades but meh im picky.

feedback

Jewelery Jelly pink blouse $120
i am the second owner, and i only tried it on. The previous owner never wore it either, which is sad, because it's such a cute blouse. The lace has jelly cups and star lace like JJ dresses have.

>there were supposed to be stock pics but hello lace is down. i have no way of giving better pics of this blouse until then.<

blouse example style due to the collar.

worn
proof

there are no damages, but as i cannot provide better pics at this time, the sale is at ur risk.

Meta Tea party LL shoes $70 OBO

Sorry for the godaweful pis but the DS is the only cam i have. I wore them once and i am the second owner. They came new. I can't find stock pics. They come with clip on bows, heart buckls, and the straps have hearts as well as the ruffle on the front. There is a small amount of scuffing in two places, but otherwise there's nothing wrong.




scuff




worn




Secret Shop AP cake replica L shoes $50 OBO

worn once by me and probably once by the previous owner, minor suffind, velco straps, well loved. I love these, but red doesn't love me.




proof

Antaina AP replica shoes $40

I don't know why i was so disappointed in these. I think it's just the shape of my foot, which is especially narrow. I guess the company assumes larger sized feet means i'm a larger sized girl thus the straps were way too spacious for me. You will not get the card suits that come on the straps, however you do get the clip on bows.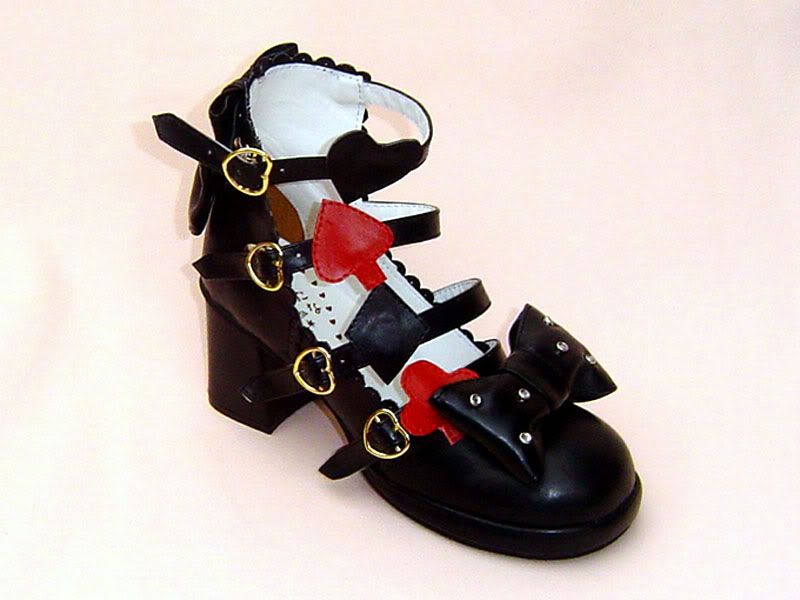 proof
more stock pics

Chocomint pink star clip AUCTION

worn once.




worn proof

24 hr auction
ends 2/24/11 6:30 pm EST
start bid: $12

winner assumes an extra $2 to cover shipping, packing, and pp fees.
assume an additional minute for each last minute bid.