As always, if you like an item but don't like the price, feel free to make an offer.
I will seriously consider every offer made and won't be offended if it is way less than the asking price.
I'm not wearing any of these clothes and they are just sitting here being unworn and sad-
so please help me find a good home for them.


Payment: I accept non-credit card and credit card Paypal.
Paypal fees are on me. Prices are in US$.
Please state whether you are pay by CC-Paypal or non-CC Paypal.

No trades. If you have any other questions or concerns please feel free to write a comment.

Sizing: For most accurate measurements, please refer to the numbers in centimeters.

Shipping Costs: Buyer to pay shipping.
All items will be shipped by small packet airmail from Canada. This comes with 100$ insurance.
There are other options for those in US and Canada including Xpresspost and Expedited Parcel.
I will ship internationally. Thank you! :-)

Feedback: I've sold numerous items on EGL without any problems in the past.
My EGL feedback page is here.
My E-bay feedback can be found by searching kuroibara.
I have a feedback post on my journal as well.


Tops
Club Monaco Grey Logo Jacket

Price: $60US or best offer (reduced from $120)
Condition: Brand new with tags



This is a grey jacket is perfect for spring or fall.
The 'M' logo breast pocket is made from white felt.
Each of the buttons has an M on it!
This is a really well made jacket. <3
The length of the jacket makes it perfect fit for Lolita skirts or a Kodona look.
I originally bought it to wear a Lolita school-like coordinate
and also because it reminded me of Meta's school jackets-
but the jacket doesn't fit too well on me. (;_;
Original retail before sale price was 249$CDN!

Sizing:
Shoulders: 37cm / 15"
Sleeves: 52cm / 20.4"
Bust: 88cm / 35"
Waist: 82cm / 32"
Length: 58cm /23"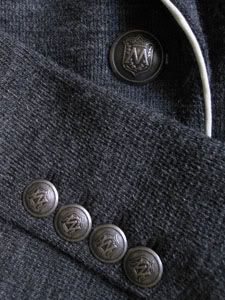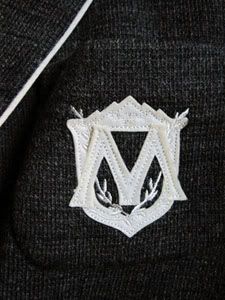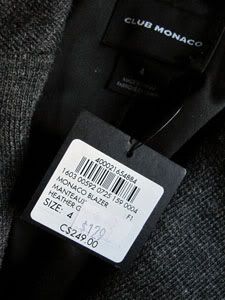 Dresses
MILK Tiered Black JSK

Price: $100US or best offer (reduced from $120)
Condition: Bought brand new, worn once, in great condition.




From MILK's 2008 summer collection.
This is a tiered jumperskirt made from light fabric.
It is perfect for summer or more warmer climates.
The shoulder straps are adjustable so you can make
the length of the JSK shorter than 95cm.
Very versatile and cute!

Sizing:
Underbust/Waist: 78cm / 31"
Length: Up to 95cm / 37.4"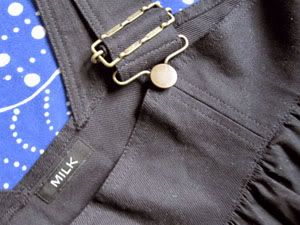 Skirts
Jane Marple Dark Fantasia Skirt

Price: $170US
Condition: Bought new, worn several times, in great condition.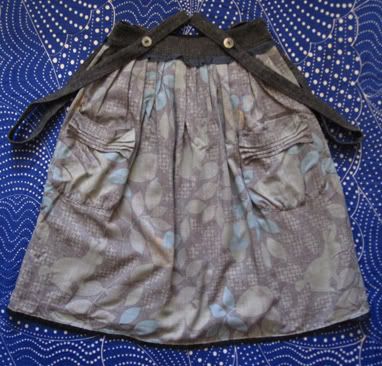 From Jane Marple's 2007 Fall collection, this skirt features the Dark Fantasia print series with rabbits, acorns, squirrels, and leaves. The skirt is lined with two pockets in the front and suspenders. The suspenders are 105cm or 41inches and attach to two buttons in the front and two buttons hidden in the back of the skirt. For the back part of the suspender, there are three different holes for the buttons so that you can adjust the strap length. This is an incredibly beautiful and sought after print. The suspenders and top of the skirt are made of a wool herringbone type fabric. Perfect for fall and winter as well as a early spring since the fabric is light enough.

Sizing:
Waist: 71cm / 28"
Length: 68.5cm / 27"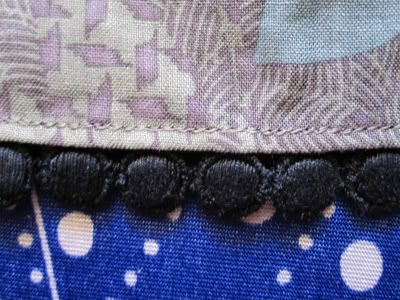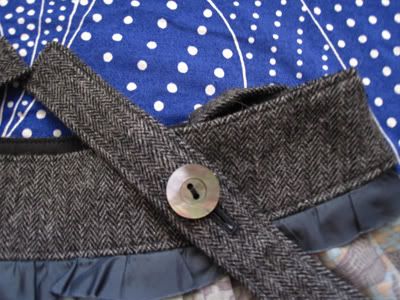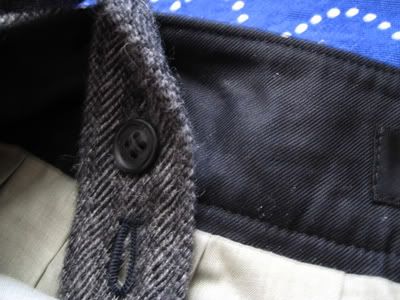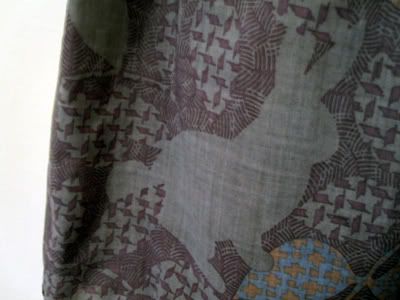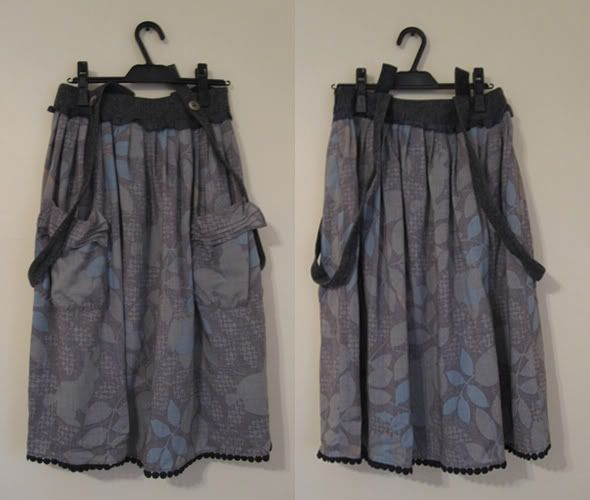 Jane Marple Wool Pleated Navy Skirt

Price: $120US or best offer.
Condition: Bought new, in great condition.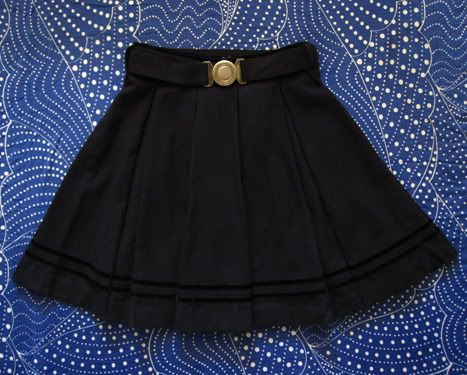 This elegant pleated skirt in a navy wool is from the Jane Marple 2008 Fall collection. It is a very simple but high quality design. Short and full enough to be perfect for Lolita coordinates, but the material is refined enough that you can adapt it for office wear or many other situations in which you are unable to wear full out Lolita yet still want to look cute and ladylike. One of the key points of this skirt is the belt with metal buckle. The rest of the belt is made from the same fabric as the skirt. There are velveteen tape details on the bottom of the skirt and elsewhere. The skirt sits a little high waisted and is great for colder days.

Sizing:
Waist: 75cm / 29.5"
Length: 52cm / 20.4"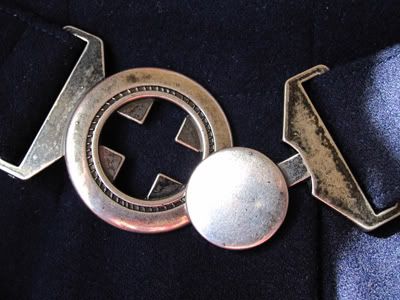 Vivienne Westwood "Asymmetrical" Purple Skirt

Price: $80 or best offer.
Condition: Used in good condition. There are some flaws. Please read description.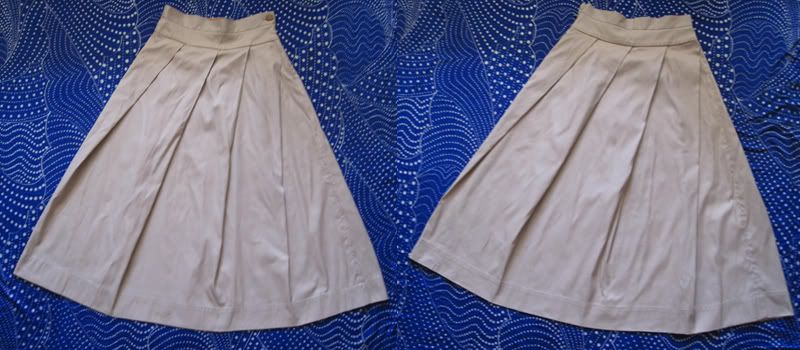 Vivienne Westwood skirt that is good for Aristocrat, Classical Lolita or Punky style. It would look good paired with something like a vest or velveteen corset. I don't know how to describe it, but the pleats go towards the left, making for an interesting design. Please note that there is a small speck of dirt on the hem of the skirt on the front. I tried cleaning it with soap and water to no avail. There is one part in the back of the skirt where there is some wear on the fabric. See photos below for more information. This is an official and authentic VW piece. The original cost was something like $250 or more, but the low price of $80 reflects the used condition of the skirt. It isn't in the most perfect condition, but the skirt still has a lot of life in it and is being sold as is. I have been holding on to it but have realized that I should let it go since the waist does not fit me very well. :-( The skirt is a little high waisted.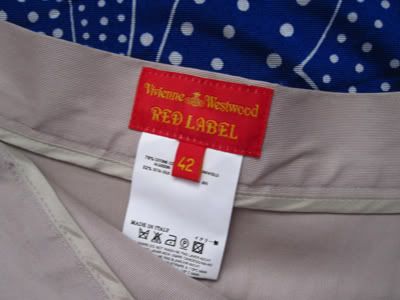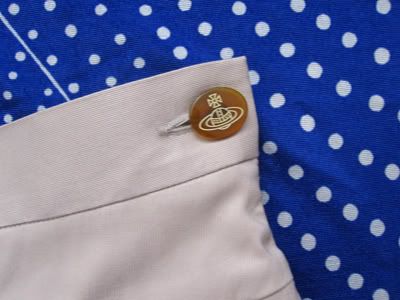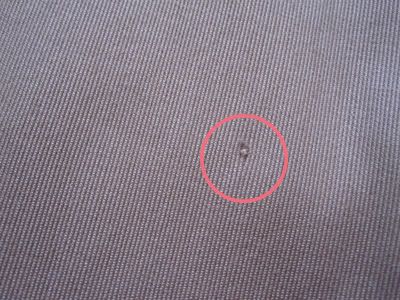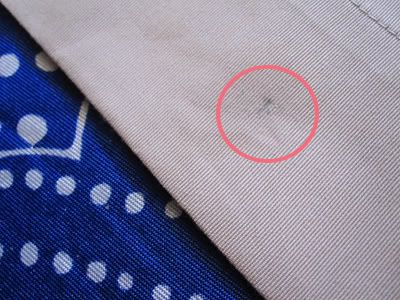 Sizing:
Waist: 68cm / 27"
Length: 88cm / 35"
Tag lists it as a size 42.


Jane Marple Dans Le Salon Black Tiered Skirt

Price: $120 or best offer (reduced from $170)
Condition: Worn twice, in great condition.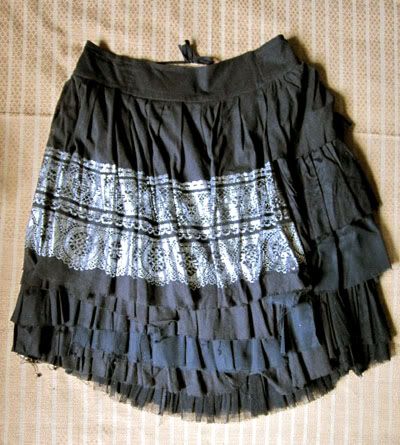 From the 2008 summer collection, this is a really unique skirt design!
Pictures really do not do this garment justice as it is difficult to capture the beauty in a photo.
The skirt uses overlapping layers of a gauze like fabric with a cotton fabric to create a tiered look.
The silver lace print is printed on the gauze fabric.
I bought this brand new for around 28,000yen or so back when it was released.
The light weight fabric makes this a nice piece for hot climates.
Please note that the ends of the fabric is purposely frayed.

Sizing:
Waist: 59-92cm / 23-36"
Length: 55cm / 21.7"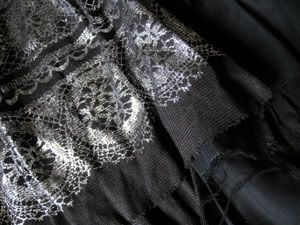 Jane Marple Cherry Skirt

Price: $65 or best offer (reduced from $90)
Condition: Used in great condition




From the 2002 summer collection this is a very comfortable skirt with a cute cherry print.
Perfect for those warm summer days!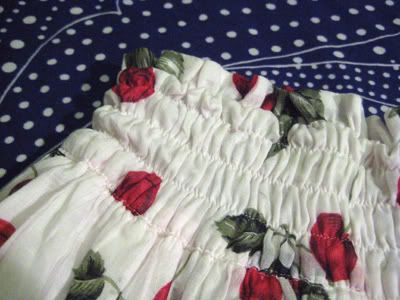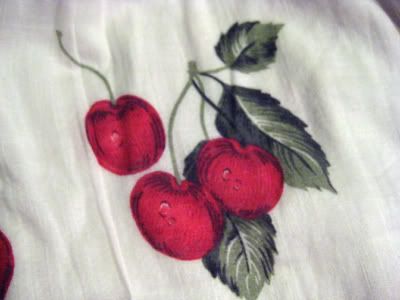 Sizing:
Waist: 54-84cm / 21.25-33"
Length: 72cm / 28.34"


Accessories
MILK Pink Double Ribbon Necklace

Price: $50US or best offer
Condition: Used in great condition.




Bought from MILK store in Harajuku in 2008 for around 6,500yen.
It was an item specially sold only at the Harajuku store.
Worn several times. It is in great condition.
Very cute look for casual Lolita or Punk Lolita coordinates!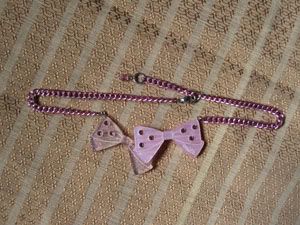 Doris Pink Headband

Price: $15US or best offer (reduced from $25)
Condition: Used once in great condition.

Headband from Osaka-based indies brand Doris featuring a cute flower lace.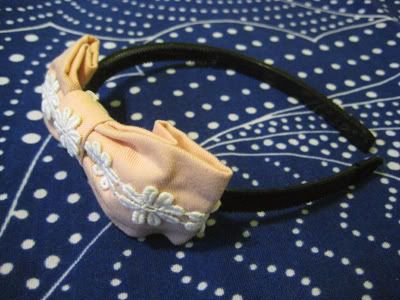 La Pafait Headbow

Price: $35US or best offer
Condition: Brand new, never removed from packaging.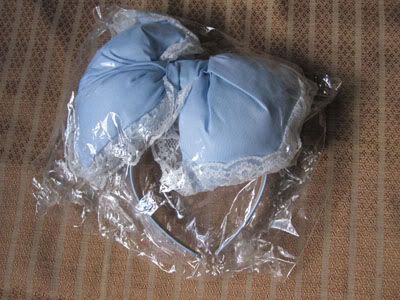 This is a baby blue gigantic fluffy headbow from the Nagoya-based Gyaru brand La Pafait.
This would work well with a casual Lolita look.


Bags
Emily Temple Cute Candy See-Through Tote Bag

Price: $35US or best offer (reduced from $75)
Condition: Brand new.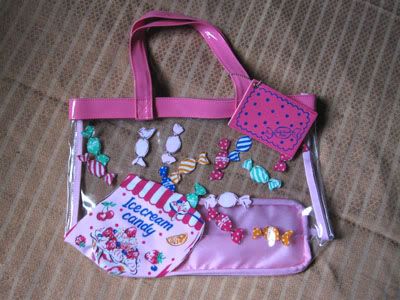 This candy-themed see-through tote bag was offered as a novelty last year at ETC boutiques.
It comes with a pass case.


EBAY AUCTIONS:
I have these two items currently on auction at Ebay. The auctions will end on February 26, 2011.
Click on the image to access the link.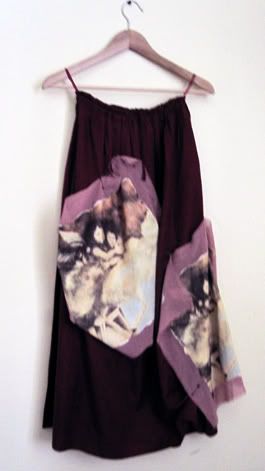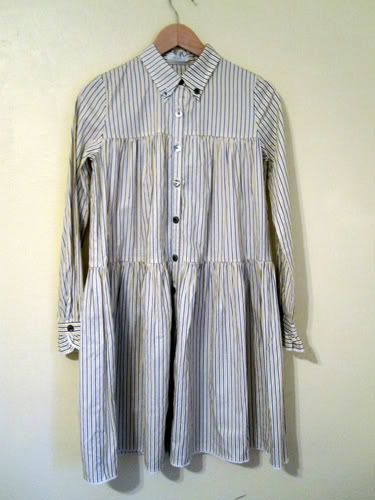 SOLD
Shirley Temple Pink and Blue Regimental Stripe Dress

Condition: Bought used, in good condition.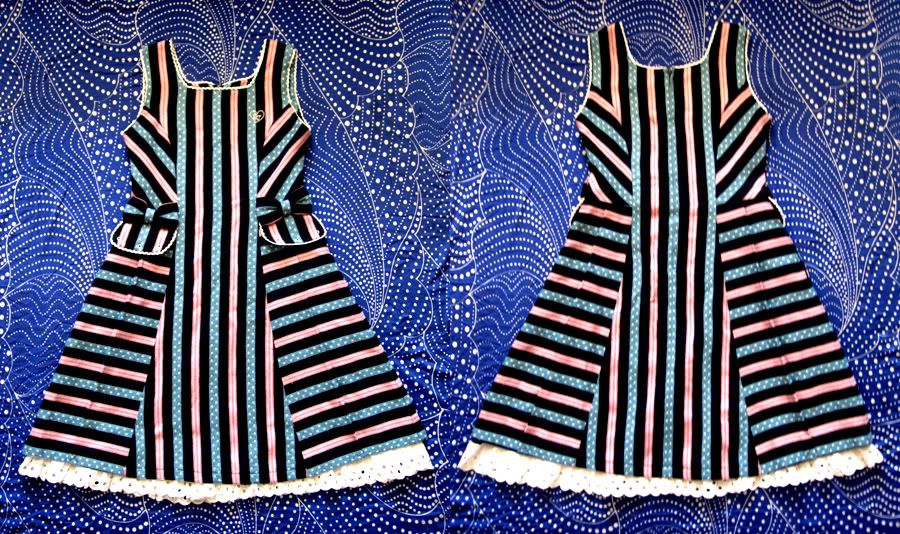 MILK Pink and Yellow Diamond Knit Onepiece

Condition: Bought brand new, worn once, in great condition.