Feedback: 42+ positive, no negative or neutral
- I take paypal only
- Prices are in USD
- All items come from a smoke-free and pet-free home
- Shipping is included for USA residents; international, please inquire.
- Unless they are very small, items will be shipped in a priority mail envelope with tracking. (US only)
- I am not responsible for any damages taken place during shipping.
- Items will be shipped out as soon as possible (usually 2-4 days - I do not ship on weekends/holidays), and you will be notified when I do.
- I will describe each item's condition the best I can, and I am happy to take more photos upon request.

-------------------------------------
Dear Celine Bear Hoodie - $60 shipped (US)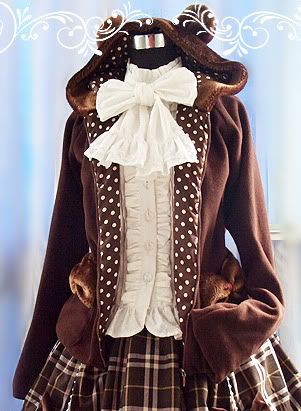 My photos: Front | Inside lining | Tag
Colour: brown; stock photo shows colour best.
Size: S (bust: ~90cm, length: ~60cm) -DC's measurements, not mine.
Condition: Brand new with tags
Super cute and super soft! I absolutely adore this hoodie, and waited months to get it, but they ended up giving me the wrong size, so I'm too tall for its length. :c The hoodie has adorable bear ears. The lining is a silk polka-dot fabric. Has two pockets in the front. The thickness is great for chilly weather, but is not for supercold winters or anything.

-------------------------------------


KidsYoYo Pink Bolero/Cardigan - $45 shipped (US)

SOLD




My photos: Front | Front 2 | Pin-ons
Colour: pink
Size: M (bust: ~90cm, length: ~42cm, sleeve length: ~63cm) -KY's measurements, not mine.
Condition: Brand new with tags
Really adorable pink cotton bolero with knit lace. Selling because it's a bit too sweet for me. Ties in the front, so it's very forgiving for various sizes. I do not recommend this if your bust is under 83cm though, as it will become difficult to tie the front any smaller. I had them custom make the sleeve length about an inch longer than usual, so it's great if you're a bit taller, or just like longer sleeves! Comes with two detachable knit rose corsages. Bows on sleeves are not detachable.

-------------------------------------


Angelic Pretty Knit Cherry Bolero - $65 shipped (US)

SOLD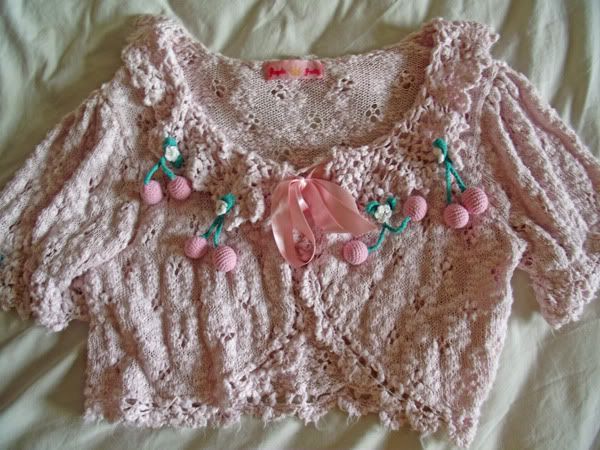 Additional Photos: Back | Detail 1 | Detail 2 | Tag | Accurate Colour (not my photo, but is the same bolero)
Colour: pink
Size: Standard AP bolero size? Since it's knit and ties in the front, it's very stretchy and forgiving for a variety of sizes.
Condition: Used in good condition. This was a gift, so I'm not sure of past owners, but I've never worn it. It has a little fraying on the ends. Smells very faintly of strawberry(?) perfume.
This was a gift to me from a friend who was leaving lolita. Unfortunately, I do not wear sweet lolita, so I haven't been able to wear it. Even though I cherish it since it was from my friend, which is why I've held onto it for so long, it's just been hanging in my closet and we both think it would best if I just sold it to someone who'd use it, and use the money towards something I could wear.
It's very adorable and light; perfect for the upcoming spring/summer seasons.

Thank you!