Conditions:
+I DO own both a cat and a dog. They are not allowed in my room/where the clothes are kept, but I think this would be best to mention.
+all items come from a non-smoking home.
+my feedback page is: here
+PayPal only
+All prices are in USD
+Prices DO NOT include shipping/Paypal fees. Shipping to US for each item should be $6 which includes tracking
+I ship from the US
+I prefer to ship to America, and American customers will take priority. I do and have shipped internationally, but please be aware that shipping will be extra. I will ONLY ship a package internationally with tracking or certificate of mailing if tracking is really expensive, which again will cost extra. Please inquire for prices.
+The person who offers the most money has priority. If more than one person offers the same price, than both parties will be given a chance to bid once; otherwise, the person who can pay first has priority
+NO trades at the moment except for Starry Night Theatre

I am selling nearly all of my closet at the moment because I am in need of money.

Cutsews:

AATP Cutsew/T-shirt SOLD





print close-up:



$20.
Flat measurements: 30" bust, 31" waist. Will fit at least a 34" bust, may go up to 36". Worn a few times, in good condition. Can be washed in the washer.

H. Naoto Hangry & Angry Long-sleeved Cutsew


Print Closeup:



$30.
Flat measurements: 30" bust, 31" waist. Sleeves are super long and measure 24". Very stretchy--should fit at least 36" bust. Worn a few times, can be safely washed in washer.

Blouses:

Forever 21 cap-sleeve white blouse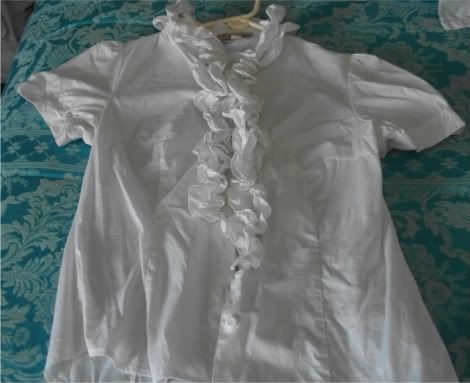 $20.
Back is plain. Cap-sleeves. Flat measurements: 32" bust, 28" waist. Fits up to at least a 34" bust. Worn about 2 times. About as sheer as the average American blouse--should be worn with something underneath. Back is plain.

Atelier Boz 3/4 sleeve white blouse



$40.
Very cute. My favorite blouse. Not recommended for measurements over 34" bust, 27" waist. 14" sleeves. Would fit smaller measurements nicely. Sleeves have shirring and back has a strap/waist tie. Slight pilling on collar--hard to pick up with a camera. My favorite blouse. Thicker/nicer material than the Forever 21 blouse. Big peter pan style collar and flower-shaped buttons.

Peace Now Long-sleeve White Blouse




Close-up of collar:



$50
Beautiful, classy blouse. flat measurements: 32" bust, 28" waist. Should fit at least a 34" bust and 29" waist. Sleeve length is 24". Slight peter pan collar.

Metamorphose Black Long-sleeved Blouse Traded




back-shirring:



$50
A blouse for a large variety of sizes. Flat measurements: 29" waist, 32" bust. Should go up by at least 4" due to shirring in the back. Also has a ribbon in the back to allow for smaller sizes. Very versatile and a must-have piece. I bought it with the warning that there was a defect on the collar where it looked as though the lace had been glued together. I could not find it to photograph/could not spot it, but buyer be warned.
Skirt:

Yellow Unicorn Fantasy Skirt


Print close-up: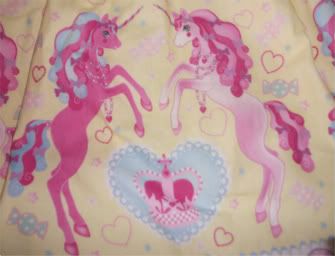 $80.
Made for a 27" waist. Worn twice. In great condition. Beautiful skirt, wonderfully made. Hand-made by Pink Macaroon.


Set: SOLD

AATP pink gingham set




Jacket:




Skirt:




Detachable parts:



detachable ruffle at bottom of jacket



detachable swallow-tail

$115.
Not recommended for over 34" bust, 26.5" waist. I CAN zip it up on my 27" waist but it is very tight. Recommended for 33" bust/26" waist and below. Beautiful set. Has detachable parts to mix up your look.

Starry Night Theatre OP in blue and black neon circus socks ON HOLD




socks:



Proof:



$335. OR partial trade for Starry Night Theatre skirt in blue or French Cafe skirt in blue
My dream dress :(. I would prefer to PT but if there is no interest I will do a direct sale.
Missing back ribbon for corset lacing. Should be very easily replaceable with any blue ribbon.Official measurements: 35.4-39.4 bust,
27.6-31.5" waist. Fits smaller waist and bust due to waist ties and corset shirring/lacing. Worn once for about 15 minutes. I am the first and only owner--bought both the OP and socks directly from Angelic Pretty. Includes the card/tophat brooch as well. In perfect condition.
Angelic Pretty White Long-Sleeved Cutsew and Meta Hoodie
these items are also for sale
here