Term of Sales: Please read first!

It will help making the buying or trading process easier for both parties.
I take payments via paypal both C.C and non C.C.
No E-checks, personal checks, concealed cash, or money orders.
All prices USD, not including shipping fees.

Buyers with allergies, please be aware that I do own two dogs.
I am currently in college and away from them, but that doesn't mean the times when I do go home that the hair can not travel back with me.


I will make sure all items are cleaned, pressed, and free of dog hair before shipping.
Buyer must pay for item within 48hours, or item goes to next person who wishes to buy. Any buyer who does not pay within 48 hours and does not contact me with the reason why no payment was made, will be left negative feedback.

Buying is based on first come first serve. Sale will go to the person who leaves their paypal first.
No holds at this time.


No haggling prices, they are already very low and I can not go any lower.

I will always take more pictures upon request.
You are welcome to offer trades of an item of equal price and quality.
No sweet or bright colored items. Classic items only please.
When offering a trade, please provide proof of ownership, images of the item worn, items measurements(including length), and your feedback.
I am currently willing to trade for the following:

Black or Kinari long sleeve blouse.
White, off-white long sleeve bolero.

SHIPPING INFO

I will ship no later than 5 days after payment is received.
Please understand I am a busy college student, and I can not always make it to the post the next day.


I ship USPS priority only within the US. I ship all items with tracking numbers which cost an extra .70¢ on top normal shipping fees.
USPS priority pricing is as follows:

Priority Mail Flat Rate Envelope $4.95 12-1/2" x 9-1/2"
Priority Mail Small Flat Rate Box $4.95 8-5/8" x 5-3/8" x 1-5/8"
Priority Mail Medium Flat Rate Box (FRB1) $10.70 11" x 8-1/2" x 5-1/2"
Priority Mail Medium Flat Rate Box (FRB2) $10.70 13-5/8" x 11-7/8" x 3-3/8"
Priority Mail Large Flat Rate Box (Domestic Addresses) $14.50 12" x 12" x 5-1/2"
Priority Mail Large Flat Rate Box (APO/FPO Destinations) $12.50 12" x 12" x 5-1/2"

Shipping Internationally will vary in cost, depending on the size of the item. Please expect higher cost, as shipping internationally is expensive. I will do my best to get you the lowest price possible.


I do recommend all buyers get insurance for their items. It is not required but highly recommended. I will not/can not be held responsible for any lost packages, sorry.


FEEDBACK
My feedback can be found
here on egl feedback.
My Measurements
Bust: 84.4cm (34inch)
Waist: 66cm (26inch)
Hips: 88.9 cm (35inch)
Height: 162.56 (5'4'')

When buying please fill out the following form:
Item(s):
Location:
Feedback:
Paypal:
Shipping method:
Insurance:





BTSSB Embroidery Logo cutsew


Worn a few times, but in perfect condition.


Recommend for these measurements or smaller.
Measurements (laid flat)
Bust: 36cm (14inch)
Waist: 37cm (14.5inch)
Length: 42cm( 16.5inch)
Shoulder to Shoulder: 37cm (14inch)

$SOLD




Handmade Grey Long sleeve blouse.


Made by
tsu_
.

Beautifully made, and very warm. Only worn a few times. In perfect condition. Ties on the sleeve are fully functional.

Measurements(laid flat)

Bust: 41cm (16inch)
Waist: 40cm (15.5inch)
Length: 55cm(21.5 inch)
Shoulder to Shoulder: 49cm (19inch)
Sleeve length: 55cm (21.5inch)


SOLD




IW Replica Skirt
This skirt was made by
diaphinisedbat
.
It's an extremely beautiful skirt, and extremely well made. You can read my review of the skirt
here
, and see all the detail shots.
The skirt is in PERFECT condition, and is valued around $60USD.
Measurements (laid flat)
Shirring on the sides, with lace, but it only has about an inch give for larger sizes. It could go smaller.
waist: min: 31cm (12inch)
max: 35cm (14inch)
Length: 70cm (27.5inch)
Price: SOLD
IW skirt it was replicated from
Proof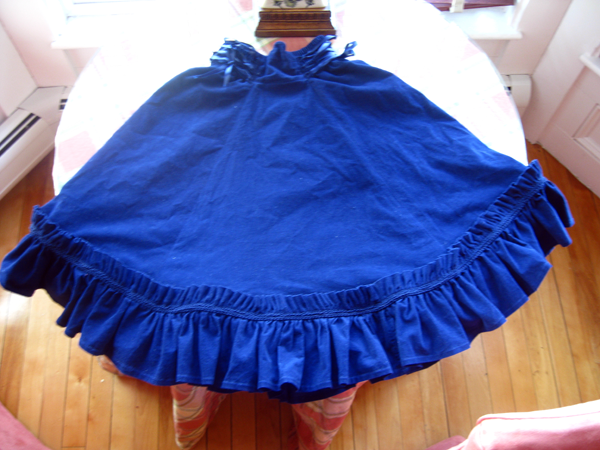 Worn
When offering a trade, please provide proof of ownership, images of the item worn, items measurements(including length), and your feedback.

I will trade for classic or Gothic style skirt or jsk in a darker color way, solid or print.
No bright colors please.
Colors I prefer are Brown, Wine, Maroon, Green, or Black.
I like longer style pieces as well.