Hi, here a few things I have for sale ! Please don't hesitate to ask questions, I'd be glad to help you ^^

- Payments are to be made by paypal (in € currency if possible, +5% fees), bank transfer or checks for french people
- Shipping fees are not included in the price. It will be my pleasure to let you know the several methods of shipping you can choose and their prices ^^ I'm not responsible for lost packages
- No trades please, I accept holds with a 15% deposit, non refundable and no more than two weeks
- First person to leave her paypal address gets the item, but leaving the paypal address means you're actually willing to buy the item. If you have questions, ask them first !
- I don't smoke but have a cat which doesn't come near my clothes. I'll remove the cat hair anyway in case there are some on the clothes, it happens sometimes.
- I'll try to reply to your questions as fast as possible but live in a different timezone (France) so I'll do my best, please be patient ^^
- I have many positive feedbacks
here
!

Metamorphose "Perfume Bottle" OP in white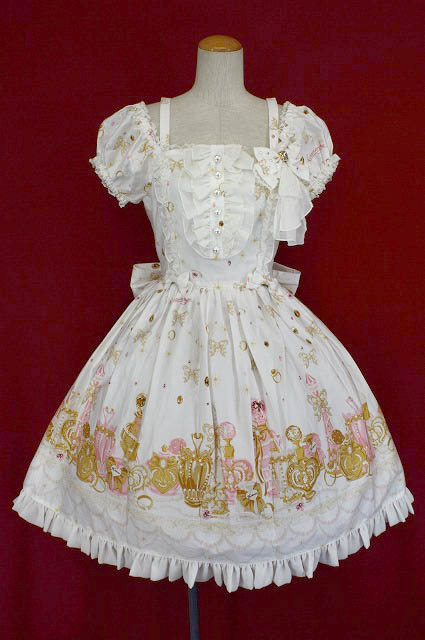 [Proof Picture]
Bought on Closet Child, never worn, perfect condition. It's such a gorgeous piece with a lot of removable things (waist ties, brooch, neck ties, small ribbons on the waist and the bib thing on the bust too !) so you can wear it in many ways ! From 80 to 93cm bust and 64 to 76cm waist with the back shirring. 130€/175USD

I still have some offbrand shoes, AP gloves, Nile Perch tote and an Ai de Angelot skirt for sale here :
http://community.livejournal.com/egl_comm_sales/13848292.html

Now accepting offers for them !!