Paypal only please.

No trades for this post.





Payment is accepted in either Canadian$ OR US$ (at par). Please let me know if you want to be invoiced in CDN$ or I will default on US$.



Preference will be given to buyers from US and Canada due to long international shipping times.

Flat-rate Shipping (for any number of items, unless otherwise specified on the item description)
Canada:
$8US via Expedited Parcel (insured and tracked)

USA:
$11US via Small Packet Airmail (insured, no tracking)
$17US via Expedited Parcel (insured and tracked)

Other countries (shipping based on weight):
$9US via Small Packet Airmail (insured, no tracking) for UNDER 0.25kg only.
$17US via Small Packet Airmail (insured, no tracking) for OVER 0.25kg and UNDER 0.5kg only.
$35US via Small Packet Airmail (insured, no tracking) for OVER 0.5kg only.
Please comment with your country for quotes on anything else. Shipping can get expensive to far away countries. XpressPost (EMS) is usually around $60-70 (because Canada Post is really expensive).

Disclaimer: I cannot and will not be held responsible for parcels if no tracking number is purchased. If you want a tracking number, please request Expedited Parcel shipping.


Feedback (and lots of it):

http://community.livejournal.com/eglfeed back/182948.html



No holds. First to invoice gets first dibs. Prices for items in this post are non-negotiable

(I've already taken damage into consideration and most of the prices are already dropped to almost rock bottom)

.






1. PN white Cross Embroidery Blouse $45US SOLD


Condition: Good condition, worn several times. In good shape aside from some yellowing on inside of the collar. Might come off with some bleach (I haven't tried since it doesn't show when worn). Great basic blouse for more gothic coordinates.




Measurements


Bust: 38in
Waist: 32in
Shoulder Width: 15.5in
Sleeve Length: 23in


2. Maxicimam black Sailor Collar Zip-up $45US SOLD


Condition: Good condition, worn several times. Great shape, but has a bit of pilling here and there. Very comfortable and works great over coordinates or just as a casual piece of clothing.




Measurements


Bust: 35in-42in
Waist: 32in-38in
Length: 23in
Shoulder Width: 16in
Sleeve Length: 23.5in




3. Baby the Stars Shine Bright black Sailor Collar Cut-Sew $40US SOLD


Condition: Excellent condition, worn several times. Worn a lot by the previous owner, but still in great condition. The collar could use some ironing.




Measurements


Bust: 32in-38in
Waist: 30in-36in
Length: 18.5in
Shoulder Width: 14in-16.5in



4. Baby the Stars Shine Bright red Cut-sew and Choker Set $35US SOLD


Condition: Excellent condition, worn several times. Worn a lot by the previous owner, but still in great condition. The choker is not attached and ties in the back with ribbons, so it is truly free-size.


Measurements
Bust: 30in-36in
Waist: 30in-35in


Length: 21in




Shoulder Width: 14in-16in




5. Baby the Stars Shine Bright red Lace Front Cut-sew $35US SOLD
Condition: Excellent condition, worn several times. Worn a lot by the previous owner, but still in great condition.
Measurements
Bust: 30in-36in
Waist: 28in-33in


Length: 20in




Shoulder Width: 14in-16.5in




6. h Naoto Hangry and Angry Hoodie $35US SOLD


Condition: Fair condition, worn several times. Worn a lot by the previous owner, but still in good condition. The fabric does have a worn feeling with slight pilling as well as some fading. The ears on the hood are not removable and there are sewn in thumb holes on the end of the sleeves. The "claws" are part of the sleeve and are not removable.


Measurements
Bust: 36in-40in (fabric is slightly stretchy)


Length: 22.5in (not including hood)




Shoulder Width: 15in


Sleeve Length: 23in (not including paw extension)


7. Putumayo Bunny Ear Knit Hoodie $35US SOLD


Condition: Fair condition, worn several times. Worn a lot by the previous owner, but still in good condition. The fabric is a thick knit material (very warm) and does have a worn feeling and some pilling. There is a 0.5in long portion of the seam that was missed during the original production process at the right shoulder where it meets the hood (along the hood) and around the back of the hood. Easy to fix or you can leave it since it won't affect how it wears and shouldn't get worse. The inside of the zipper is discoloured (yellowing). The ends of the sleeves are like mitts which can be folded back and fastened up with a button. The design is cracking all over, but not coming off. There is also a pom-pom tail in the back that has some loose threads.


Measurements
Bust: 37in-48in (VERY stretchy, can stretch more than this if you don't mind stretching the print)


Length: 27in




Shoulder Width: 17in


Sleeve Length: 26in (not including folding mitts portion)


8. Putumayo purple Long Shirt with Silver Cat Print $35US SOLD


Condition: Excellent condition. Worn only a couple of times by the previous owner, tried on by me. Has a glittery silver cat print on the front left chest and on the back. the print and shirt are in excellent condition and no cracks on the print that I can find.


Measurements
Bust: 36in
Waist: 35in


Length: 32in (not including hood)




Shoulder Width: 15.5in


Sleeve Length: 22.5in


9. Putumayo fuchsia/black Musical Cat Print Dress Cut-sew $35US SOLD


Condition: Excellent condition. Worn a few times by the previous owner. Has two layers of fabric (fuchsia on top of black) with a strap and buckle that can be used to gather the fuchsia layer. Extremely comfortable and would look great with leggings as a dress or over pants as a long shirt.


Measurements
Bust: 32in-39in
Waist: 30in-36in


Length: 32in




10. Putumayo Goldfish Print Tank Top $22US SOLD


Condition: Good condition. Worn several times by the previous owner. Has some discolouration (yellowing) around the underarm area and some pilling here and there, but it isn't very noticeable when worn. Each dot on the fabric at the top has a Japanese motif inside. IMO, one of the nicest tank tops Putu's released to date.


Measurements
Bust: 29-36in


Length: 21in




11. Putumayo Crown Print Tie-front Tank Top $18US SOLD


Condition: Good condition. Worn several times by the previous owner. There is some pilling here and there and slight discolouration (slight greying). The crown print is fuchsia glitter with no cracks that I could find. The ties are attached at the sides of the chest, so you can tie it however and where ever you'd like.


Measurements
Bust: 30in-36in


Length: 23in




12. h Naoto Honey white Tank Top $10US SOLD


Condition: Great condition. Worn a few times by the previous owner. There is a small printing error on the very left side by the armpit (a little of the purple print is smugged). There are 2 small pinpoint light grey marks on the back, but they're barely noticeable even when you're looking right at them. Extremely stretchy (even the print stretches). The fabric is like a thick spandex with lots of 4-way stretch.


Measurements
Bust: 28in-36in


Length: 16in




13. Peace Now salmon colour Tank Top $10US SOLD


Condition: Good condition. Worn several times by the previous owner. It is a soft, light salmon orange (not neon) with one of PN's signature mascot prints on the lower right corner

.

Very comfortable fabric and would be great as a casual top for summer.


Measurements
Bust: 32in-40in
Waist: 30in-37in


Length: 22in




14. Liz Lisa pink Velvet Tank Top $5US SOLD
Condition: Excellent condition. Worn a couple of times by the previous owner. It is a soft, velvet material. Shoulder straps are adjustable. Very cute top, but I wouldn't recommend it for anyone with more than a B-cup.
Measurements
Bust: 29-35in
Waist: 26in-29in
Length: 23in


16. Emily Temple Cute white Cotton Skirt $35US SOLD


Condition: Excellent condition. Worn a couple of times by the previous owner. Nice, simple white skirt with a white cotton lace overlay. Would be great as an underskirt or worn on it's own.


Measurements
Waist: 23in-26in (partial shirring)
Length: 18in


16. Metamorphose white Long Bloomers (right) $35US SOLD
Condition: Brand New with tag. Lots of stretch and lots of room. Two rows of lace at the bottom.
Measurements
Waist: 20in-42in (LOTS of shirring)
Hips: 54in max
Length: 20.5in

17. Cornet white Eyelet Lace Bloomers (top left) $25US SOLD
Condition: Excellent condition. Worn a couple of times by the previous owner. 3 rows of rose embroidered eyelet lace around the legs.
Measurements
Waist: 24in-40in (fully shirred)


Length: 17.5in



18. Off-brand white Kodona Balloon Shorts (bottom left) $20US SOLD
Condition: Brand new with tag. I bought 2 pairs in different colours, decided I don't need both. The tag says size 4 and I'd say it's pretty accurate to US size 4. Has a white base with forest green and mustard yellow thin stripes and antique gold buttons.
Measurements
Low waist: 31in


Length: 12in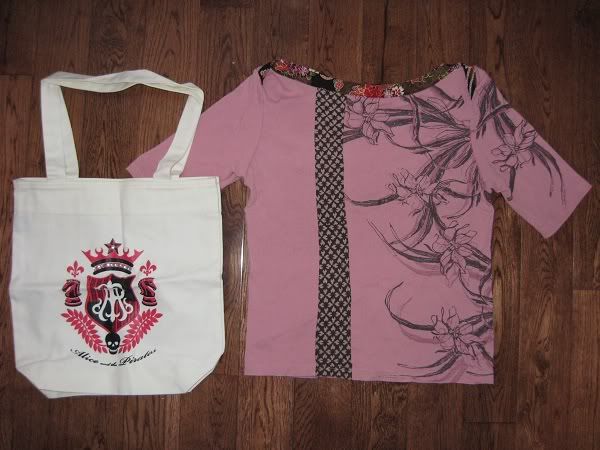 19. AatP off-white Heavy Canvas Tote Bag Height 13.5in x Width 13in (NWOT) $25US SOLD
20. Gouk 3/4 Sleeve Top $30US
Condition: Excellent condition. Worn many times, but still in great shape, though has some pilling here and there. This was one of my favourite tops for a while, but I rarely wear it anymore. Extremely comfortable.

Measurements
Bust: 33in-40in (LOTS of stretch, can go a bit bigger if you don't mind stretching the screenprint design)
Length: 20.5in
Sleeve Length: 10.5in
21. Meta Twinkle Journey OTK Socks (worn twice) $25US
22. AP white lace topped OTK Socks (worn once) $25US SOLD
23. AP swan eyelet lace headdress (New with tags) $25US SOLD

24. Alpaca pink earmuffs (New with tags) $25US SOLD

25. Alpaca brown earmuffs (New with tags) $30US SOLD

26. Swimmer strawberry muffler (Mint condition) $25US SOLD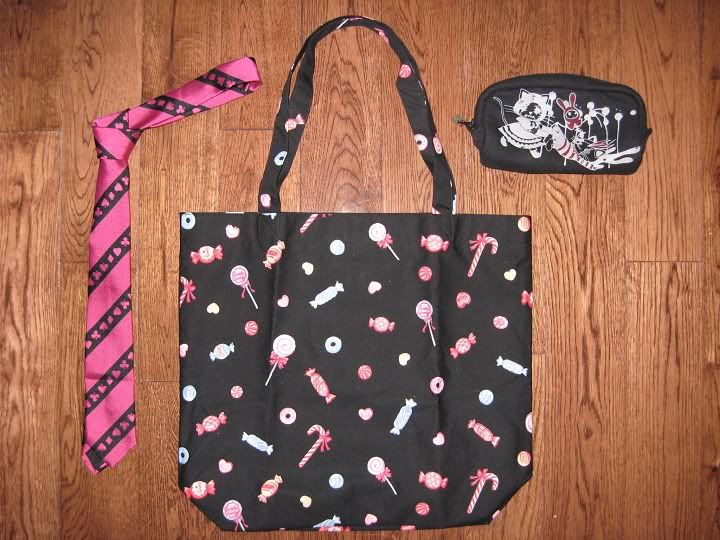 27. Peace Now black x pink Trump and Stripes Skinny Tie (Excellent condition) $15US
28. h Naoto h&a pencil case/make up bag (Good condition, slight wear to fabric) $15
US SOLD

29. AP black Miracle Candy Tote Bag Height 13.5in x Width 15in (Excellent condition) $25US

30. Off-brand piano purse ~7in x 7in (NWT) $32US SOLD


(Has a small spot of sticker residue. Includes removable, adjustable shoulder strap.)
Paypal only please.
No holds, first to invoice gets first dibs.
Prices are non-negotiable.
No trades for this post.