Hi everyone !

my proof picture is my little music angel here =)

EGL feedback here : community.livejournal.com/eglfeedback/742792.html




Terms for the sale :
- The paypal fee is included.
- The price is in Canadian dollars $. Please make paypal payment in canadian dollars.
- Shipping fee is not included and will be done by airmail unless you state that you want it to be shipped EMS
- No trades for this item, please. Thank you.
- If it is bought on week-day, it will be shipped the next day. If bought on friday, shipped on monday.
- Priority to first person who leaves paypal, no hold.

Moi-même-moitie Holy-Cross "arm-warmers"/sleeves in black/navy.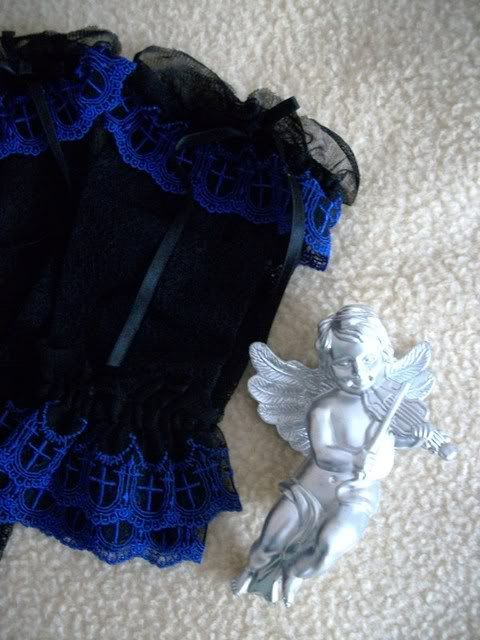 They have been worn once for about 2 hours. I sell them because I do not wear them anymore, they were bought for a special event and didn't wear them after. I do not have the tag, it had been taken off by the shopping service. The blue on the picture is mostly true to color.

I know they are still available on the website and on CDJapan for the price of 77$ US (+ shipping)
I am asking 55$ (paypal fee included) + shipping of 4.50$ for air mail to most countries/15$ by EMS.
PS : Not for chubby arms as the fabric/lace is not strechy.

-----------------------------------

Direct trade/Possible partial trade

Moi-même-moitie full shirring summer lace JSK (beige)

This is maybe a long shot but I'm trying =) So I feel like I need change in my wardrobe and slowly turning towards blue items so I would like to trade my JSK.

It has been worn several times but is still in very good condition, no flaws, except the waist ribbon that started slightly fraying at the tip.

My first choice would be to exchange this JSK for the same one in the blue version.
My JSK :



I am interested only in Moi-même-moitié JSK/OP in blue or with blue print, containing blue or else (you see the idea).
Only thing is that is has to be either shirring or elastic waist because if not it will not fit me (no plain size 2). I could also look at plain black dresses from Moitie too, but priority is for blue/containing blue items. Feel free to offer, I do not want this beige anymore, so I might look at anything not beige hehehe~ It can be older dress from older collection, or also other smaller items such as socks + capelet or stuff like this.
If you have a more valuable Moitie item but still interested to trade it, I could be interested to exchange + little amount of money to compensate but my goal is to have a new dress without spending too much or not at all (except shipping of course). but again, feel free to offer !!! ^_^ Keep in mind I paid something like 325$ for this dress, so please offer trades that consider this, thank you ~ <3

Thank you very much for your time ^_^